Gowns, schmowns! Just because you're gay does not mean that you love gowns. Me? Never liked 'em. Formal, boring, and conventional, red carpet gowns epitomize everything that's horrid in the universe. I realize that I am wildly out of sync with contemporary culture–the parsing of red carpet gown-choices now dominates the media landscape—but floor-length gowns always make me think of the crinoline lady who covered my granny's spare toilet roll. The toilet roll had more fashion sizzle than that tired old frock.
Why, if I am so filled with gown-hate, did I elect to torture myself by tuning in to watch the Emmys pre-show frock-fest? Why look for style in all the wrong gussets? Here was my thinking: Since the Emmys are supposed to be the relaxed, groovy, hipster younger sister of the Oscars, I felt a microtingle of excited optimism. Maybe, just maybe, one of these lissome thesbots might actually throw caution to the wind—social media peanut-gallery be damned!—and don something un-gowny, taboo-busting, and unexpected. A Pucci unitard with yellow glazed-croc thigh-boots? A lilac equestrian ensemble with a matching whip? Vagazzled mariachi pants with a vintage Schiaparelli jacket? Though the fashion by no means exceeded my expectations, it wasn't half-bad.
Severe Style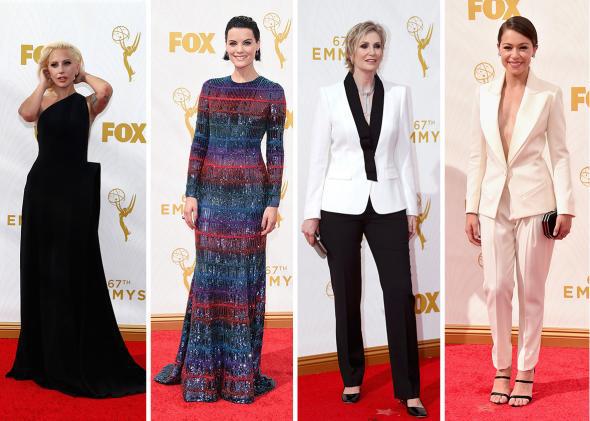 I love a mean, bitchy-looking woman—the opposite of that simpering crinoline toilet-roll lady—and there were no shortage of severe sisters on the tapis rouge. Lady Gaga (American Horror Story) was leading the charge. Jamie Alexander (Blindpsot) looking fabulously intimidating in Armani Prive was a close second. And, as if in solidarity with my anti-gown stance, host Jane Lynch (Hollywood Game Night), and Tatiana Maslany (Orphan Black) both opted for severe butch man-drag.
Savage Style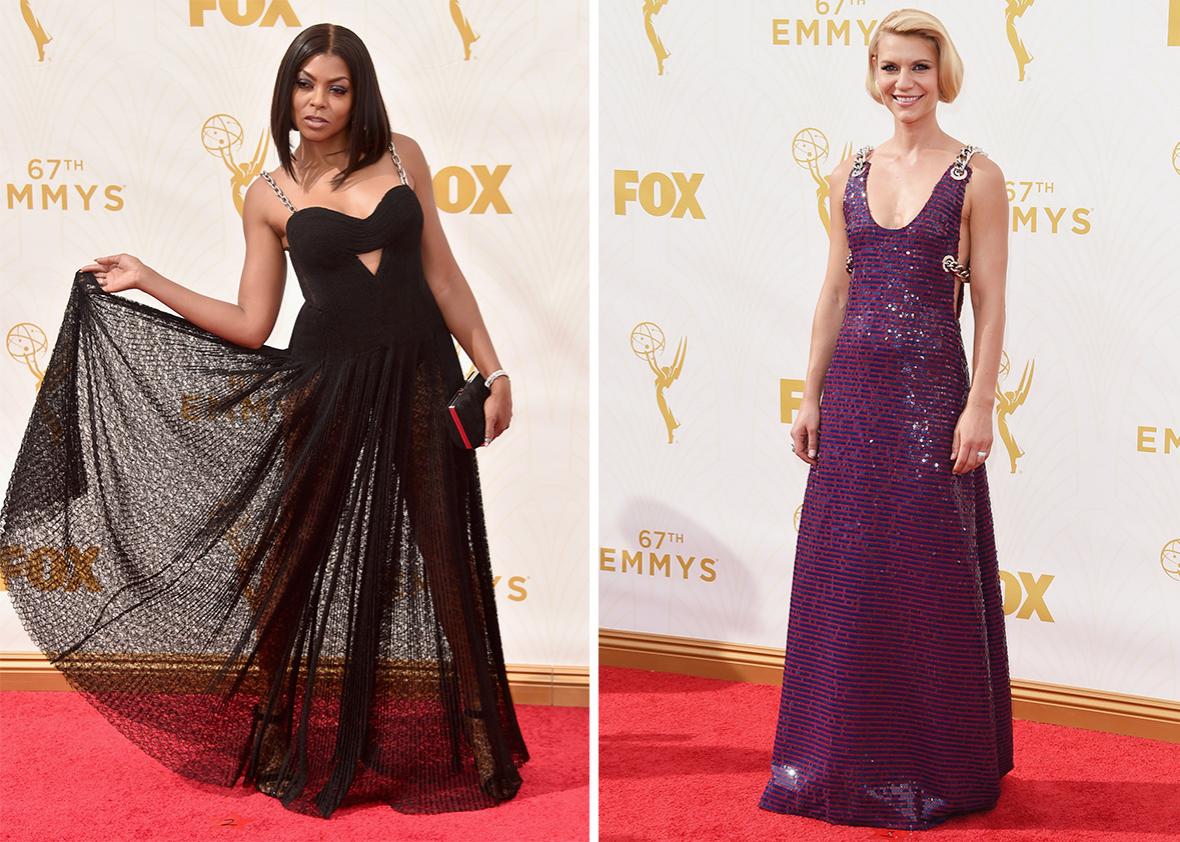 Heidi Klum's (Project Runway) glamorously ripped and shredded canary yellow Versace dress looked as if my mutt Foxylady had been chewing on it all afternoon, in a good way.
Taraji P. Henson (Empire) and Claire Danes (Homeland) tied for the winner in my savage style category with their sado-masochistically themed chain-frocks, Alexander Wang and Prada respectively.
Gown-y but Still Fabulous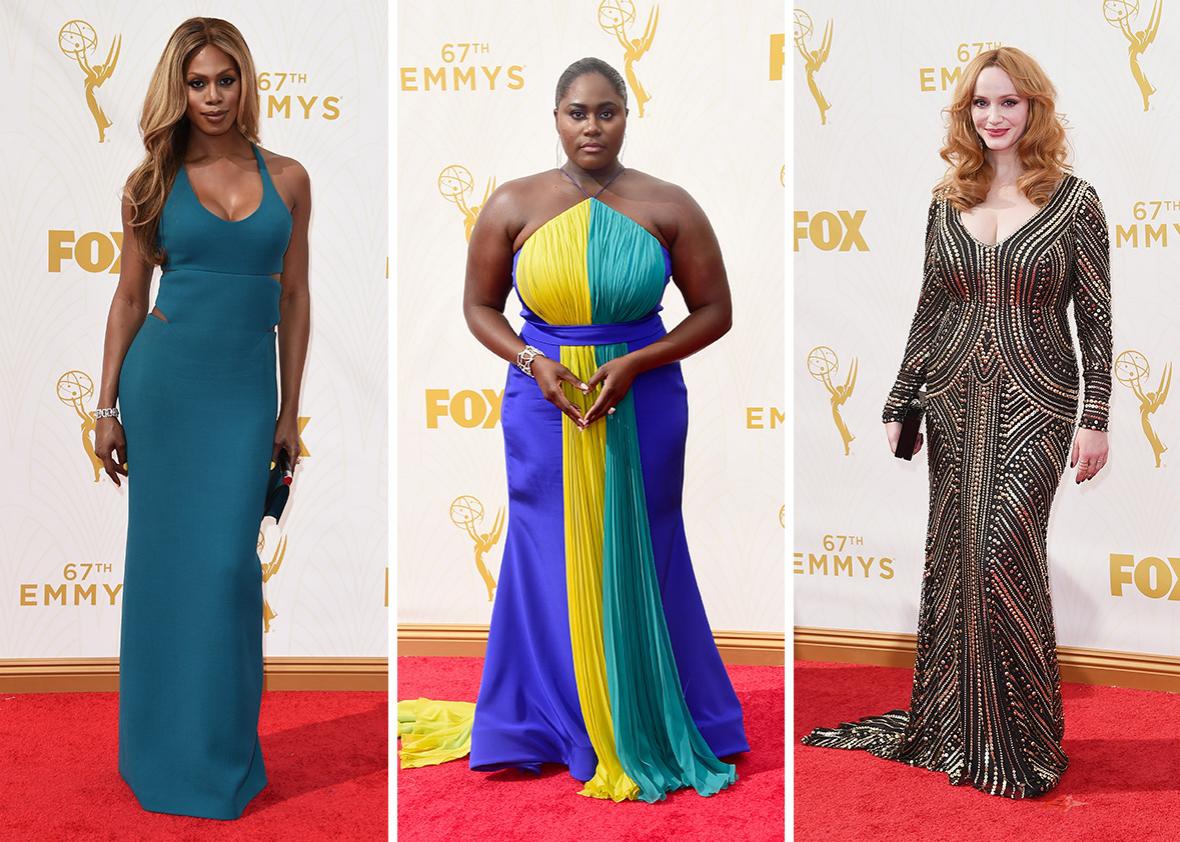 Danielle Brooks (Orange Is the New Black) won me over when she joyfully twirled in a gorgeous multicolored something or other. Daringly slashed Laverne Cox (OITNB) and graphic Angela Bassett (American Horror Story) were also, as the young people used to say, and I am now saying, on fleek. The winner in the gown-y–but-still-fabulous category? Christina Hendricks (Mad Men) in a Neem Khan a-convent-full-of-nuns-went-blind-beading-this dress.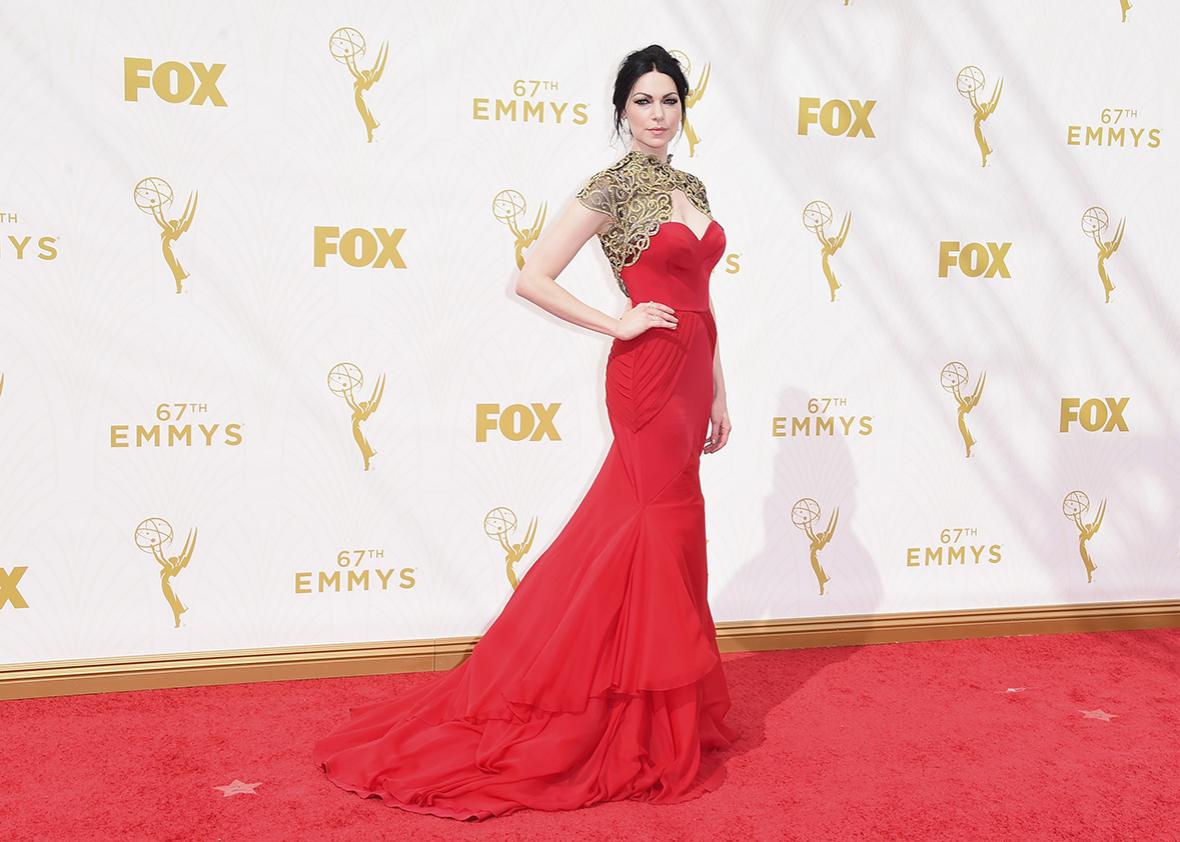 The night's winner? Laura Prepon (OITNB) combined all three of my Emmy 2015 trends: severe, savage, and gown-y–but-still-fabulous. Her gold filigree bolero over red velvet thingy–she was too haughty to stop and talk to Ryan Seacrest, so I have no idea who designed it—made all the other broads in their gown-y, ho-hum bustiers look like a bunch of basic bitches, which is another expression the young people are using these days. Full disclosure: I'm not 100 percent sure of what is meant by the term basic bitch, but I am sure the readers will enlighten me via the comments section. I suspect that it is a prison term.