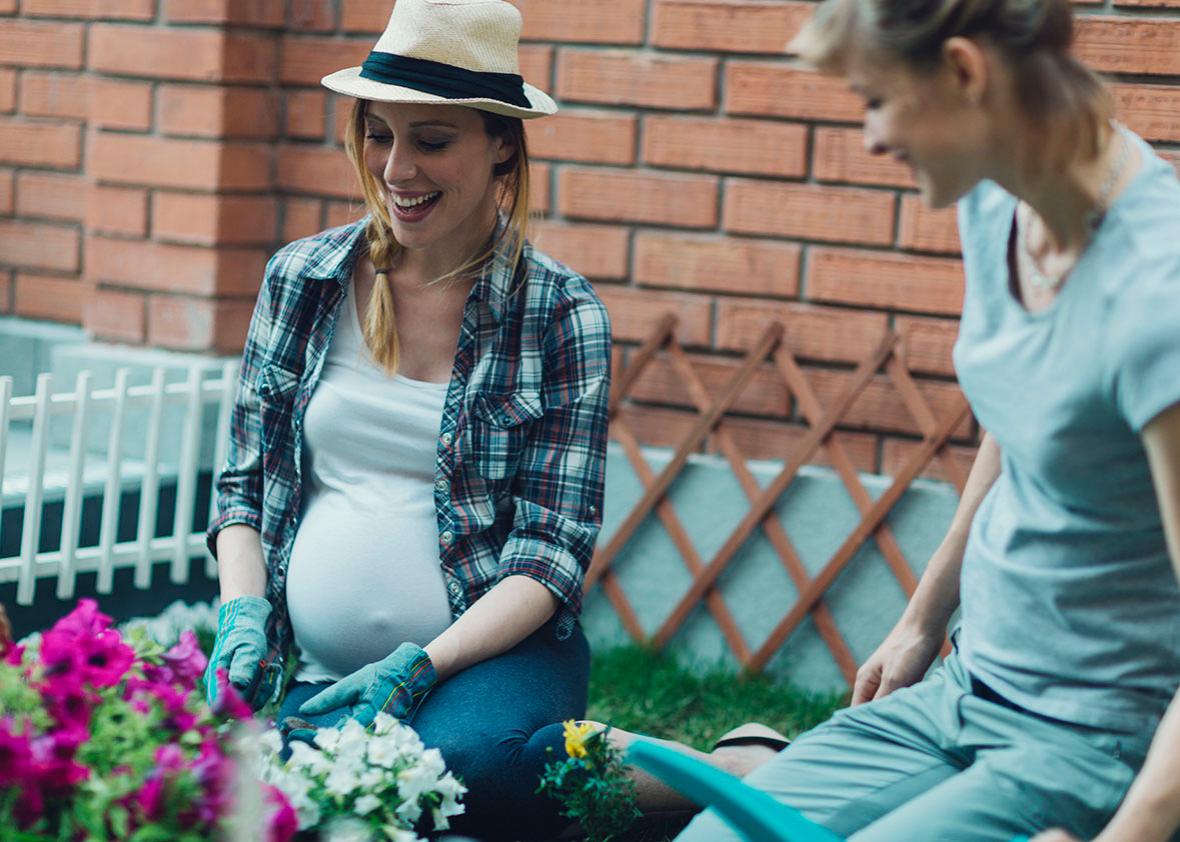 I step into Destination Maternity in Center City Philadelphia, and this is what I see: scoop necks, scoop necks; three-quarter sleeves; bows, bows, bows. Why, when knocked up, do we wish to transform adult women into little girls? What does it mean to be a body that is carrying a child anyway? Are motherhood and femininity fundamentally aligned? Motherhood and normativity?
Motherhood and its discontents have been experiencing a tense renaissance in culture lately. The literary anthology Selfish, Shallow, and Self-Absorbed: Sixteen Writers on Their Decision Not to Have Kids, edited by Meghan Daum, reflects on the statistic that 19 percent of American women reach their mid-40s without having children and explores whether blood parenthood is "a personal urge, a biological imperative or the unconscious internalization of an inescapable cultural expectation." Then there is Maggie Nelson's new book The Argonauts, which asks, "How can an experience so profoundly strange and wild and transformative also symbolize or enact the ultimate conformity?" Nelson refuses to see motherhood as it is conventionally seen—a feminine rite of passage, the embodiment of a woman's duty—and instead explores the "queer" nature of pregnancy itself: the way it "profoundly alters one's "normal" state, and occasions a radical intimacy with—and radical alienation from—one's body." She even compares it to the process by which a female-assigned-at-birth person's body changes when taking testosterone.
But perhaps the most visible way in which motherhood is changing is apparent in maternity clothes. This past year, an independent retailer that offers alternatives to the pregnant little girl packaging of motherhood has cropped up and received heavy media coverage—Butchbaby & Co, the brain child of CEO Vanessa Newman and chief design officer Michelle Janayea, two friends who dreamed of being pregnant at the same time but couldn't imagine wearing all those bows.* So they decided to design and create an alternative: The line will offer maternity hoodies and button-down shirts, as well as masculine-styled T-shirts, jeans, pants, sports bras, and briefs. Butchbaby & Co. bills itself as "the first ever alternity wear for pregnant masculine, transgender, and queer individuals—don't change just because your body does."
"As much as the LGBTQ community is becoming embraced, motherhood is still very heteronormatively presented in the mainstream world," says Newman, who presents masculine of center and embraces the term butch. "We're really highlighting that motherhood doesn't look one way. I definitely want to be a mom one day, I definitely want to carry my own child."
"We live in a society where clothing is integral to how we present and are seen. It's definitely about more than clothes, it's my community," Newman says. "I kept hearing stories from people who said they need this."
One such story comes from Debra Guy, head of the Charlottesville, Virginia, chapter of Butch Voices—a grassroots organization that provides support and visibility to masculine of center people. Guy doesn't like showing as much skin as all the scoop neck mainstream maternity wear reveals, so when she became pregnant, she turned to buying white ribbed men's undershirts and wearing them underneath her maternity wear. "Neutral colors; stop it with the three-quarter-length sleeves; stop it with the big scoop necks. Just cover me," Guy told me over coffee. "My last month being pregnant, I just wore T-shirts to work. I found T-shirts that didn't look terrible, and I wore those. And I wore sandals, because my feet were super swollen. Weird baggy cargo maternity pants. It's not my finest moment in fashion."
Guy has a wife who presents in a more traditionally feminine way than she does. "Let's just say people were confused," she says. It's an enduring misconception that in queer couples where one partner is more feminine-presenting, she will be the one to carry a biological child. A.K. Summers' 2014 graphic novel Pregnant Butch explores the "nine long months spent in drag" that protagonist Teek Thomasson goes through. The reasons why a masculine-presenting person might decide to carry a child are as vast and diverse as the reasons anyone might. In the book, Teek carries the child because she was invested in being a parent more than her partner was. Like Teek, Guy did not have a strong desire to be pregnant, but her partner's family had struggled with infertility. "I just had this mentality of taking one for the team, like, I can do anything for 10 months," Guy says. "We did the calculations. It was a decision, like deciding to move somewhere new or take a pay cut."
There are some realities of being a pregnant masculine-presenting person that cannot be totally ameliorated by stylish androgynous clothing, however. "If there is a butch knob, pregnancy cranked my butch knob way down," Guy says. "It really bummed me out. You can't do lots of things that are very important to who I am as a butch person. I like to run errands and pick up heavy things and dig up stumps. Having to be that person who couldn't lift up the 40-pound bag of dog food and have to go find the clerk or he'd find me and be like, 'Hey Ma'am'! I've never been ma'amed so much in my life."
But it seems that more diverse styles of maternity clothes have also generated conversation about the layers of meanings within gender presentation, like the often-elided distinction between sexual orientation and gender presentation. "We've gotten a lot of emails from straight women saying 'This is comfortable, I want to wear these clothes, too,' " Butchbaby's Newman says. It seems a straight pregnant woman can also have a butch knob. 
*Correction, Aug. 7, 2015: This story originally misstated that Vanessa Newman and Michelle Janayea met in college. They met during their college years but not at school.
Update, Sept. 4, 2015: This story was updated to reflect that Michelle Janayea is no longer affiliated with Butchbaby & Co.
---