Not everyone in the Christian right, it seems, is cool with straying husbands who pop off a "My bad!" without questioning his role as head of the family—one who expects his wife "to submit herself graciously to the servant leadership of her husband," as per conservative Christian teachings. While the head of the Southern Baptist Convention is busy blaming frigid wives for philandering husbands, one man of note has publicly declared that he's sick of all of it.
That man is Daniel Keller, brother of Anna Duggar and therefore brother-in-law of Josh Duggar, right-wing lobbyist and eldest son of the Duggar clan who has been the center first of a child molestation scandal and then an adultery scandal when he was outed as an Ashley Madison user. When Jessa Duggar, another of Josh's sisters, posted on Facebook about the importance of forgiveness, Keller clearly had enough.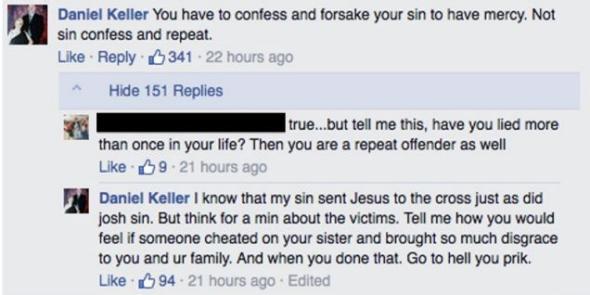 Another Facebook user sympathized with Keller, writing, "I'm more concerned with the secrets and 'confessing' after being caught than the actual sin."
Keller agreed, and noted that he told Anna she could stay with him so that Josh would see actual consequences for his actions. "I have told her I would pay for her to move out here w me and pay for her kidz," Keller wrote. "I don't think josh will see that this is a big deal and be truly broken till that happens. I beat my life on the fact that josh has not co.e to true brokenness yet."

But, Keller laments, his family is against his recommendations. 

"Maybe Anna's parents really believe their marriage can be saved," another person replied to Keller. "They don't seem like people that care what others think."
At this point, he gently reminded this poster that Anna's parents are his parents, too, and "trust me that is ALL they care about."
As I wrote back when the first Josh Duggar scandal broke, there's been a seemingly endless string of incidents in which prominent far-right Christian leaders, such as Doug Phillips of Vision Forum and Bill Gothard of the Duggar-beloved Institute in Basic Life Principles, have been accused of sexual abuse. These kinds of incidents can drive people out of the fold. There's been hints before that Daniel Keller and his wife, for instance, are not down with his parents' extremist views. There's Vyckie Garrison and the folks at Homeschoolers Anonymous who are leaving fundamentalism and creating support communities for other people who want to flee. 
The Duggars have been the vanguard of a movement, as RedState founder Erick Erickson recently explained to audiences at the Gospel & Politics conference hosted by the Southern Baptist Convention, to push Christian conservatives to have big families so they "will eventually breed" liberals "out of existence demographically." It's a nifty idea. But it depends on keeping your children in the fold for life—something that is easier said than done.