The following is excerpted from my book Louis Armstrong, Master of Modernism. It has been edited for clarity and length.

As lexicographer Ben Zimmer pointed out recently on an episode of Slate's Lexicon Valley podcast, the phrase heebie-jeebies was, as far as we can tell, coined in 1923 by cartoonist Billy DeBeck in his popular comic strip Barney Google. Before long, the phrase was popping up all over, as the title of a song recorded by Lovie Austin and her Blues Serenaders, as the title of a Chicago South Side magazine, and as the title of a movie. The phrase implied eccentric movement and vague associations with mental disturbance, which made it the perfect name for a dance that aimed to satisfy the mid-1920s fascination with cutting loose and stepping out of convention for a couple of happy minutes.
Hoping to capitalize on the burgeoning craze, musician and composer Boyd Atkins wrote an instrumental tune in 1926 that he titled "Heebie Jeebies." This was a common strategy that held the potential for great economic reward: If the dance took off, your song might ride on its coattails. James P. Johnson's "Charleston Rag" was a famous example, but there were many other attempts, including "Georgia Grind," "Irish Black Bottom," and "Sunset Café Stomp," all recorded by Louis Armstrong's group, the Hot Five.
Atkins knew Armstrong from a Mississippi riverboat band, where he played violin alongside Armstrong's cornet from 1920 through 1922. Armstrong agreed to place "Heebie Jeebies" on the Feb. 26 OKeh session, and we may assume that Atkins was delighted to cut a deal with the company. OKeh was now encouraging Armstrong to sing, so Atkins' tune needed some words, which Armstrong supplied himself. It is easy to read between the lines here: As co-composer, he would be in a position to receive royalties if the song got recorded by others. This, too, was a common strategy, a way to increase the commitment of a person or publishing house that held powers of promotion. Armstrong wrote out some words and brought them to the studio.
What happened next is a famous moment in jazz history. Armstrong brought along his sheet of paper, but in the middle of the recording he accidentally dropped it. Not wanting to spoil the wax, he continued the performance with scat. The story later was used to support the idea that he had invented scat on the spot (which isn't true). There seems to be no doubt that he dropped a piece of paper; Armstrong, Kid Ory, and Johnny St. Cyr all included this detail in their independent accounts. Whether or not he planned to scat is interesting to speculate about, though difficult to get very far with.
It is clear that the scat version did not exist, except perhaps in Armstrong's mind, before Feb. 26, 1926. He was surprised that OKeh released the recording, but the studio turned out to be the place to take a risk like this. It would have been too unnerving to introduce scat at the Vendome, a popular jazz venue in Chicago. The impersonal recording machine enabled innovation; spoiled wax could be melted down and reused, so why not try something new? Usually we think of recordings during this period as providing a restricted glimpse of what was going on in live performance. Here may be a case of the studio prompting an innovation that was less likely on stage.
OKeh took a chance and was handsomely rewarded. Perhaps the studio was emboldened by institutional memory of its success with Mamie Smith's "Crazy Blues." "There's fourteen million Negroes in our great country and they will buy records if recorded by one of their own, because we are the only folks that can sing and interpret hot jazz songs just off the griddle correctly," was composer Perry Bradford's plea to OKeh executives in 1920. Perhaps Bradford's lesson was still ringing in some executive's ears when Armstrong unleashed his startling romp through an unfamiliar range of the black vernacular voice. The combination of low overhead and the intended market—the "letter back home"—encouraged OKeh to take a chance.
If the scatted "Heebie Jeebies" was created in the recording studio, then when was it first performed in public? That may well have happened on the very next day. On Friday, Feb. 26, the Hot Five was in the OKeh studio, and on Saturday they were featured in "OKeh Race Record Artists' Night" at the Chicago Coliseum. It was only the second time that blacks had been admitted to this venue; clarinetist Bud Jacobson attended with Floyd O'Brien, and they felt like they were the only two whites in the entire building. OKeh took out ads in the Defender highlighting the participation of the celebrated Broadway team Miller and Lyles, but another ad, now unidentifiable, included pictures of Armstrong and blues guitarist Lonnie Johnson—and only them. OKeh promised to select three beautiful Chicago girls from the audience to dance in the chorus line. The event included a demonstration of how "OKeh records are made, finished and played—all within 15 minutes." The Hot Five were among the demonstrators. Three thousand people attended and the show was heard on radio.
If Armstrong did demonstrate "Heebie Jeebies" with scat at the Coliseum, it would help explain both the increased demand for his services in the spring of 1926 and the tremendously quick sales of the record after it was released around May 1. Sometime during the spring, and probably not too long after the February breakthrough, he was singing "Heebie Jeebies" through a megaphone at the Vendome. The name of the piece connected well with the radical nature of his singing and his eccentric cornet. In mid-April the Sunset Café lured him away from the Dreamland with a substantial boost in salary.
OKeh soon signed Armstrong to a five-year contract, and on Saturday, June 12, the label rented out the Coliseum for another big blast, promoted as the OKeh Cabaret and Style Show. "Nothing of this kind has ever happened in the world before," wrote music critic Dave Peyton. This time there was no doubt about who the headliner was. "LISTEN!" shouted a Defender ad. "At the Big Main Coliseum … You Are Going to Have an Opportunity to See How It Was Done: Louis Armstrong and His Hot Five Will Actually Make an OKeh Record Right on the Stage of Heebie Jeebies Dance… . The biggest selling record ever known." Ads promised the estimated 20,000 who attended that all 21 orchestras present would join together to play not only "Heebie Jeebies" but also "Cornet Chop Suey," "Muskrat Ramble," "Oriental Strut," and "Come Back, Sweet Papa," along with a few other tunes. Armstrong stole the show. "Never has any record artist received such an ovation as the one that greeted him on that memorable night," crowed an OKeh ad.
In July, record producer Percy Venable staged and produced Jazzmania, a new revue at the Sunset Café. The magazine Heebie Jeebies described Jazzmania as "the fastest and most colorful show ever staged at this popular night club." For the finale of the revue the entire cast supported Armstrong singing "Heebie Jeebies," in coordination with 5-foot-tall dancer Kid Lips, who had, the year before, originated "the backward, skating, knee drop and other improvements of the Charleston." White clarinetist Mezz Mezzrow and his Chicago friends bought Armstrong's "Heebie Jeebies" and played it over and over until saxophonist Frank Teschemacher insisted that they drive 53 miles to Hudson Lake, Indiana, to play it for Bix Beiderbecke. "All the way there we kept chanting Louis' weird riffs," remembered Mezzrow, who "kept the car zigzagging like a roller coaster to make the explosions," in a reckless representation of Armstrong's scatted dance.
Summer contracts were drawn up for an "orchestral roll" and a piano roll, and in the fall OKeh's parent company published sheet music. Boyd Atkins was credited as composer, new lyrics were added, and a new "eccentric" dance was created by Floyd DuPont ("America's fastest dance producer," according to the Washington Post) and introduced by Tinah Tweedie. A photograph of bandleader Paul Ash was placed on the cover of the sheet music. Armstrong's name was nowhere to be found, even though the printed music included a transcription of his "skat chorus." There followed a batch of fall recordings by Alberta Hunter, the Red Heads, Ethel Waters, the Original Indiana Five, and the Goofus Five; some included Armstrong's solo, played by instruments, and the Goofus Five did it in scat.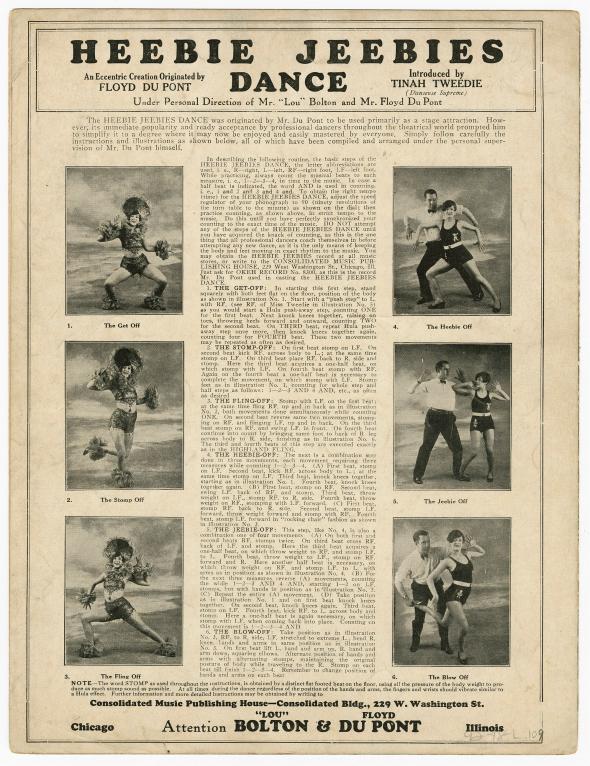 OKeh's coordinated strategies lifted "Heebie Jeebies" into a more lucrative market—that is, into a white market. The dance was heavily promoted in Chicago, where, in the fall of 1926, white ballrooms placed printed directions for the dance on every table. Advertisements featured photographs of (white) Miss Tweedie posing in the various steps—the get-off, the stomp-off, the fling-off, the heebie-off, the jeebie-off, and the blow-off.
By February 1928 the dance had reached England, where it was protested by a missionary who had "spent a lifetime teaching the natives of darkest Africa to abandon suggestive dances" and was shocked "beyond words" to "find his people doing the same dances which he had attempted to stop in Africa."
As it positioned the piece to sell to whites, OKeh shamelessly dropped all mention of Armstrong, without whom nobody would have heard of it, even while they kept his version of Atkins' melody (whose original tune was closely derived from Joplin and Chauvin) at the heart of the piece's identity. This is important for our understanding of the demographic trajectories of Armstrong's career: It is likely that very few whites outside the Sunset Café heard his scat breakthrough, or even heard of him at all during these productive years in Chicago. The Boswell Sisters made a hit out of the piece in 1932; they recorded it in video and audio and opened their programs with it. Their neatly arranged performance, complete with minstrel-style black dialect, was based on Armstrong's scat chorus. I see no reason to believe that white audiences who enjoyed the Sisters made any association with Armstrong, even though by that time he was well-known.
But the tune continued to be strongly associated with him among blacks. In January 1927, Bill "Bojangles" Robinson was in Chicago and stopped by the Sunset to check out the scene. He was so impressed that he decided to immediately build "Heebie Jeebies" into his own act. "Music is now being prepared for Bill, who ordered it 'Rush,' " wrote an unidentified source. There is another report of Armstrong performing the song in Chicago in October 1927. In December, critic Dave Peyton stopped by a "chop suey cafe" and encountered for the first time an early version of the jukebox; it was playing Armstrong's "Heebie Jeebies." Peyton was impressed by the machine's sound, but he viewed it as another threat to the livelihood of musicians, along with the vitaphone (the sound system used in movie theaters) and radio:
"Orchestras, beware!" he wrote. A revue at the Alhambra in Harlem in the summer of 1929 included Manda Randolph leading the Alhambra Girls "in Lewis Armstrong's favorite number, the lively Heebee Jeebees."
Late in life, Armstrong explained why he didn't mind satisfying the public's insistence that he sing "Hello Dolly" so often—"How many times? Six jillion?" he quipped. "Aw, I am paid to entertain the people." During his long career, there would be quite a few pieces that the public demanded again and again. "Heebie Jeebies" was the first.