Archi-Graphic: An Infographic Look at Architecture by Frank Jacobus is an irreverent, stealthily informative look at architecture through a series of visualizations that include a chart of the type of architecture that dictators prefer, subway-style maps of the romantic affairs of famous architects, color wheels devoted to palettes of 20th-century architects, a map of every project that Le Corbusier ever built by order and location; and infographics mapping the most popular structures for death by suicide or building collapse.
"The intention behind Archi-Graphic is that knowledge of the richness and complexity inherent in the discipline and profession of architecture can become an accessible and even desirable pursuit for architects and non-architects alike," Jacobus, who is an assistant professor of architecture at the University of Arkansas, writes in the introduction to the book, which will be out in October. He began the project in 2013, with help from his students at the Fay Jones School of Architecture.
This chart shows the shades of white as reflected in Richard Meier's major works for buildings like L.A.'s Getty Center from 1965–2011, to show that his color of predilection is more multidimensional than it may seem.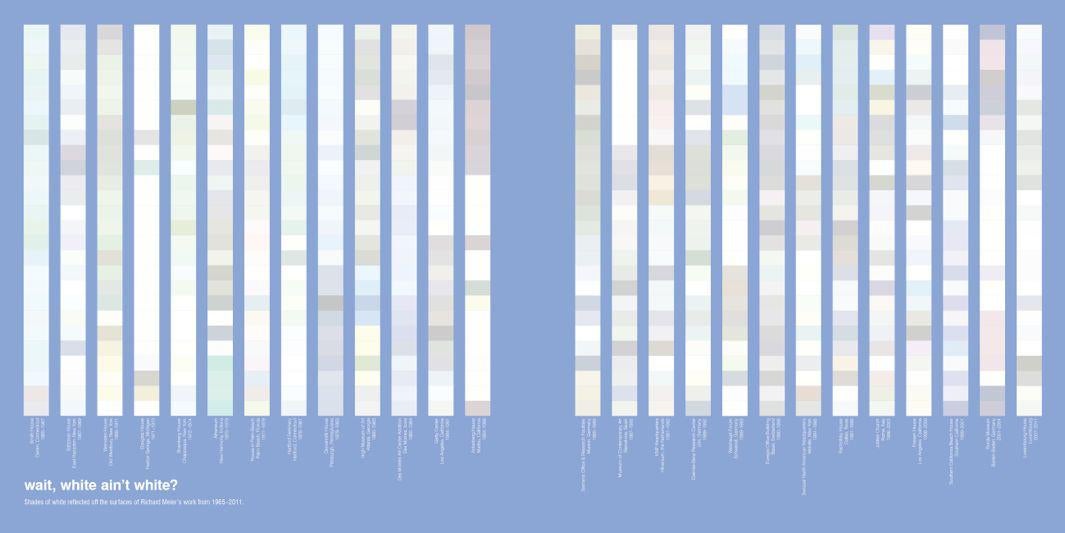 "For me, white is the most wonderful color because within it you can see all the colors of the rainbow," Meier said in his 1984 Pritzker Prize acceptance speech. "It is the color which in natural light, reflects and intensifies the perception of all of the shades of the rainbow, the colors which are constantly changing in nature, for the whiteness of white is never just white; it is almost always transformed by light and that which is changing; the sky, the clouds, the sun and the moon."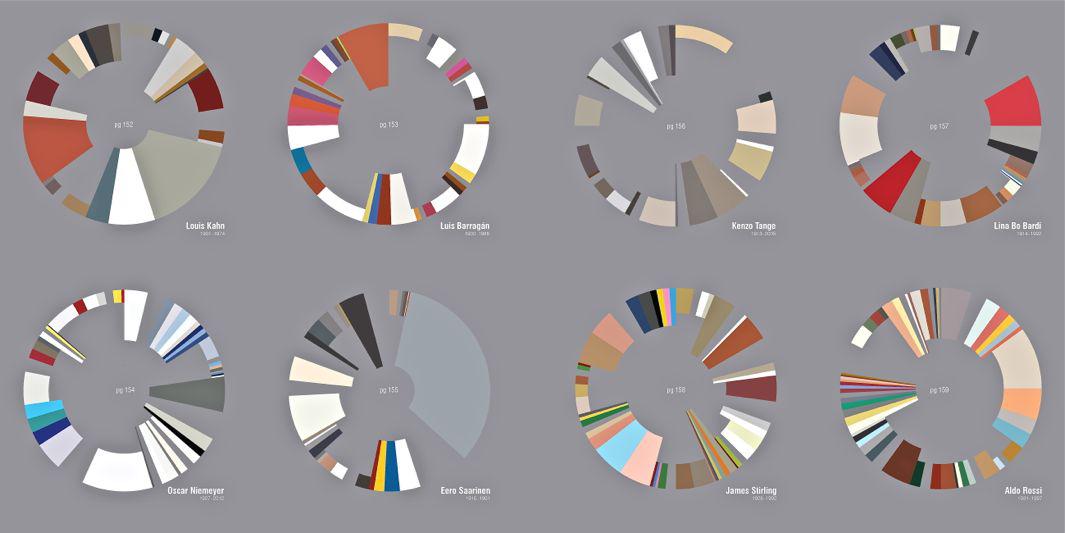 For a series of 20th-century architectural master palettes, Jacobus asks: "What happens when you eliminate building form and focus purely on the color in an architect's material palette?" The diagrams extract colors for brick, metal, wood, stone, and other materials from various architect's major works to form a color wheel of their careers.