The world of celebrity newsletters has become crowded in recent years. Gwyneth Paltrow's Goop, the oldest and most iconic, has brought us $995 cashmere throws and and "conscious uncoupling." Plebeians wishing to emulate the lifestyles of the rich and famous can also subscribe to regular emails from Blake Lively's Preserve and Reese Witherspoon's Draper James. These publications are, to varying extents, glorified shopping portals that monetize a celebrity's reputation for having good taste.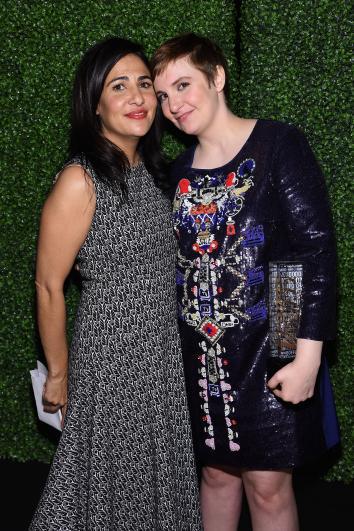 On Tuesday, Lena Dunham, announced that she and Girls producer Jenni Konner will launch their own newsletter, Lenny, this fall. Lenny will cover "feminism, style, health, politics, friendship and everything else," and it, too, will make money by recommending products and taking a small cut of their sales. Dunham told BuzzFeed's Anne Helen Peterson that the newsletter is intended for "an army of like-minded intellectually curious women and the people who love them, who want to bring change but also want to know, like, where to buy the best tube top for summer that isn't going to cost your entire paycheck."
Tube tops aside, there's reason to believe that Lenny will be different from celeb-sponsored mass emails we've seen before. For one thing, Lenny is launching with unprecedented transparency. Instead of hiding behind ghostwriters, Dunham has announced that a trio of well-respected editors—led by former Slate senior editor Jessica Grose—will write the newsletter and edit submissions from freelance writers. This makes Lenny sound more like an online magazine than a vanity project. In what I hope is a hint of emails to come, the Lenny signup page features, among other images, a photo of Konner and Dunham posing with Roxane Gay, a writer many readers would happily welcome to their inboxes.
The other reason I have high hopes for Lenny is Dunham herself, the rare celebrity who's not afraid to alienate people. Dunham has campaigned for Barack Obama, sponsored events with Planned Parenthood, written about being raped, and exhibited her voluptuous body on large and small screens. With her unabashedly feminist attitude, Dunham is to celebrity newsletters what Jezebel was to your average ladymag when it launched back in 2007: a much-needed injection of realness.
Of course, it's not 2007 anymore, and these days there are tons of websites for women "who want to talk about radical politics but also want to talk about fashion and also want to talk about Rihanna, and also understand that all of those things can be happening at the same time," which is how Dunham explained her vision for Lenny in BuzzFeed. But there are reasons to think a newsletter might avoid the outrage cycle that ladyblogs often fall prey to: As Grose explained to the Cut, a newsletter "doesn't have this pressure of pageviews," which ideally means editors can focus more on editorial quality and less on getting clicks. I don't know if Lenny will revolutionize women's media, or even celebrity newsletters. But you better believe I've already signed up.