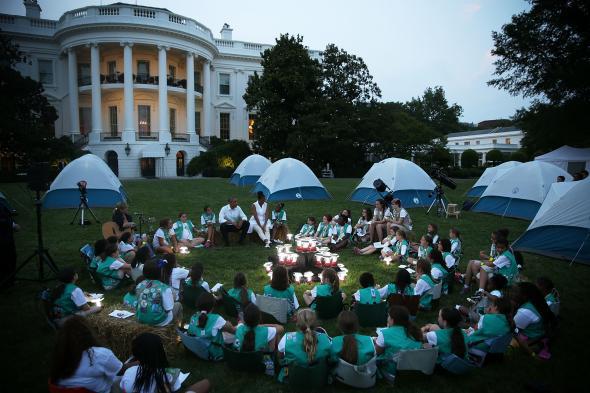 We've known the Girl Scouts of the USA are awesome on transgender issues since at least this past May, when the organization rejected criticisms from the Christian right regarding its national guidance on encouraging transgender girls to participate.* At the time, a spokeswoman for the group put it succinctly: "We don't serve our critics. We are proud to serve all girls."
The Girl Scouts are in the news again, and this time, they've backed up their commitment to trans issues with money—the losing of it, to be exact. According to Seattle Metropolitan Magazine, the Girl Scouts of Western Washington were recently forced to return a $100,000 donation when the donor stipulated that the money not be used to support transgender scouts. "Please guarantee that our gift will not be used to support transgender girls," a letter from the donor read. "If you can't, please return the money." Given that the cash represented about a quarter of the group's annual fundraising goal, turning it down undoubtedly hurt. But, according to CEO Megan Ferland, the decision wasn't hard: "Girl Scouts is for every girl, and every girl should have the opportunity to be a Girl Scout if she wants to," she told the magazine.
Luckily, the story has a happy ending. Ferland went to the Indiegogo crowdfunding platform for help making up the deficit, and the response they received was huge—as of this writing, the campaign has earned more than $260,000, far surpassing the original retracted gift. An update to the page reads: "Thank you for sending the loud and clear message that Girl Scouts is for EVERY girl!"
*Correction, July 2, 2015: This post orignally misstated the proper name of the Girl Scouts of the USA. 
Want to hang out with Outward? If you'll be in or near New York City on Monday, July 13, join June Thomas, J. Bryan Lowder, and Mark Joseph Stern—and special guests Ted Allen, of Queer Eye and Chopped fame, and marriage-equality campaigner extraordinaire Evan Wolfson—for a queer kiki at an Outward LIVE show, hosted by City Winery. Details and tickets can be found here.
---