You show me yours, and I'll show you mine.
When unflinching news anchors matter-of-factly described escaped convict Richard Matt as "handsome and well-endowed," did you just about fall out of your Barcalounger? Calm yourself. It's just part of a rapidly growing trend. Permit me to explain.
On a good day, and with the right lighting, it appears sculptural and pleasing. On a bad day, it resembles a rogue internal organ that has escaped from the body cavity and should probably be hoisted back out of sight before somebody freaks and calls the po-po. Yes, I am taking about your penis. Why? Because penises are on the rise.
Unsurprisingly, celebrities are leading the charge. Jon Hamm, Idris Elba, and Matthew Lewis, to draw a few examples from recent memory, have all wantonly flaunted their assets—their impressive shlong outlines have appeared in sweats, dress-pants, and undies respectively—for the delectation of a startled public.* Gone are the days when stars like Cary Grant and Rock Hudson would enrobe and camouflage their genitalia-scapes with studio-approved foundation garments. Full frontal? It's only a thin layer of fabric away from entering the mainstream. We are about to become a nation of flashers.
It's hard to shock the fashion pack, but last January, during the men's fall designer shows, Paris-based American designer Rick Owens showed a collection that featured crotch-area portholes sans undies. As his models walked the runway, willies waved, pearls were clutched, and audible gasps were gasped. The Owens show unleashed a pickle-tastic scandale-fou that left retailers wondering, will customers pay good money to get arrested? We're about to find out. Even as I write the Owens Fall 2015 designer deliveries are hitting the stores.
I spoke with the man himself (via email) recently as he prepared for his Spring 2016 show—who said I was incapable of gritty, in-the-trenches reporting?—and asked him to explain the concept behind his genital ventilations. "I was thinking about male vanity being about penis size in a super primal way, and how it has been in the male interest not to be vulnerable to judgment," revealed the affable provocateur. "Wouldn't it be cooler not to give a fuck?"
A commendable sentiment. If penises are going to enter the public square, then Mr. Owens is going to make sure that they, regardless of dimension, are greeted with equal respect, and most importantly, equal enthusiasm. The new penis movement will, if Maison Owens has anything to do with it, not promote old-school macho phallic tyranny. It will be more of an up-up-with-penises-because-we-come-in-all-shapes-and-sizes kind-of-thing. The last time the penis reared its head this was decidedly not the case.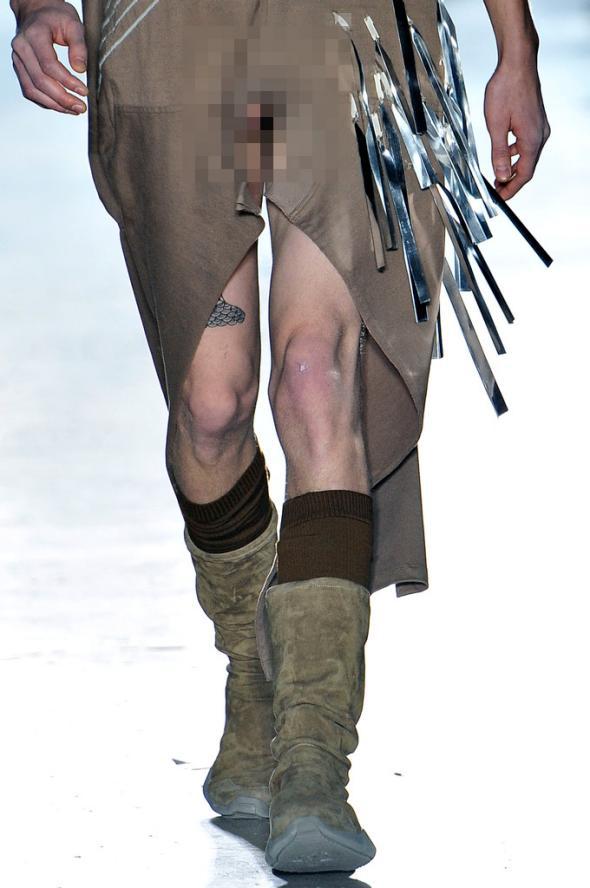 The 1970s was, in many ways, the golden age of the todger, the butch mega-todger, that is. Manly movie stars like Burt Reynolds posed naked while coyly concealing/drawing-attention-to their giblets in magazines like Cosmo.* It's impossible to imagine Pitt, Clooney, et al. lolling about like wanton odalisques, but we are talking about the sexually charged '70s, when even wholesome network television shows were penis-focused. If you don't believe me then watch a few re-runs of Chips, Magnum PI, Dukes of Hazzard, or Starsky and Crotch, and marvel at the cavalcade of straining Dickies and Wranglers. With their flimsy narratives and throbbing man-bulges, these shows seem just a crotch-hair away from real porn.
And speaking of porn, back in the '70s, the sex industry was nothing if not penis-focused. Deep Throat, the box-office blockbuster that cost pennies and, allegedly, went on to net $600 million, defined the era. (For the uninitiated, it is the story of a woman, played by Linda Lovelace, who goes on a wild penis-quest after learning that her clitoris is located in her throat. Bon appétit!) While Miss Lovelace became the biggest name in the industry, the second biggest belonged to a man, a rather large man. John Holmes—aka Johnny Wadd, aka Johnny B. Wadd, aka Big John—dangled his storied dong in over 2,500 movies.
My most vivid '70s penis memory came not from a John Holmes Super 8, but from an arty epic entitled Lisztomania. In this biopic of Franz Liszt, director Ken Russell endowed Roger Daltrey (the Who) with an unforgettable exploding dirigible of an organ.*
My husband, the ceramicist Jonathan Adler, has struggled over the years to work that unbridled '70s penis worship into his oeuvre. In my continuing quest for hard-hitting journalism, I interviewed him this week, over the breakfast table, and asked him to explain himself. "I wanted to recreate that '70s funk erotica moment when 'penis art' and 'penis casting' were legit art genres. But the penis is a tough nut to crack," explained my husband whilst ladling some 2 percent Fage onto his BranBuds. "After rejecting several clay penile effigies—the sensitive millennials in the studio thought they looked offensively crude," he added, "I took the symbolic route and went with a thrusting, curving peeled banana." Sales of this penile symbol—a ceramic banana bud-vase—have been brisk, prompting Jonathan to create a monumental brass version.
Alright already with the nepotism. Let's get back to the history of the penis in pop culture.
Eventually, the penis-focused '70s gave way to the muscle-focused '80s. During this era of Calvin Klein undie models, pecs and guns gradually stole the thunder from those thrusting '70s willies. This steroid-ish look gathered momentum into the '90s, successfully weathering the waif/grunge era. Come the naughty noughts, bulging upper-body muscles were eventually co-opted by the Jersey Shore crowd whereupon they gradually lost much of their frisson. Not to worry. Another body part was waiting to take center stage on the cultural landscape.
Our current decade can be summed up in one word: groin. As anyone who has walked past the Mike Jeffries incarnation of Abercrombie & Fitch can attest, the new focus is the muscled man-minge, by which I mean, the shaved, muscled man-minge. By eliminating the unsightly reality of frothing pubes, we men—and wee men, like me—are now able to lower our pants to previously unimaginably sub-equatorial levels. Groin shots—see how my rippling groin is now upstaging my rippling six-pack—are currently the lingua franca of the selfie universe. The downward slip from groin to penis is the obvious logical next step.
There you have it. Willies are coming your way. (Hopefully there will not be a convict attached to one of them.) My advice is as follows: Try to stay calm and keep a sense of proportion. Lay back and enjoy the contrasts and the inherent contradictions. As Rick Owens said at the conclusion of our pow-wow, "Isn't it great when something is sacred and obscene at the same time?"
Don't forget your sunblock!
Correction, June 25, 2015: This article originally misspelled the first names of Jon Hamm and Matthew Lewis, and Roger Daltrey's last name. (Return.) He also originally misstated the names of the magazines in which Burt Reynolds and David Hasselhoff posed in the nude and what years they did so. Those references have been removed. (Return.)