This post originally appeared in Caixin.
Since early June, excavators and trucks have been buzzing around Changdian Village in northern Beijing, clearing away a landfill that sits 20 meters from a major river. Some 45,000 cubic meters of garbage accumulated over the years, reaching 5 meters into the ground and mixing with groundwater.
The Changdian dump is one of the more than 1,000 unregulated landfills scattered around the capital. Environmental experts blame these sites for severe pollution of the soil, air, and groundwater because garbage is dumped without any treatment.
Governments throughout China started to build landfills with standard designs and pollution prevention measures in the 1990s, but the official facilities cannot meet rising demand for waste disposal from growing urban populations. More and more garbage is being dumped randomly by residents in the unregulated landfills—many of them exceeding 200 tons of trash—and experts say these ticking time bombs are poised to damage the environment.
In 2006, in preparation for the 2008 Olympics Games, the Beijing city government started clearing up the unregulated landfills, spending a total of 5 billion yuan. But dozens of the sites, including the Changdian facility, are either still being cleared or are waiting for work to start. In many other cities, unregulated landfills continue to expand, posing a major threat to the environment. Experts say the country has more than 10,000 of the sites in urban areas, many of them in use for decades.
China's environmental regulators require a standard landfill to have a lining made of special materials to prevent pollutants from penetrating into the soil. In addition, facilities should be in place to gather harmful gas emissions and isolate garbage from groundwater.
But a large number of dumps that are beyond regulators' control have cropped up around cities. An environmental expert said that without any supervision, the unregulated landfills pose threats to the air, could cause fires, and may even result in explosions. Meanwhile, harmful liquid produced by fermenting garbage pollutes soil and groundwater.
Zheng Fanying, a researcher at the Guangdong government's environment and public health institute, said that five years of monitoring two unregulated landfills in the southern city of Guangzhou found excessive levels of pollutants, including nitrogen oxides, phosphorus, lead, cadmium, and other harmful heavy metal elements, in the water and soil. Song Yuequn, a researcher at a think tank under the Wenzhou Environmental Protection Bureau, in the eastern province of Zhejiang, said an inspection found soil as deep as 4 meters under a landfill in the city was tainted by cadmium, mercury, lead, and sulfur.
Beijing is the first city in China to take action on the substandard landfills. Wei Panming, director of the Beijing Environment Health Design Science Research Institute under the city's environmental bureau, said that a 2006 study identified 1,011 unregulated landfills across the city, covering a total of more than 1,300 hectares. More than 7,700 tons of garbage were dumped on these sites­—mainly household and construction waste. Wei said Beijing built its first official landfill in 1994 in a suburban area called Asuwei, but many of the facilities built since then fall short of standards.
The capital's population has exploded in recent years, but waste-processing capacity has been unable to keep up. Many official sites are overwhelmed, and a large amount of garbage is disposed of without proper treatment. This has caused the public to become concerned about the impacts of landfills on the environment and health. Disputes have erupted between residents and environmental officials over the operation of the Asuwei facility.
Wei said that since 2006, Beijing has cleaned up nearly 1,000 unregulated landfills, moving garbage from some of the sites to official landfills while others were improved so they met standards. Some of the work took years. The Beijing Daily newspaper reported that about 3.6 million cubic meters of unprocessed garbage stored for years in a landfill in the southern part of the capital was dug up and processed. The work took three years and cost 500 million yuan.
Wei said about 70 of the unregulated sites remain, and work on them will hopefully be done by 2017. However, as long as the gap between handling capacity and trash production exists, unregulated dumps will continue popping up, he said. "From 1994 to now, the rate of safe processing of garbage still hasn't reached 100 percent," Wei said. "Last year, it was 99.3 percent. So, garbage will be dumped somewhere, forming new nonregulated landfills."
Outside Beijing, government efforts to tackle substandard landfills have made little progress. In 2012, the National Development and Reform Commission, Ministry of Environmental Protection, and Ministry of Housing and Urban-Rural Development asked local governments to inspect their landfills and dumps, but little was said about what they found.
Said Zhang Yi, director of the Shanghai Environmental Sanitation Engineering Design Institute, a city government–backed research center: "As far as I know, only a few provinces conducted inspections on their landfills." Wei estimated that China has more than 10,000 substandard landfills. An environmental professor at Renmin University who asked not to be named said that the country's "local governments are definitely clear about the number, but they don't want to make it public."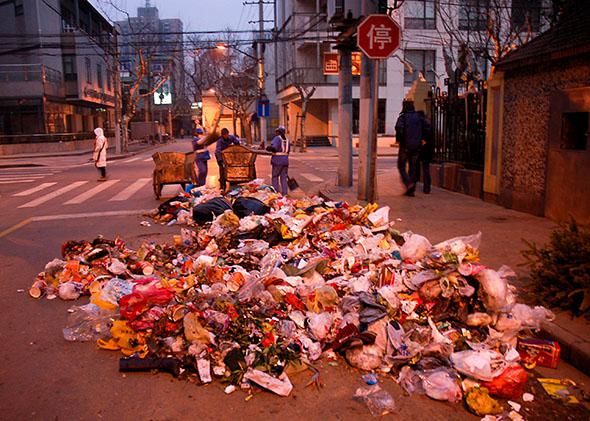 Wei said Beijing's inspection was based on data provided by urban management and environmental protection departments in each district. Satellite and aerial photography technologies were also used to identify unregulated landfills. The public knows even less about how much pollution the dumps cause. Zhang said it takes decades for garbage buried in a landfill to naturally decompose. During that time, regular checks on pollution should be done, but Zhang said that "these kinds of inspections are totally absent."
Experts said lack of capital and a standard way to handle the problem are the main reasons that local governments are not acting. The government of the capital has dealt with the first problem by offering financial support and launching public bidding to invite companies to clean up landfills, but other cities in China were not devoting nearly as much help to fixing their messes.