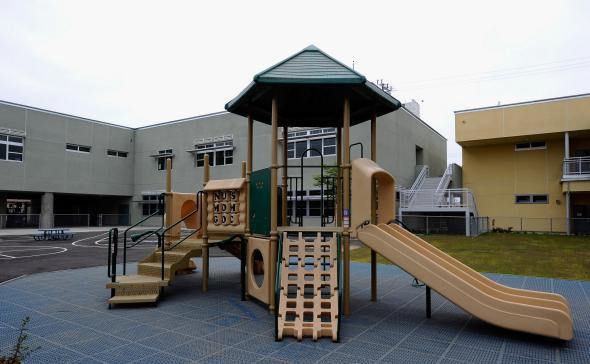 One of the most commented-upon shifts in the culture of childhood over the past few decades has been the dramatic changes in playgrounds.The childhoods of Baby Boomers and Gen X'ers were all sharp edges and concrete structures; broken bones and missing teeth became a rite of passage that later generations, with their padded playgrounds, were spared.
For those who enjoying shaking their fists over how kids these days are spoiled and soft, the playgrounds of our youth feel classic, as if they were a tradition that's been violated by the low-risk playgrounds of today. But as a new exhibit at the Royal Institute of British Architects (RIBA) makes clear, they were just as much a product of their time as the playgrounds of today. The metal-and-concrete monstrosities that inspire so much nostalgia were part of the postwar architectural trend known as Brutalism. BBC culture writer Jonathan Glancey explains that Brutalism's adherents "were meant to be a new breed of thrusting young architects who, while building a post-war socialist utopia, would challenge the very foundations of what they saw as the fey, bourgeois Modernism of the 1930s." All those mid-century concrete-and-sadness-style buildings that depress the landscape, particularly at college campuses, made up part of this particular trend. 
Brutalist playgrounds did not spring out of some timeless wisdom of child-rearing. They were the result of a very specific, hypermasculine postwar mentality: bold but still stripped-down, aggressively functional. "Risk is something that should be thought about, rather than avoided entirely," Joseph Halligan, a member of the design collective Assemble, argues in a RIBA video.
But looking over the photos of some of the great Brutalist playgrounds, it's hard not to be skeptical of that mentality. Life is already full of risks and pains and disappointments. Isn't play about escape, about padding the world a little so you can flail your limbs without getting hurt? Even the RIBA exhibit tacitly accepts this position, recreating Brutalist playgrounds with foam and rubber so children can go wild without running too great a risk of injury. 
But while it's hard to love the dangers of Brutalist playgrounds, this exhibit shows some of the upsides of the design mentality behind them. The photos of the exhibit showcase how designers put a emphasis on abstraction and openness, which allows encourages experimental, imaginative play. Artist Simon Terrill, who directed the exhibit, says that the playgrounds "are such a wild, strange gesture that these architects made," full of "optimism" and "big ideas about remaking the world anew. We should never bring back the concrete monoliths that busted so many bones, but we could still learn something about openness, sharing, and creativity from these Brutalist playgrounds.  
---