This Saturday, June 13, Sophia Amoruso is getting married. The founder and former CEO of women's clothing brand Nasty Gal is embroiled in a lawsuit filed by an ex-Nasty Gal employee who claims the company fired her for getting pregnant (along with three other female employees and a male employee about to take paternity leave). But first, wedding bells! Amoruso, engaged to Joel DeGraff, has amassed a mighty steep spreadsheet of suggested wedding gifts, totaling nearly $19,000—a sum well over what most people can expect to spend on their entire wedding. Amoruso and DeGraff are surely a handsome, consummately hip couple that deserve all the bespoke bric-a-brac coming to them. In her own words:
Met him when I was on mushrooms. I was 18. He was married. Had a crush ever since (still do). Being engaged and planning a wedding has taught me so much. Making moves before knowing the value allows beauty to put on a surprise show for you, with the ultimate surprise being—you guessed it—yourself. Consecrate your intentions with real commitments and watch yourself and your relationships grow. As @kristin_korven said at my bridal shower, "I can't think of anything more punk."
Neither can we! But if you're a nasty gal planning your own punk-ass wedding sans wealthy friends, here's a thrift-conscious guide to how to get Amoruso's goods for a fraction of the cost.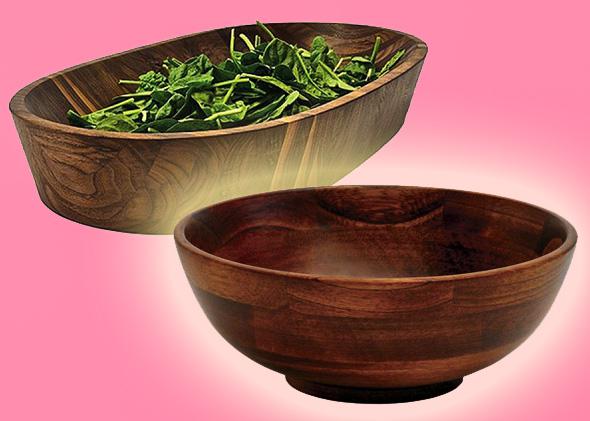 American Black Walnut Oval Bowl $375
If you're looking for a homegrown alternative to Mahogany that surpasses nearly all other North American hardwoods in purity of grain, beauty, and durability, look no further than Black Walnut. If you're looking for a bowl to put salad in, how about this one for $10.31.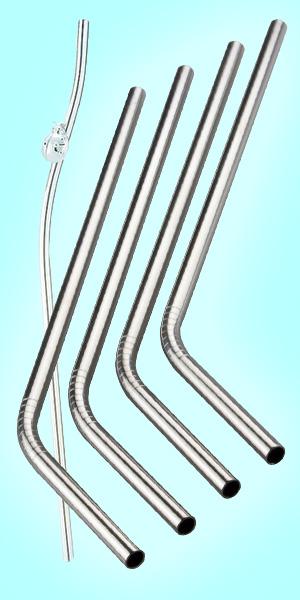 Tiffany & Co. Ladybug Straw in Sterling Silver $275
Everything tastes better through a straw. But for those of us who can't afford to find out what Carlo Rossi tastes like drawn up through sterling silver, stainless steel will do in a pinch for $10.06. (There are four of them, in case you have friends!) Or, if you really wanna get crazy with 10 bucks, there are always these throwbacks.
Point Du Jour Champagne Glass $150
These "mouth-blown" masterpieces of Borosilicate glass are finished with barnacle-like air pockets to mimic the bubbles of your Schramsberg Brut Reserve. Punk. You know what's punker? Champagne tumblers—a relative steal at $30 a pair and wrapped in a signature blue Tiffany's box.
Williams-Sonoma All-Clad Deluxe Slow Cooker with Cast Aluminum Insert, 7 Qt. $400 (Now on sale for $249.95!)
Real talk, if you can afford one of these, they really are the bomb. If possible, borrow your parents' sometime and never give it back. If not, choose "The Original Slow Cooker" for $49.99. It's only six quarts deep, but $200 saved will soften the loss of that seventh quart.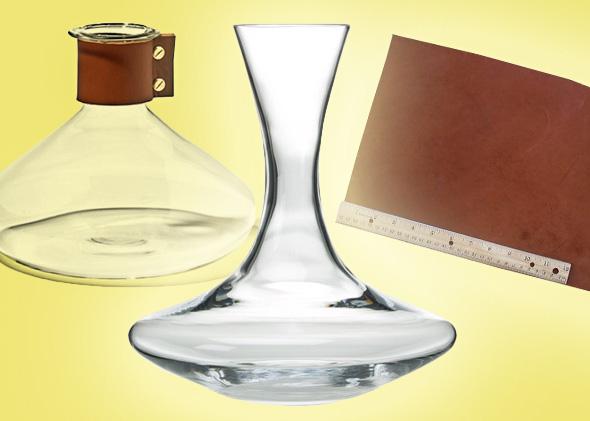 Simon Hasan Honey Leather Wrap Decanter $350
Ah, yes: the tuxedos of alcohol. Decanters make your nice wines look even nicer, and dress up even your cheapest vino. But if the Armani of decanters seems excessive, the Wine Enthusiast makes a good-looking option for $39.14. If you're a stickler for appearances, go ahead and tie some leather around it for an extra $13.95.
Elsa Peretti Bone cake plate in handblown Venetian glass from Tiffany & Co. $550
This is a cake plate fit for the gods. But, like bridesmaids at a wedding, cake plates should never upstage the main attraction—namely, the cake. More modest options like this one for $14.99 will show off your cake without stealing the show.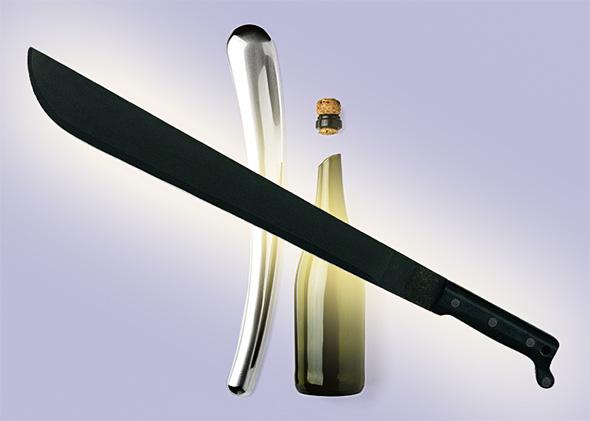 A R Store Champagne Sabre $150
If you're a self-proclaimed punk rocker, a bottle of bubbly isn't remotely festive enough on its own. An aspiring practitioner of the time-worn art of sabrage—a Napoleonic tradition, they say, begun in the delirium of victory on the battlefield—Amoruso will pop her bottles with 2015's much-needed answer to those wild nights of glory and gore. But we think you'd look more bad-ass hacking yours open with a $22.99 machete.
Large Alabastro Chess Set from Barneys $595
It's unclear whether Amoruso is a chess buff, or simply loves the idea of using a gorgeous chess set to collect dust. If you're into the former, we're pretty sure a standard chess set for $21.26 will serve you well. If the latter, the Barneys one is a solid investment.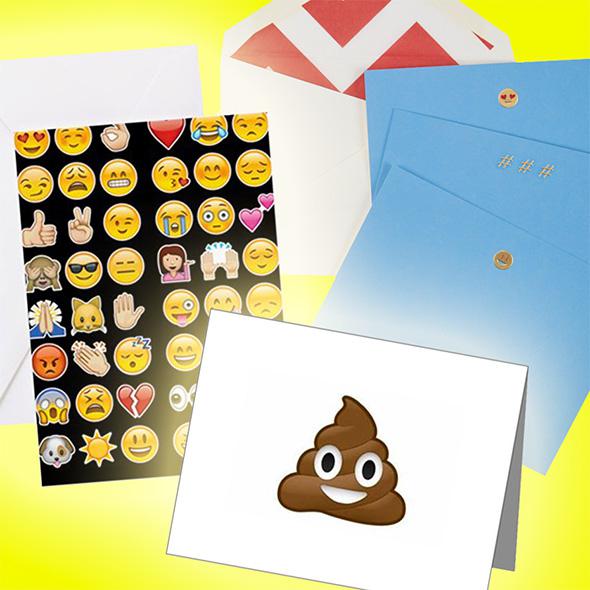 Connor Les Petits "Emoji" Stationery Set from Barneys $25
When writing on emoji stationery, does one write the word penis, or draw an eggplant? Or, more practically, write love, or draw that kissy heart face? Regardless, just FYI, CafePress has all your Emoji-paper-product needs more or less covered.
Tom Dixon the Copycat Tool $80 (Now on sale for $56!)
This really is the best tool out there for etching nostalgia typeface on your Connor Les Petits Emoji stationery. But if 60 clams seems like a lot to drop on this grownup stencil, we suggest Google Image searching your favorite font and tracing the letters straight off your monitor. (Protip: Start with pencil).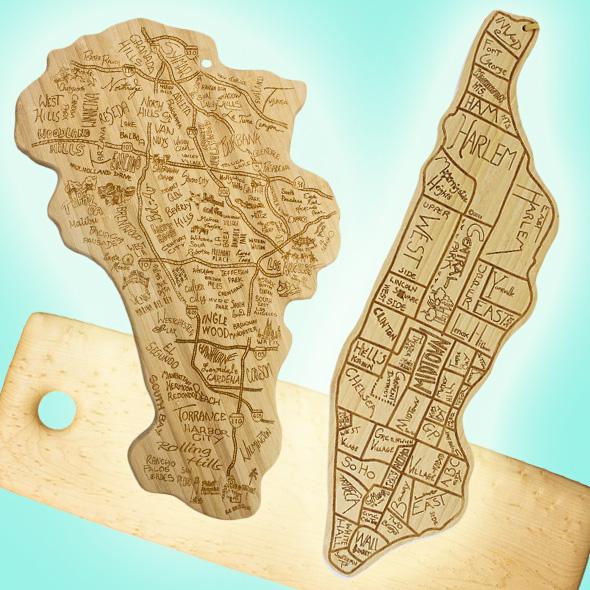 Heath Ceramics Maple Cutting Board $125
Devastatingly for Amoruso, this coveted maple cutting board has been discontinued. Might we suggest it's because, even for display, $125 seems a bit steep? Especially when you consider that these boards, shaped like cities, cost only $29.99 apiece.
Heritage Garden Hose from Terrain $58
A hose by any other name would definitely not be this sweet. For $58, we assume this Heritage hose immediately bronzes your plants, creating heirlooms your descendants will treasure forever. But we're still pretty partial to those Pocket Hoses you've seen on TV. You can grab one (and take it anywhere because they're so lightweight!) for $18.26.
Williams-Sonoma Slim & Light Professional Garden Hose in Merlot $59.95
Yes, this is another, different hose. According to the product description, "This is the hose that every gardener dreams of using." But dreams be damned; we stand by our initial suggestion.
Stan Bitters Small Terra Cotta Birdhouse $200
If you're not of the opinion that birds should build their own damn houses, you face a tough question: What's the bird equivalent of Pierre Cardin's Bubble House on the Cote d'Azur? Amoruso's avian amigos might have modern sensibilities, but it's a safe (and cheaper) bet that the birds in your yard have more classic, folksy tastes.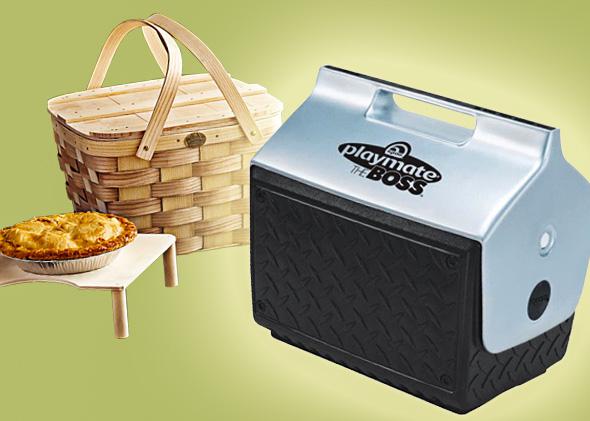 Williams-Sonoma Pie Basket $69.95
Known to some as a picnic basket. Beyond the sticker shock, the hyper-specificity of this basket strikes us as a real drawback. And it definitely will not keep your Capri Suns chilled. For that, turn to this ugly-but-trusty standby for a cool $20.99.
Outdoor Popcorn Popper from Williams-Sonoma $41.97
Without question, popping popcorn outside is an under-observed American pastime. But how should newlyweds make popcorn in the colder months? We prefer the stovetop-friendly and scientifically elegant Alton Brown method, which requires only a standard metal mixing bowl.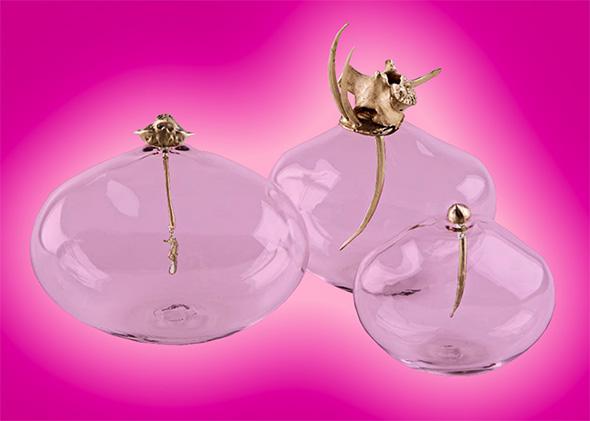 Lindsey Adelman Curiosity Vessel with Acorn Stopper $480
Unfortunately, there is simply no substitute for a good curiosity vessel. According to their description, these sacred chalices are part of Lindsey Adelman's "Dusk to Dawn" collection, in which she "explores her dark side with a series of works influenced by 19th-century ornamentation and natural phenomenon." These otherworldly glass bottles are topped with solid brass stoppers "cast from 'nature gone wrong.'" Screw it. Splurge on the $980 one with the large vertebrae stopper. It's worth it.