A concerned restaurant patron in Terre Haute, Indiana, following through on the post–Sept. 11 ethos of "If You See Something, Say Something," surreptitiously snapped a photograph of a nursing mother, Conner Kendall, at a local TGI Friday's outlet and posted the image on Facebook and Instagram. In a spirit of open inquiry, he did not rush to judgment, but instead posted questions for debate: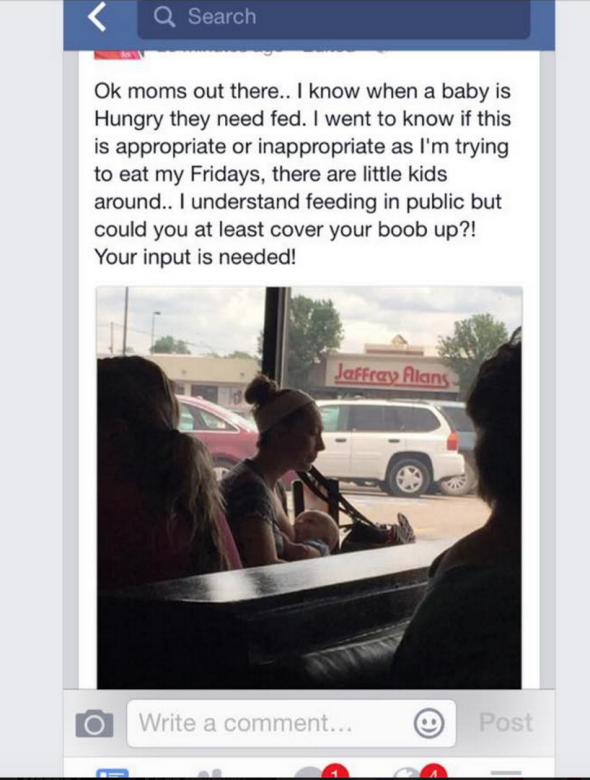 The comments that followed on the man's post were a veritable festival of conversation-starters, which Kendall later collated on her own Facebook page. They included: "Does she really just have to flop it out for everyone to see?" (response: NO, the baby should instead be shoved under his mother's shirt until he suffocates), "There were children there" (response: INDEED, and those children did not include the child who was nursing), "If it's a natural thing then why can't men carry around urinals and use them wherever, whenever?" (response: GOOD POINT, babies love a delicious glass of urine), and "What about the rights of those dining in the restaurant?" (response: ANOTHER GOOD POINT, Kendall and any other nursing mothers at TGI Friday's should have offered to breastfeed any patron who asked).
Incidentally, the man was exercising his rights to feed his child at a TGI Friday's at the time he took the picture, an irony Kendall noted in her own Facebook post: "As I was admiring how adorable your daughter was," Kendall wrote on Facebook, "you were posting pictures of me." (So far, Kendall's Facebook post responding to the social-shaming campaign has logged more than 73,000 shares and hundreds of supportive comments.)
Everyone appreciates other people's children in his or her own way! But we can all agree that if a mother feeding her baby makes you uncomfortable, the best possible thing to do is to make sure the entire Internet can have the opportunity to feel as uncomfortable as you do. That's what parental solidarity is all about.
Lastly, I would like to apologize to the people of Terre Haute, Indiana, for the time I breast-fed my daughter in front of the taco stand at the Children's Museum in Mexico City, where children eating could have seen my child eating.