On their new release, One Lost Day, Amy Ray and Emily Saliers, otherwise known as the acoustic-guitar-based duo Indigo Girls, take listeners to rural towns with expansive skies and throttled dreams. Flavored with Tom Petty-esque riffs and enfolded in heartland poetry and stately balladry, the songs feature the simmering politics of race and poverty. There are a fair number of mortalities—a dying marriage, the death of childhood innocence, and the passing of a family elder. The feel is mercurial, unsettled, as if to say that after more than three decades of socially conscious musicianship, Saliers and Ray, who began performing folk-rock as high-schoolers in Decatur, Georgia, are still pricked and prodded by inequity in its various incarnations.
Ray, 51, has historically been a conscience of the communities she moves in. "Well, I don't want to be, but I can't help myself," she said, laughing.
She spoke to me a few weeks before the independent release of Indigo Girls' CD on June 2—their 14th studio recording. Ray called from Georgia, where she lives in the northeast foothills, a half-hour before the interview was scheduled to begin. "I am totally being neurotic," she said, mindful that she would be high-tailing it to pick up her 1½-year-old daughter immediately after the call. Ray shares parental duties with her partner of 13 years, Carrie Schrader, a teacher at North Georgia College and a filmmaker.
Hoping Georgia will be another domino in the states that have tipped in favor of marriage equality, Ray said, "I'm holding out, because I don't want to get married anywhere else."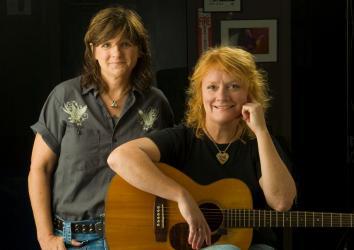 Such casual conversation about same-sex weddings is far removed from the climate Indigo Girls experienced as out lesbians in the '90s. In 1998, administrators canceled an entire tour of free concerts at high schools around the South, simply because of their sexuality.
The pair has arguably paved the way for out mainstream musicians such as Tegan and Sara and Brandi Carlile; just as Indigo Girls benefited in an incremental way from women's music movement forerunners such as Holly Near and Meg Christian.
Over time, the Indigo Girls audience has largely reverted to its core of queer fans. They circled the wagons after Ray and Saliers were persistently branded a "lesbian folk duo" in the music press after they came out in 1994. But Ray isn't bitter about being pigeonholed. "The only thing I'd change, maybe, is doing it earlier," she said. "We weren't being superstrategic. It was just my and Emily's personal journey."
A Grammy-winning act that has sold millions of records, Ray and Saliers still sell out theaters such as Radio City in New York and El Rey in Los Angeles. They also perennially attract the graying hacky sack crowd, college-age kids in tow, at summer folk festivals. Few acts have toured and recorded as consistently or for as long as Ray and Saliers.
As to how they built and now maintain their listener base, Ray said, "When we started out, we weren't great, but we got better as we went along. We were so young, and our crowd grew up with us. There was a moment in time when that was still allowed to happen," she said, adding of our current era of single downloads versus fully formed vinyl projects, "It's really hard to get a core audience like that anymore."
As of this writing, Indigo Girls have 174,425 friends on Facebook, not bad for an act that hasn't charted since 2006, when they recorded "Dear Mr. President" with Pink on her I'm Not Dead disc. The duo are currently inviting fans to record themselves singing a pre-release song from One Lost Day, "Happy in the Sorrow Key," for inclusion in a formal music video. Ray and Saliers are also rolling out "behind-the-scenes" webisodes. Each installment features a song from the new release with background on how it took shape.
When she's not on tour promoting a new CD, Ray sticks close to home, although it isn't a simple thing being a two-mom family in rural Georgia, where she's lived for 21 years. She points out, for example, that schoolteachers who reveal they are gay can have a hard time keeping their jobs. A lot of gay kids, she said, are still tormented by other kids and by the adults in their families.
"I have friends who don't even agree with my lifestyle. It took a long time for [my parents] to come around," she told me. "That's how I feel about where I live. I don't want to leave it because it's hard. I want to stay and help make change."