"I used to work for WD-40," says Helen Way, senior marketing manager for Astroglide. "And when I started at Astroglide, I told all my friends: I'm back in the lube business—and this time, it's personal."
We are standing in the shadow of the Taras Shevchenko Memorial near Dupont Circle in Washington, D.C., at 3:30 p.m. on the day of the Capital Pride Parade. The temperature is 89 degrees Fahrenheit, and the humidity is turgid. For reasons that never become fully clear to me, I have been invited to ride on the Astroglide float during the parade. The only information I was given about the activity beforehand was when and where to show up.
"Astroglide—you know, maybe for some people, it's not necessary," Helen says. "For some people, it spices things up in the bedroom."
Helen turns out to be endlessly quotable in a very senior-marketing-manager way, in that all of her best lines seem both brilliantly spontaneous and (upon sober reflection) carefully practiced. She envisions a bottle of Astroglide in every nightstand drawer in America.
"Some of my friends say, 'Why would I ever use lube? I don't need it.' " Helen informs me. "And I tell them, look, you can have vanilla ice cream every day—or you can put chocolate sauce on it every once in a while."
In addition to me, the following people have been invited or paid to appear on the Astroglide float: Zack Ford, a writer for ThinkProgress; Lisa, a stilt walker whose outfit is (she tells me) inspired by the title character in the Disney Channel original movie Zenon: Girl of the 21st Century; Orange Peel, a stilt walker dressed like a zebra; Trevor, a handsome young man decked out in feathers with no apparent sartorial theme except the color red; Acid Betty, a drag queen who made a pretty funny Holocaust joke; Brenda Dharling, a drag queen who, by coincidence, performs with Slate's Miz Cracker; a Russian woman with an unpronounceable name dressed like the Cheshire Cat if the Cheshire Cat were a mostly nude Slavic sprite; and the Glitter Boys, two extremely buff men covered head to toe in green and pink (respectively) glitter.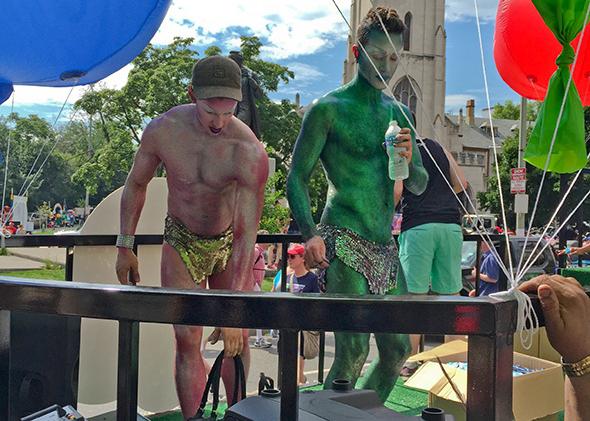 It may go without saying that Zack and I are the odd people out among this colorful troupe. We are effectively excluded from the chummy club the actual performers create at the back of the float. Rather than glitter or costumes, we are given tank tops that depict an Astroglide bottle squirting out the phrase "GET YOUR FREAK ON" in multicolored bubble letters.
Many outlets describe Saturday's parade as "the 40th annual Capital Pride Parade." But you won't find such sloppy phrasing on the event's website, which calls itself the "40th Celebration of Pride in the Nation's Capital." In fact, the first "celebration of pride" in Washington, D.C., in 1975, was not a parade but a one-day street festival more akin to a block party. The festival was attended by about 2,000 people, including some candidates for the then-newly formed D.C. City Council. It snowballed in popularity over the next decade. Numbers plummeted during the darkest days of the AIDS crisis, but attendance steadily rose throughout the '90s and '00s.
Today, the event is bifurcated into a Saturday parade and a Sunday festival, where vendors eager to maintain an LGBTQ-friendly image hawk free crap from hot booths. In 2014, the parade drew about 100,000 people; the festival, roughly 250,000. This year appears to have topped that.
What is the purpose the 40th Celebration of Pride in the Nation's Capital? The District of Columbia already has virtually every LGBTQ-protective law advocates could ask for. Sexual and gender minorities are extremely well assimilated into the community as a whole. D.C. may house Congress, but anti-gay holdouts in the Capitol aren't likely to have their minds changed by a carnivalesque romp of PG-rated sexual decadence.
That leaves a few options. Pride could be a political statement about LGBTQ acceptance and visibility, allowing the community and its allies to convulse with collective joy over the sexual revolution's finest achievement. Or it could be about profit—an opportunity for hundreds of brands to demonstrate their LGBTQ-friendly credentials and expand their reach to a broader consumer base, resulting in both a higher score on the Human Rights Campaign's Corporate Equality Index and (if all pans out) greater profit.
A partial list of the sponsors of Capital Pride: Hilton, Marriott, Maryland Live! Casino, Heineken Light, Celebrity Cruises, Booz Allen Hamilton, TD Bank, Wells Fargo, Amtrak, Kaiser Permanente, Chipotle, Capital One, AT&T, Food Lion, Starbucks, Uber, Suntrust, Citi, Boeing, the U.S. Department of Energy, and, of course, Astroglide.
Astroglide is manufactured by BioFilm, Inc., a privately held company founded in 1991, which, according to the Astroglide website, "develops innovative, high-quality healthcare products to enhance intimate activities." This kind of quasi-discreet phrasing turns out to be a specialty of the brand. On the weekend of Pride, the Astroglide website depicts: two genderless wooden mannequins kissing in the rain ("EVERY ACT BECOMES A SCENE"); a macro shot of a wet aloe vera plant ("GIVE IN TO YOUR NATURAL INSTINCTS); a straight couple looking intently at a teddy bear ("SMOOTH THE ROAD TO PARENTHOOD"); a Pride ad ("GET YOUR FREAK ON"); and a steamy window with a dripping heart drawn on it ("SLIP INTO LUXURY").
These lube-alluding double-entendres turn out to be Astroglide's stock-in-trade. Our float contains three large cardboard boxes filled with thousands of 4-milliliter Astroglide Diamond Silicon Gel Personal Lubricant samples that say "GLIDE WITH PRIDE" and the quickly familiar "GET YOUR FREAK ON." The back of our float says "SLIDE INTO PRIDE." In its promotional materials (which are often framed as educational), Astroglide endeavors to continually straddle the line between sexually suggestive and unaffectedly frank. Poring over too much Astroglide literature gives one the sense of being given The Sex Talk by a parent who is trying too hard to be her teenage daughter's best friend.
It is 4:15 p.m., and the Astroglide crew is in good spirits. The Glitter Boys are perfecting their makeup. Trevor and the queens are chatting about the New York drag circuit. Lisa and Orange Peel are helping each other put on their stilts. Orange Peel is clearly hitting on Lisa, despite the fact that they are both over 12 feet high and dressed in character. Lisa is so astonishingly sweet, so achingly gentle, that watching Orange Peel's efforts breaks my heart a little bit, although I promptly worry that I'm being chauvinistically condescending and denying Lisa sexual agency. At one point, while Lisa is leaning over the float on her stilts to grab some water, Orange Peel leans over her as though he's mounting a zebra mate. Lisa just lets out a fluttering laugh. She's dealt with worse.
Capital Pride presents an image of the LGBTQ community into which I am not entirely sure I fit. The parade route is lined with gorgeously buff men. I am not buff. The weekend is celebrated with excessive alcohol consumption and partying. I rarely drink in excess and almost never go to parties. At every turn, Pride participants are expected to dance. I am far too Jewish to dance.
I came out at 19—an age so old by today's standards that gay youth now scowl in disbelief when I tell them, as though I confessed that I didn't learn to pee standing up until I was 60. Back then, I did all of the things Pride requires. I even danced—mostly performing a move I invented that involves little more than repeatedly snapping your fingers.
And, of course, it was all so easy. As any minimally self-reflective gay person will tell you, coming out is imperfectly analogous to being reborn. No matter how much you peddle bromides like "I'm still me," you really have to relearn everything—how to make friends, how to talk to your parents, how to tell the truth. In the midst of this mental chaos, when all your autonomous functions are wiped out, it's easy to pick up new traits. But after a few years of excitement and experimentation, your identity snaps back into a rigid form, and your new self turns out to look a whole lot like your old self.
There are 40-year-old gay men who act like queeny twinks. There are 18-year-old gay men who act like 60-year-old grandpas. But the undeniable truth is that in 2015 there is a mold, a cast, a type of young-ish gay guy who lives in a big city and has a significant disposable income. Men of this type hang out together and have fun together and sometimes have sex together. There's something ineffable about this type of man, some common characteristic that is impossible to describe, but you know it when you see it. And I am not it.
It is 4:30 p.m., and the Astroglide float has a problem. For the parade, the company purchased four giant balloons in purple, red, green, and blue that are meant to say "Astroglide" on them. But there is a typo, the balloons read "Asrtoglide," which nobody caught until this moment. The float crew (comprised of three gruff straight men) stoically deflates them.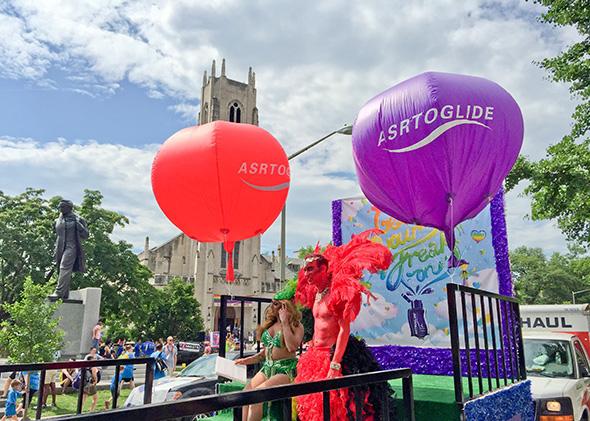 The balloon typo is the first in a series of small-bore crises that seriously threaten to derail morale. Two generators meant to power a speaker and an industrial-grade bubble machine burn out. No music, no bubbles. Then we are informed that we've been placed in the second-to-last float group, meaning we won't shove off until 5:30. The Glitter Boys fume; their train back to New York is at 7:20. Queen Acid is on the same train, though she takes the news with equanimity. The Glitter Boys angrily confront the leader of the float crew, their shimmering loincloths fluttering in the late-afternoon breeze.
Does anyone truly love lube? The Astroglide website contains a section titled "Reasons to Love Lube," but its reasoning is unpersuasive. Lubricant, according to Astroglide, "sets the stage of sustained intimacy and greater satisfaction." Yet that's really a reason to tolerate lube, not to love it. Lube's primary purpose is to make our sex organs and orifices wet—and to keep them that way. I doubt many gay men would say they "love" lube; that would be akin to a sloth saying it loves trees. Because the anus isn't self-lubricating, lube is a fact of life for most gay men.
This reality may explain why the Astroglide website, and most of the company's educational (aka marketing) materials, are geared almost entirely toward straight people—especially straight women. Unlike most advertising, which convinces you that you have a personal failing (e.g., halitosis) then offers to sell you the cure (e.g., gum), Astroglide wants to convince you that you don't have a personal failing. That is, if you are a heterosexual female, and your perceived personal failing is a dry vagina. "[P]ersonal lubricant isn't an indication of your arousal level," Astroglide insists. It's for [a]nyone who wants to take their sex life up a notch! Let's face it—when it comes to sex, wetter is better." Admit that your lack of naturally occurring vaginal lubricant isn't a reflection on your character, then go buy Astroglide.
The website's Q&A section is even more blatantly pitched toward straight women. Five of the 14 Q's deal with vaginas, zero with anuses. In fact, if the website has any reference to gay anal sex, I couldn't find it. One feature about bisexuality depicts two women and a man in bed together giggling manically. Another explains how to find "the male G-spot," a term for the prostate that no gay man I know has ever used.
This marketing focus is in line with what Helen Way candidly tells me about Astroglide's latest R&D. The company has discovered that several high-spending demographics are just waiting to break into the lube market. There are the Playboys (men in their 20s to 40s who have a lot of sex with a lot of different women), the Super Mommies (moms who are interested in a piquant postpartum sex life), the Golden Girls (self-explanatory), and the Cinderfellas (never explained). Astroglide is intent on helping each of these groups expand their sexual repertoire by building a relationship with a lubricant. And it wants that lubricant to be Astroglide. 
At 5:15 p.m., it is apparent that we will not be shoving off at 5:30. Through the grapevine, we hear there's a holdup—some politician arrived late. The Glitter Boys plot their escape. I scurry to the Snack Shop (real name) across the street to grab a granola bar and bring up my blood sugar, which dropped precipitously around 4:45. The Snack Shop is directly across the street from the now-defunct Apex Nightclub, the first gay club I ever attended. Apex was a favorite among Georgetown students, a conveniently located pretext for hookups. It was on the bus to Apex that I met my first boyfriend, another Georgetown student two years my senior. We stayed together for about 10 months. Five months into our relationship, he discovered that he had osteosarcoma, for which he needed chemotherapy and major surgery. We broke up five months later, after the surgery and in the middle of chemo. He is now training to become a Lutheran minister. I'm very happy for him. We talk on our birthdays.
The corporatization of gay rights is really only a problem if you hate corporations. I do not hate corporations on principle, so I'm not sure why I'm made slightly queasy by the sight of "Capital Pride: Presented by Hilton." Maybe it's because the LGBTQ movement, once so thrillingly radical, has been necessarily tamed by its myriad corporate alliances. Maybe it's because corporations prefer to focus on the heartwarming issues their stakeholders care most about, like marriage equality, rather than the gritty ones like HIV treatment that disproportionately affect low-income gays. Maybe it's because corporations aren't people—yet here they are, professing their support from the bottom of their hearts: fictional legal personalities that shower our community with money in exchange for … well, for what, exactly?
At 5:45 p.m., a rebellion stirs. We are still not moving, and the Glitter Boys seethe. It comes to light that they have not yet been paid. Zack and I strive to stay far away from the turmoil. Trevor and Brenda Dharling reappear after ducking into The Fireplace, a gay bar next to our now rather sadly unadorned float. We are told we could start moving at any moment, but nobody quite believes it after more than two painfully stationary hours. Malaise has settled over our entire section. The sunscreen I slathered upon every exposed square inch of skin has begun to cling to my forehead sweat and drip into my eyes.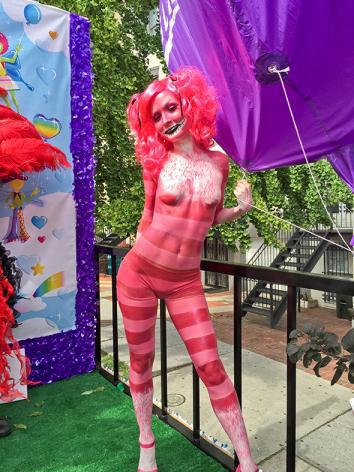 We have been surrounded by the same crowd of hot guys waiting by their own floats since 3:30, but they're all beginning to look the same. I've stared at my favorites for so long that I've become disgusted by what I now perceive as their fatal flaws. The guy with the perfect arms has a nose that's just way too small for his face. The guy in the singlet has a birthmark under his eye. The muscly ones are too muscly, and the skinny ones are too skinny.
Actually, most of the gay men in D.C. who live and work near me—in my mostly white, mostly upper-middle-class neighborhood—look so similar that they are basically interchangeable. Same haircut (buzz cut on the sides, layered on the top); same outfit (tank top May through September); same body (near-perfect, but never quite there). I, who look at all times like a melancholy rabbi, do not blend in with this monochrome. Once, years ago, I tried, but it wasn't right for me. I soon realized it didn't much matter, because I didn't speak the lingo, either. I don't watch RuPaul's Drag Race; I don't go to boozy brunches; I don't vacation in Rehoboth; I don't go to the gay gym. I am, admittedly, in a gay relationship—but I've been in the same one for nearly three years, so it barely even counts anymore. When I'm around this many gay people, I start to feel a little bit like a fraud.
A loud, angry-sounding man holding a clipboard and a walkie-talkie enters our float ghetto at 6 p.m. The truancy enforcement police van parked in front of us moves several feet forward. We are preparing to launch. I realize that if there is a plan, it has not been shared with me. The police van pulls farther forward, and the floats on the other side of the street begin to enter the parade. It's happening. The Glitter Boys stand on the road, arguing with the crew leader. Clipboard clutched to his chest, the man with the walkie-talkie shouts at us. It's time to go. The truck hauling our float inches forward, and the whole float lurches ahead. Helen and her assistants grab heretofore unseen bags stuffed with yet more lube. Two crew members remove wagons filled with lube packets from the truck bed. As the float pulls into the parade route, the Glitter Boys walk away—headed to Union Station to catch their train, decked out in glitter and body pant.
And then, suddenly, we are surrounded by thousands of screaming people, and I am standing on an Astroglide float with a drag queen and a feathered man with nothing to do. I spot a plastic bag holding somebody's lunch leftovers, pull out the Styrofoam box, and shove lube packets into it. Then I hop off the float and dash to the crowds screaming "Lube!" A hundred hands reach out, and I push lube packs into as many as I can. "Who wants lube?" I shout, and I am greeted by a deafening cheer. Sunscreen drips into my eyes, and I can barely keep them open through the stinging pain. "Lube!" a shirtless man shouts toward the back of the crowd, his hand stretched upward. "I need lube!" I attempt to fling several packs toward him, but accidentally hit someone in the face with a lube packet.
It's manic out there—absolute lube madness. I fall behind my float and get caught up with the next party, a group of marching Quakers. "Quakers!" shouts the crowd. "Yeah, well, the Quakers aren't giving you lube, are they?" I respond. They love it. I patter with the sea of faces. "You look like you need a few of these," I tell every couple. "Share this with your friends," I tell others. For a while, I tell single people to "think of me when you use this," but nobody laughs, so I stop.
In the crazy rush, I accidentally press lube packets into about a dozen young children's outstretched hands. I don't care. Behind me, Trevor screams to the crowd to make some noise. They respond with a booming cheer. I fling lube packets at every hand I see. Some fall out of my hands and scatter on the ground. Every few minutes, I hoist myself back on the float and grab another load of lube. My stinging eyes well up with tears and I can barely see. Then, miraculously, I cry out the sunscreen, and my vision clears. We approach Dupont Circle and round the curve. The chaos is overwhelming. I dawdle in front of a rowdy group, and the float pulls ahead of me. But the Quakers have fallen behind, and I am alone in the empty street—just me and a hundred packets of lube and a thousand screaming people. And I rush toward the crowd as it convulses with joy, toward the ecstatic pandemonium, and I am among my people, in my city, exactly where I need to be.