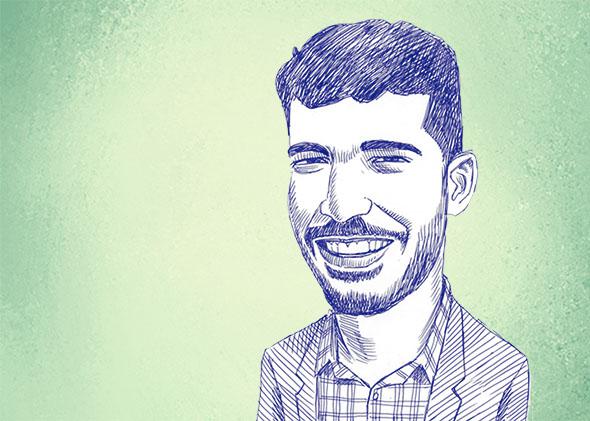 What do you visit at least 20 times per month? In 20x, we ask Slatesters about their real "media diets," about the corners of the Internet that they return to every day, for better or worse. —Slate Plus editors
During my off-hours, I try not to read too much news because I'm convinced an excess of news is bad for your mind and soul. It's pretty addictive, our news cycle, and it tends to make me feel like the world is a place of unceasing anguish. But that's not true! There are beautiful places, talented people, and fascinating ideas all around us. And when I unplug from breaking news, I try to engage with all the fun stuff I couldn't squeeze in during the more hectic hours of the day. 
The A.V. Club's TV Club (30x/month): I watch TV largely so I can read reviews of the TV show I just watched. What's wonderful about TV criticism is that the stakes are immensely low, so the passion tends to run inordinately high. When I watch an amazing episode of Penny Dreadful, I can't wait to go see whether the TV Club's reviewer will validate my enthusiasm with a rhapsodic review. When I watch a mediocre episode of The Americans, I'm buoyed by the fact that another hardcore fan will spend 1,500 words panning it. Plus, the TV Club's commenters are some of the funniest and sharpest around. TV watching should be a communal experience, and the TV Club fosters one whip-smart community.
SCOTUSblog (30x/month): SCOTUSblog is the place to go for balanced, well-reasoned commentary on legal stuff. Their regulars (especially Lyle Denniston) are treasures, of course, but the website's real genius is the vast array of scholars who provide thoughtful, incisive commentary without much partisan spin. SCOTUSblog's stable of right-leaning commenters is also fantastic; its crew of conservatives pen perceptive analyses devoid of the nasty slant and willful ignorance that comes from hyper-partisan websites like the Federalist and the National Review. Although, on that note …
This Day in Liberal Judicial Activism, the National Review (20x/month): Ed Whelan's daily poison pen letter to every left-leaning court ruling in United States history is astute, clever, cross, and wildly entertaining. Whelan's willingness to take on sacred cows (including, amazingly, Brown v. Board of Education) makes each day's post an exhilarating wildcard. I disagree with almost everything Whelan writes, but his column is indispensible reading.
List of territorial disputes, Wikipedia (20x/month): I've been obsessed with borders and disputed territories since I was a very small child, so I find this page almost hypnotically absorbing. The violent disputes depress me, but the arcane ones are absolutely delightful. Did you know that both Spain and Morocco claim three tiny islets just off their coasts? That Israel, Lebanon, and Syria all claim a minuscule strip of farms? That India and Pakistan both believe they own a glacier? Or that America and Canada both claim sovereignty over an island near Maine? It's a true thrill to watch nations tussle over such dinky pieces of Earth.
Wedding Announcements, the New York Times (25x/month): I hate-read these daily, limiting myself to one a day to space them out.
Chartbeat (100x/month): Everybody at Slate has a different relationship with Chartbeat, a service which tracks how many people are reading any given Slate page. Some people never look at it; some look at it compulsively.
Here's my philosophy. I try to write about topics that interest both me and Slate readers. This requires some compromise. If I only wrote about stuff that interested me, I would write a dozen articles about border disputes and the confrontation clause every week. If I only wrote for traffic, I would just pull clips of Fox News hosts saying homophobic things all day. Chartbeat helps me to gauge readers' interest in my own obsessions, allowing me to figure out which of my pet issues are also appealing to Slate's audience.
Clickhole (20x/month): I love this Onion spinoff for all the reasons my colleague Dan Kois recently outlined. But the pieces I adore most of all aren't the ones that, to paraphrase Dan, make me laugh and make me feel terrible. They're the ones that build their own totally bonkers mythology while spiraling into manic absurdity. "Will Hanukkah Consume You?" and "Which One Of My Garbage Sons Are You?" are, to my mind, two of the most brilliant things ever published on the Internet. Whenever I'm overwhelmed by the real world, I retreat into the embrace of Clickhole's madness. It's an all-purpose cure for what ails me.
---