In 2014, New York City–based designers Hamish Smyth and Jesse Reed of the design firm Pentagram launched a Kickstarter campaign to reprint the 1970 New York City Transit Authority Graphic Standards Manual designed by Massimo Vignelli and Bob Noorda as a limited-edition book, raising $800,000 from NYC-loving transportation geeks and design lovers who wanted a piece of iconic design history at home.*
Now Smyth has created a self-described "nerdy poster" that is an amalgamation of all 468 NYC subway station graphics. The Kickstarter project, in collaboration with his girlfriend, Alex Daly, and the MTA, has already raised more than $87,000 of its $29,800 goal, with 25 days left to go.
Smyth said in an email that he got the idea in 2012 while working on an NYC pedestrian wayfinding system. "That program called for a way to represent each subway stop," he said. "I always thought that it would be cool to do something similar on a poster and I filed the idea away for a rainy day."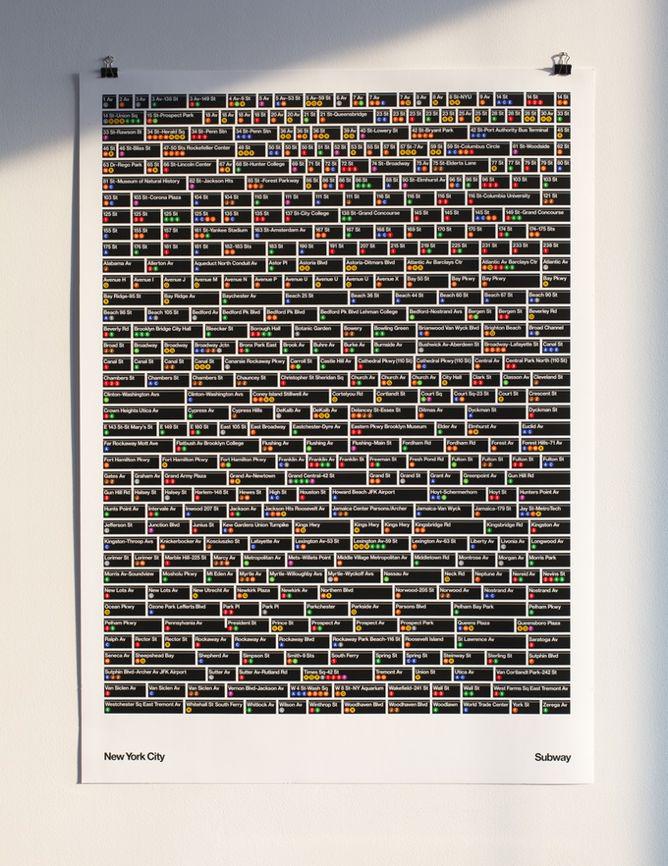 Working on the Standards Manual campaign only deepened his fascination with the iconic graphics, he said in a project description. In 2014, Smyth finally sat down and digitally drew all 468 subway signs using Adobe Illustrator, arranging them in alphabetical order. While 90 percent of the original signs are standard size, he had to slightly stretch some with added black background to fit all the signs at an equal width on the poster, which he printed and hung in the apartment he shares with Daly. When visiting friends started asking where they could get one, Smyth and Daly decided to give them a chance to buy it. (Proceeds will be shared among Smyth, Daly, and the MTA.)
There is certainly no shortage of graphic odes to the NYC that you can hang on your wall, but the poster is pleasingly abstract from a distance and refreshingly straightforward up close. It's the kind of fun, simple idea that makes you wonder why nobody thought of doing it before.
"This design seemed systematic and almost inevitable," Smyth told me. "It was a democratic way of representing each and every station."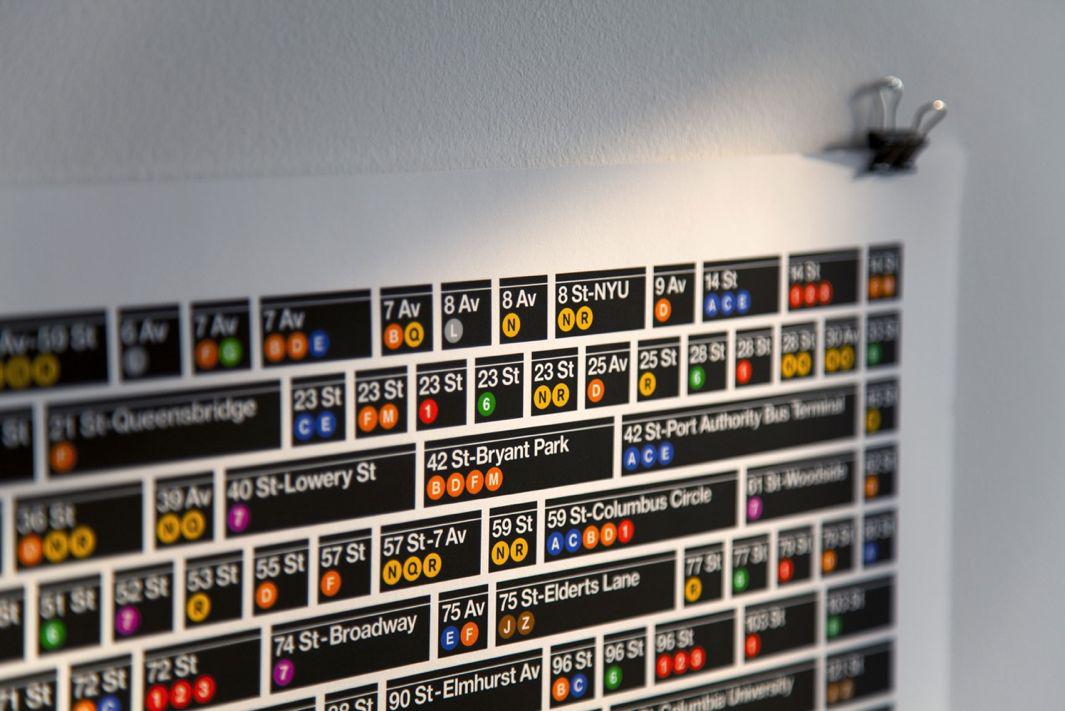 Smyth said that projects like the Standards Manual and a reissue of an iconic 1961 book by modernist graphic designer and pioneer of information design Ladislav Sutnar "have proven a strong interest in preserving design classics."
He added that although the poster isn't a reproduction of an existing publication, it is "taking a design classic—the NYC subway graphics—and elevating them from utilitarian and functional signage into something a little glossier. In that sense, we are preserving a design artifact, and making it enjoyable in a format it was not originally intended for."
Check out Smyth and Daly's Kickstarter project video below:
*Correction, June 29, 2015: This post originally misstated that the design firm Pentagram is based in New York City. It has a New York City office, but it's an international firm founded in London.