The Vault is Slate's history blog. Like us on Facebook, follow us on Twitter @slatevault, and find us on Tumblr. Find out more about what this space is all about here.
This list of abbreviations for telegraphic transmission, from a 1901 textbook, shows how operators increased the speed of communications by streamlining the messages they sent and received. By the time George M. Dodge published this book, telegraphy abbreviations had been evolving for half a century, along with the profession. 
Dodge, author of The Telegraph Instructor, intended his book to be an easy-to-follow instruction manual for aspiring operators. Dodge worked as a telegrapher for the Pittsburg, Fort Wayne, & Chicago Railroad, began teaching in 1874, and expanded the scope of his school at the end of the 19th century. By 1910, Dodge boasted to prospective students in an ad at the back of Popular Mechanics that his Institute of Telegraphy, in Valparaiso, Indiana, was "the leading telegraph school in America and the only one graduating thoroughly practical operators."
Here are some examples from Dodge's book of abbreviated sentences that turn-of-the-century telegraph operators might use in professional communication. (The content of the messages reflects the fact that many operators would be working for railroads, coordinating train traffic.)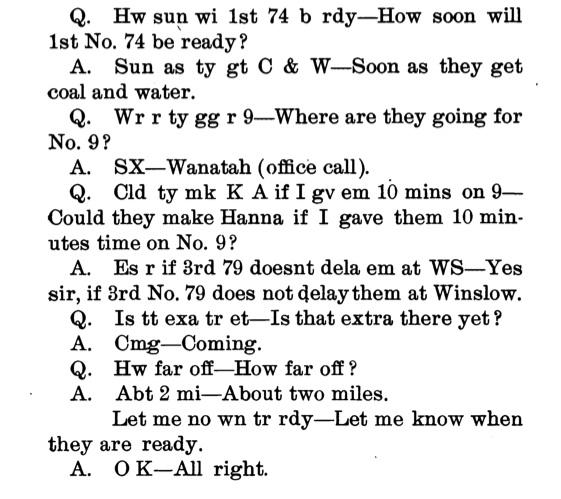 On his blog Sunday Magazine, David Friedman writes about an 1890 New York Times piece on telegraph operators' long-distance friendships. That piece contains examples that show how abbreviations would be used for more colloquial messages. Wrote the Times reporter: 
Their morning greeting to a friend in a distant city is usually "g. m.," and the farewell for the evening, "g. n.," the letters of course standing for good morning and good night. The salutation may be accompanied by an inquiry by one as to the health of the other, which would be expressed thus: "Hw r u ts mng?" And the answer would be: "I'm pty wl; hw r u?" or "I'm nt flg vy wl; fraid I've gt t mlaria."
Thanks very much to reader Erich Anderson for the recommendation.