The decadeslong trend toward open office plans that foster spontaneity and collaboration among colleagues has proven counterproductive for individuals struggling to find focus. The ensuing backlash against open-plan office spaces has created a thriving subgenre of office furniture designed to compensate for all the ways in which open-plan spaces are no good for workers. It seems ironic that we have torn down all the office and cubicle walls only to find new ways to rebuild them.
For their latest piece of office furniture, researchers at Steelcase took inspiration from cognitive neuroscience about how our brains function, including studies on the myth of multitasking and the apparently 23 minutes it takes to regain focus after an interruption. They combined this science-based common sense with their own observations of the relaxed, lounging postures of both students and people at work to create the new Brody WorkLounge.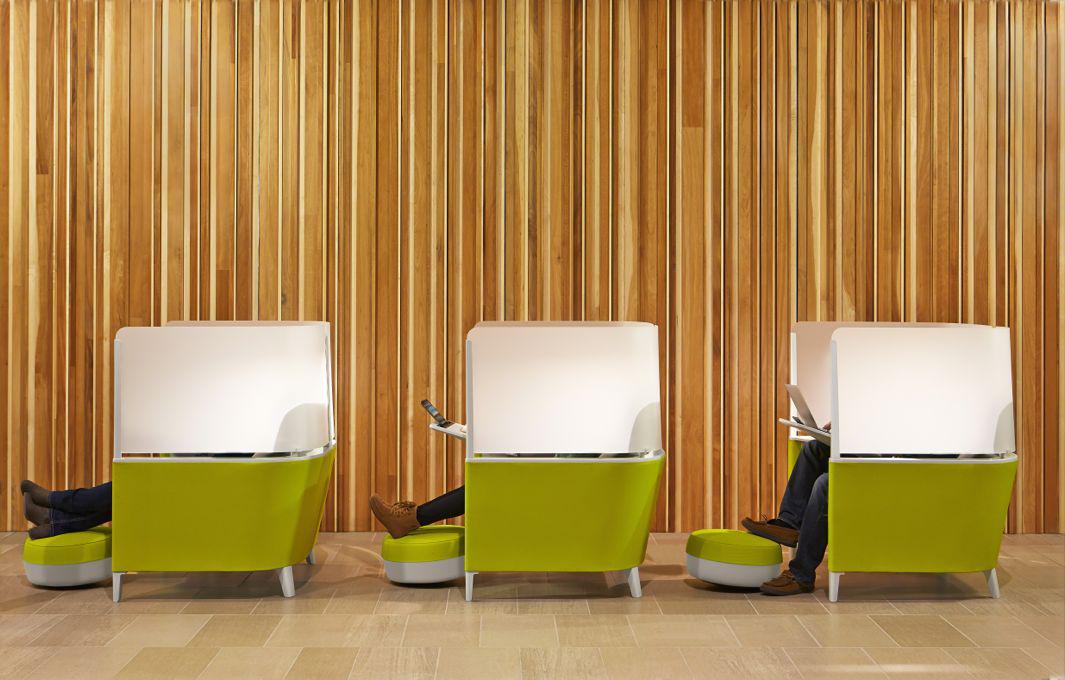 Created by lead designer Markus McKenna and the Steelcase team, Brody is an office pod that promises to minimize visual distractions and offer a comfortable, ergonomically friendly cocoon where a worker can lounge into a coveted state of flow.*
McKenna calls the Brody pod a "cocoon-like space." Its three-sided translucent or fabric-covered privacy screens are designed to shield peripheral vision and buffer the anxiety-provoking distraction of people moving behind us while allowing us to monitor the comings and going of people as they approach.
McKenna told me in an email that the designers thought about how our survival as a species is due in part to how our brains evolved to quickly shift attention in order to scan the landscape for food or potential threats. "Our eyes are one of the tools that help us survive," he said. "Our peripheral vision is sensed by specialized cells in the retina called rods that are extremely sensitive to light and movement, which is good when you are in a jungle, but not so great when working in open environments like the workplace or libraries."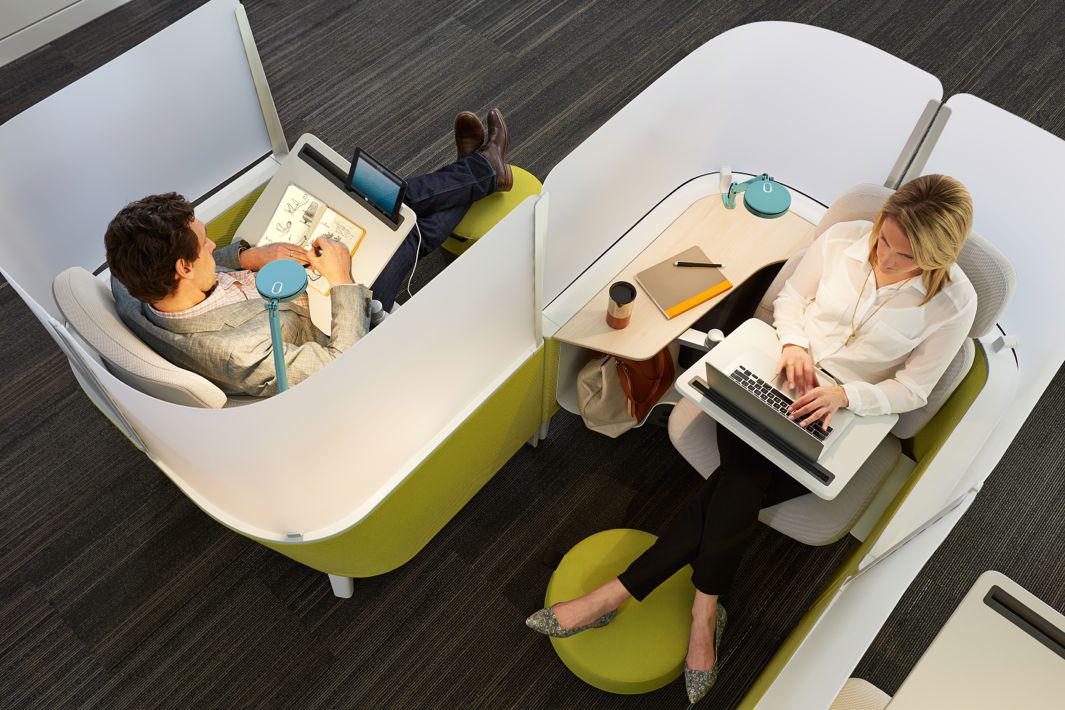 Because we now can work just about anywhere thanks to our laptops and mobile devices, many of us end up uncomfortably staring at our screens at awkward angles in maladapted furniture. The Brody pod is what McKenna calls a "micro-environment," built to cradle the body in a comfortable, ergonomically friendly "alert recline" position that provides both upper- and lower-back support as well as an angled work surface that helps prevent eye, neck, and shoulder strain.
"Lounge positions often force the body into uncomfortable, painful positions by supporting the body but forcing your gaze upward, away from work," McKenna said. "Discomfort is its own type of distraction. Brody has been designed to support the user in a posture that balances the head on the shoulders, allowing you to focus on your work without generating stress in the neck."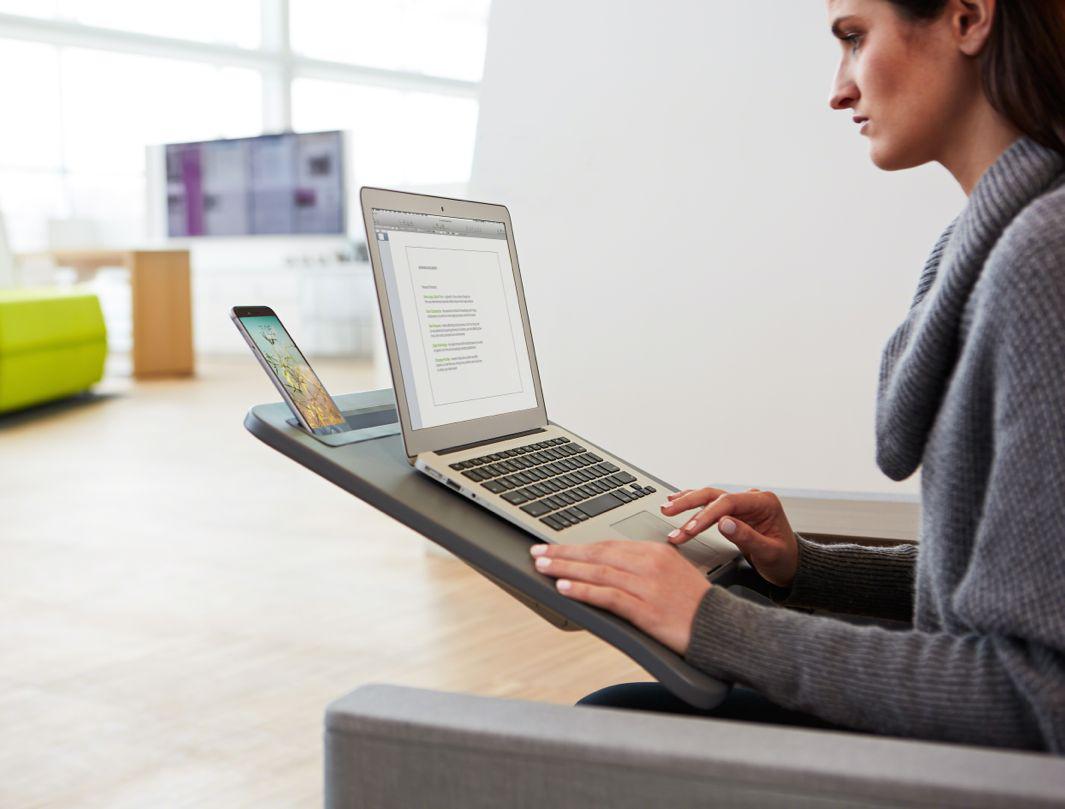 The design addresses concerns about physical distractions, but what about the worst concentration-killer of them all: noise?
The privacy screens "deflect sound somewhat from the outside, but we don't consider this a solution for noise control," McKenna said. "During development, we looked at a number of technologies that purportedly addressed sound, but our analysis showed that none made a significant enough difference for us to include them (and the associated cost) in the product." 
Each pod also includes a built-in task light, power outlets, arm and foot rests, and under-seat storage, somewhat reminiscent of business-class airplane pods. Brody is appealing in precisely the way that those seats are inviting—not because it is a stunning piece of design, but because it holds the promise of being a comfortable, thoughtfully equipped alternative to the usual conditions of getting from Point A to Point B.
McKenna said that he and his team weren't directly inspired by airplane seating, "though we certainly acknowledge the resemblance," he said. "A better way to characterize our solution would be to say that airline seating and Brody solve [problems] for some similar constraints: density, privacy, and comfort. We were inspired more by an understanding that to be human is to be distracted and the role that our brains and peripheral vision play in these distractions."
*Update, April 28, 2015: This post has been updated to clarify that the Brody WorkLounge was created by lead designer Markus McKenna and a team from Steelcase.