In recent years, blogs like Ari Seth Cohen's Advanced Style have emerged to celebrate the personal fashion of older women. And lately there's been something of a trend for major brands to acknowledge the buying power of women over 50 by swapping young models for famous older women in fashion and beauty campaigns: Octogenarian writer Joan Didion was the star of a Céline ad, and sixtysomething actresses Helen Mirren, Jessica Lange, and Charlotte Rampling have posed as the faces of cosmetics brands like Nars and L'Oréal.
Those women were revered for talent, beauty, and style in their youth. But 93-year-old Iris Apfel—who recently appeared alongside 19-year-old Tavi Gevinson in an ad campaign for New York City–based jeweler Alexis Bittar—didn't become a style icon until 2005, when a show of her dizzying costume jewelry collection at the Metropolitan Museum of Art turned her into a self-titled "geriatric starlet." Ever since, the fashion world has been obsessed with the spirited, quick-witted, show-stealing Apfel, the subject of the new documentary Iris.
The title of that image-making Met show was "Rara Avis," and few could pull off this rare bird's signature style. It is as varied as her endless wardrobe but can be boiled down to a silhouette that includes slim jeans topped with designer or otherwise colorful, embellished jackets and accessorized with oversize glasses and impossible multitudes of bangles and beads. It's a look that suits her coat-hanger frame and is a match for her charismatic personality, not so much aspirational as inspiring to behold for its singular, trend-defying style.  
"I like to improvise," Apfel says in the film. "I hate when it looks put together." She doesn't judge other people's fashion sense: "It's more important to be happy than well-dressed," she says. But she disapproves of those who try to buy style by slavishly following trends—rather than using clothes as a vehicle for self-expression and a means to express individuality—and lack curiosity about the historical and cultural forces that influence fashion.
"I'm not a pretty person," Apfel tells the camera, by way of explaining that she decided to become fabulous instead. Before she was a style icon, the Queens-born Apfel was an interior designer. She and her husband, Carl (who celebrates his 100th birthday on camera in the film), had a textile company. Child-free, they traveled the world sourcing and reproducing historical fabrics, working with clients that included major museum collections and the White House. ("We had a problem with Jackie," Carl lets slip before Iris shushes him.)
The film, directed by Albert Maysles (of Grey Gardens fame), who died in March at the age of 88, follows Apfel from magazine shoot to speaking engagement, where she is treated by turns with the exaggerated reverence reserved for celebrities and the requisite condescension toward the elderly. But she seems pleased that the phone hasn't stopped ringing and that she has people to see and places to go, when she isn't at home with Carl in their New York City and Florida residences, both overflowing with her gargantuan wardrobe and a crazy surplus of furniture and objects.  
Even in our image-obsessed and acquisitive society, Apfel's maximalist ethos is not exactly in keeping with the times. But she displays a perhaps compulsive if undeniable glee on a shopping trip where she bargains a Harlem shopkeeper into submission on a purchase of already inexpensive bangles (before removing her American Express gold card from a Ziploc bag to pay). And it's melancholy to watch her struggle to bequeath the contents of a massive storage unit as the twilight of her life approaches dusk.
In the end, we are all just playing dress-up until the final curtain, though it seems that some people find more meaning in the act of putting on their daily armor.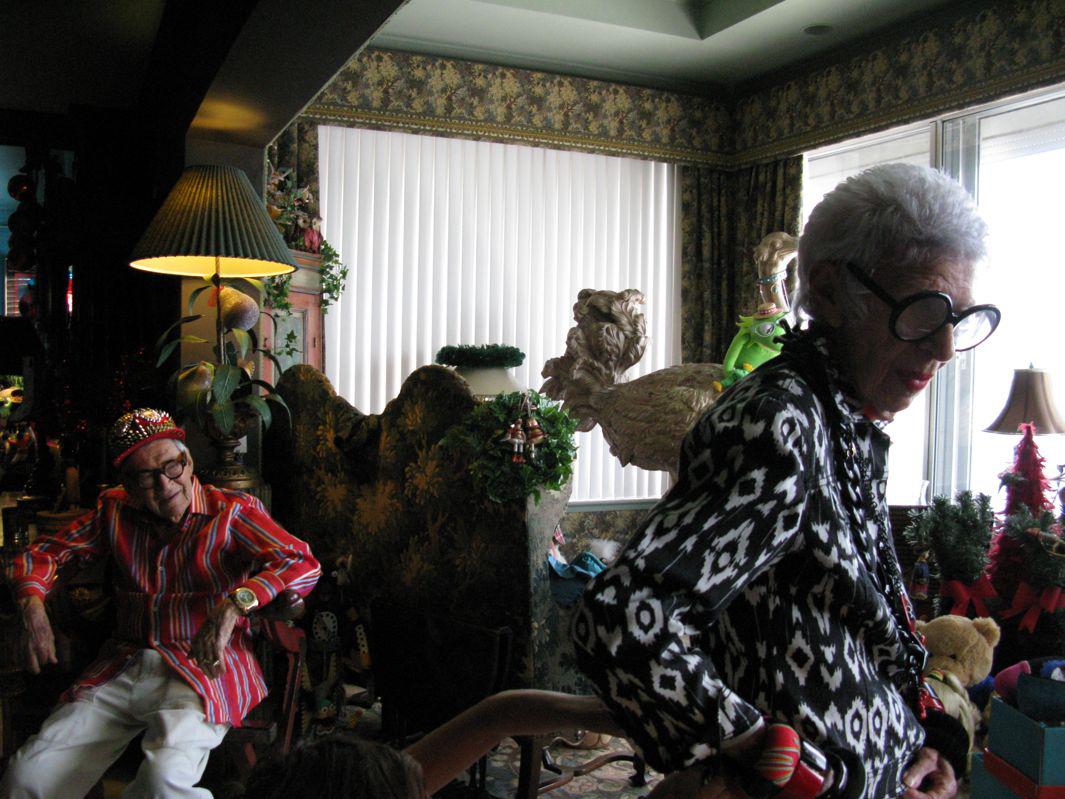 "Life is gray and dull," Apfel says in the film, "and you may as well have a little fun when you dress and amuse people."