Question: What do you call a fabulously attired world leader? Answer: a dictator. Mixing fashion and politics has, historically speaking, always been un peu difficile. If a head of state displayed an inclination toward sartorial fabulosity—Marie Antoinette, Idi Amin, Muammar Qaddafi, Jean-Bédel Bokassa, you girls know I am talking about you—chances are he or she was less than groovy in the human rights department.
In order to distance themselves from those yesteryear fiends of flamboyance and to appeal to that component of the American psyche that relentlessly fetishizes "the common man," our democratically elected leaders have developed a strong tradition of studied sartorial restraint. Observe how dreary and moderate my clothes are. My lack of vanity and self-indulgence must surely qualify me for the role of public servant, their hideously nondescript ensembles attempt to declare.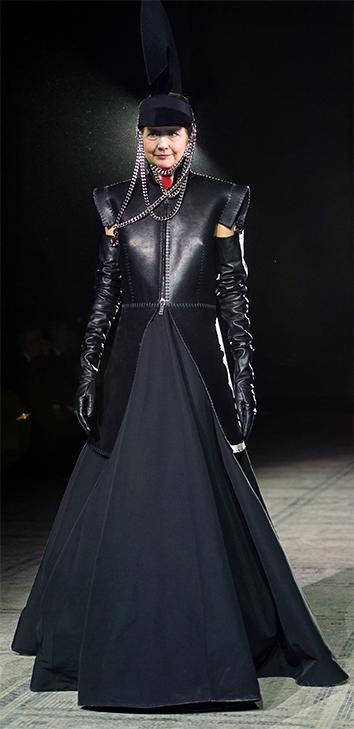 But now time for change. We are currently living in a post-gravitas culture where fashion choices trump everything. The entire universe has turned into a giant, clothing-obsessed peanut gallery. Nothing matters more than getting your look on. The self-denying earnestness of Washington style—the cobalt blue ladies' suits, the baggy menswear—has lost all resonance. And another thing: Since we, the American public, are now facing the prospect of the most drawn-out, mind-numbingly protracted presidential runup in history, the least the candidates can do is to provide us with some fashtainment. Candidates: Ditch the Dacron! Let vanity fair!
Let's start with Hillary Clinton.  
Because clothing is nonverbal communication—what you wear telegraphs the essence of your personality long before you have opened your trap—Hillary's softly conservative businesslady attire has always seemed jarringly dissonant with the fearless virago 'neath the pantsuit. Nothing would communicate her take-no-prisoners attitude better than a Gareth Pugh Goth empress gown. (#inaugurationgown!) Yes, Gareth is a Brit, but so was Boadicea.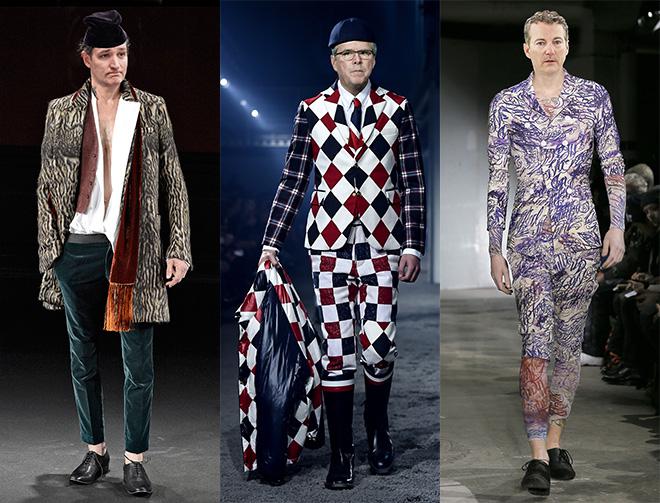 As Ted Cruz's baggy suits can attest, he is a dude who privileges comfort over style. Chaffing is not something he has ever had to contend with, nor should he be obliged to. Louche and loose and dégagé, these are his fashion mots du jour, and Haider Ackermann is just the designer to keep Ted's gussets well-ventilated.
Jeb Bush is clearly haunted by the need to escape the gray-suited Bush legacy, to prove that he is his own man. Thom Browne to the rescue! These vivid suitings will make Jeb a standout on the campaign trail.
Rand Paul has scribble-y hair. Fortunately for him the fall 2015 collections offer some matching scribble-y prints. As fashion insiders are only too keenly aware, the coming season's Comme Des Garçons men's scribble suits were inspired by Rand's intriguingly textured tonsure.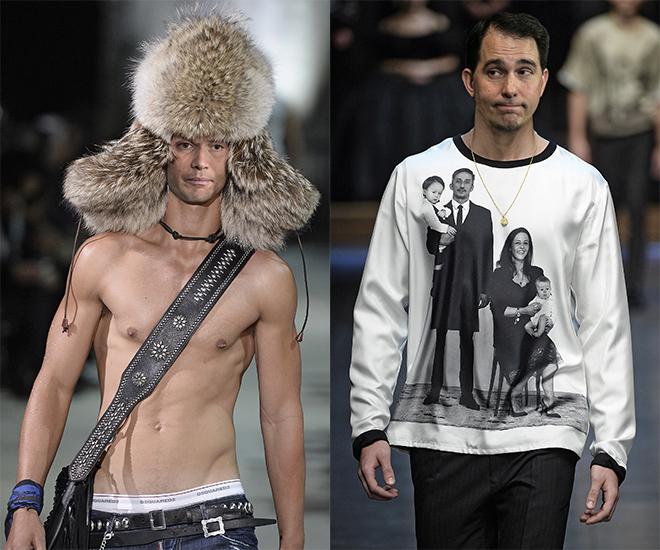 Baby-faced Marco Rubio is a favorite with the ladies. For this reason his fashion choices should always contain a soupcon of Chippendales, a dollop of bare-chested bravado from DSquared2.
Scott Walker's passion for traditional family values is shared by Dolce and Gabbana, whose upcoming fall collection celebrates the gorgeousness of la famiglia Italiana.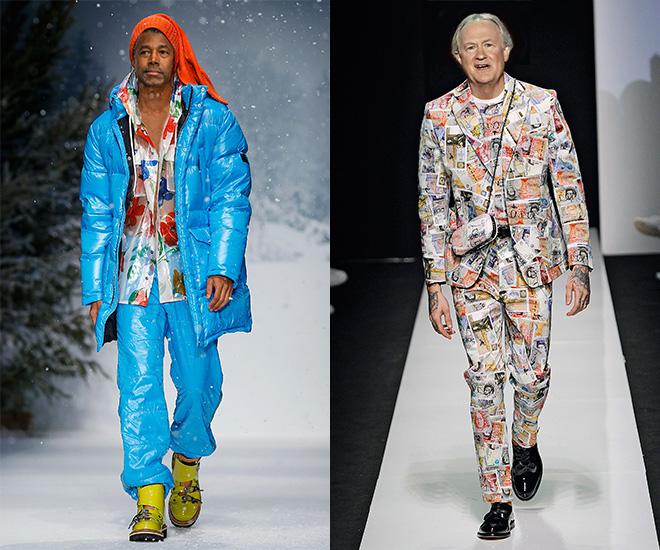 Sky blue is the new charcoal gray. I am praying that Ben Carson will take my advice and embrace the Technicolor madness of Moschino's ski-instructor/rave ensembles. #cosyonthecampaigntrail #snuggle
Lastly and most importantly we come to Lincoln Chafee. This fashion selection—a Vivienne Westwood money suit—will provoke ferocious and much-needed debate on the subject of campaign finance reform. It will also shine a light on an even more pressing problem: the staggeringly high price tags of designer fashion.
Bonne chance!