To promote its Nightstop program, in which volunteers offer homeless people ages 16 to 25 spare beds, homelessness charity Depaul UK launched a poster campaign Thursday that uses the architecture of buildings to help win the hearts and minds of passersby.
The Street Corners campaign was created by Publicis London, whose previous collaborations with the charity include the Depaul Box Company, which began selling cardboard moving boxes to fund anti-homeless efforts in 2013. Depaul Nightstop has been around for 20 years, and more than 700 volunteers have hosted young people across the U.K., with 13,400 overnights in 2014.
"Nightstop volunteers are ordinary people helping those with nowhere to stay the night," Depaul UK Chief Executive Martin Houghton-Brown said in a press release. "More young people than ever are sleeping in unsafe places and we have seen demand for our emergency accommodation services soar over 300% in London last year. We need more volunteers to come forward so we don't turn people away."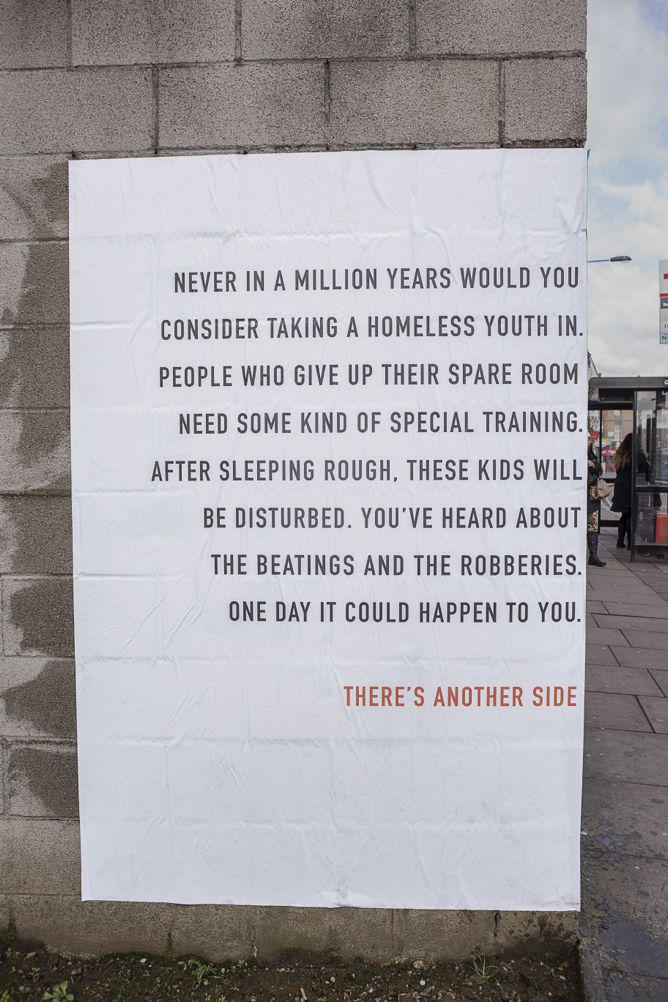 To combat the apprehension that prevents people from opening their homes to homeless strangers, three variations of the poster have been put up in six sites around London, with plans to expand the campaign to other cities across the U.K. The campaign is hoping to fight the stereotype that all homeless youth are substance abusers or the idea that only trained social workers are equipped to help them.
Viewed as a single page, the left side of the poster reads like a laundry list of preconceived ideas about the homeless. But stepping back to read the full text of both sides straight across changes the message, which includes a number to contact for those wanting to volunteer.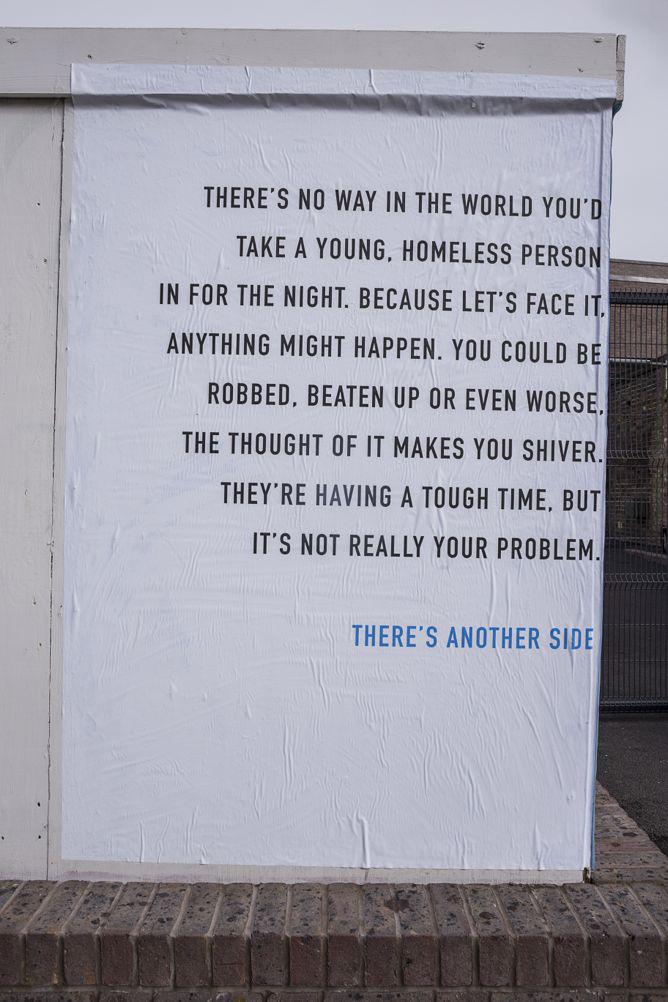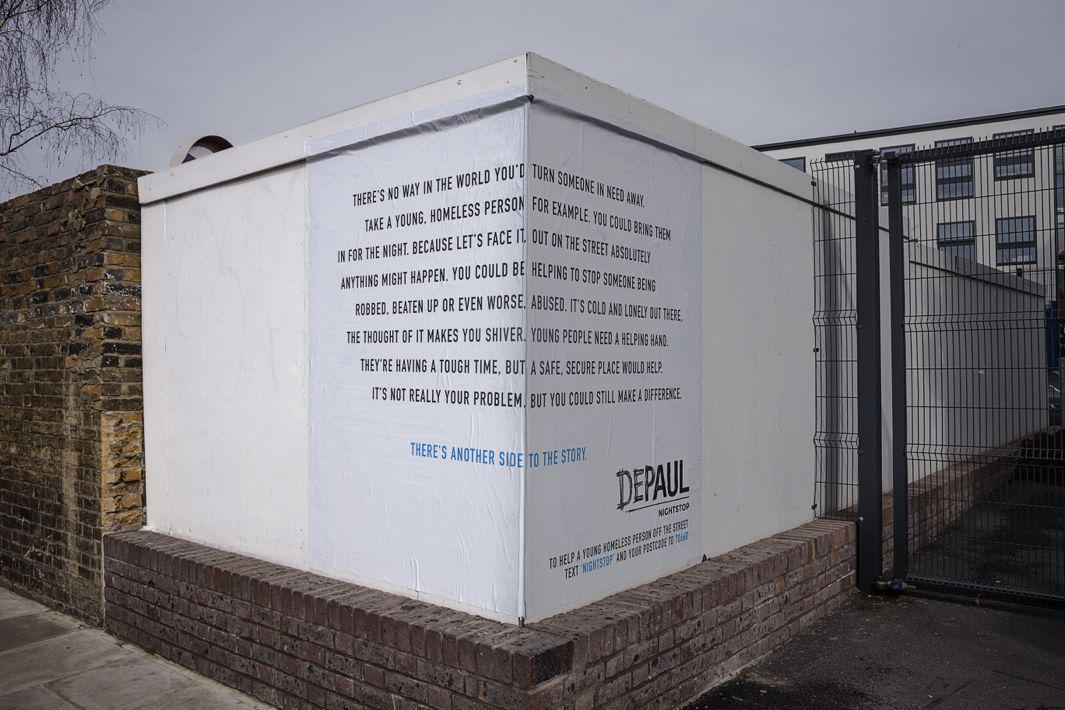 Publicis art director Dan Kennard and copywriter Ben Smith told me in an email that the idea for the design came from "that quite true observation that in life, there are two sides to pretty much every story."* When you hear about the Nightstop program, they said, "You think 'Ah, that's fantastic,' but your mind also automatically questions whether it's dangerous and what the young people involved must be like. But then you hear from people who actually volunteer with the project and you realize your preconceptions are actually way off the mark. Most young people are more scared than the people hosting them, they're grateful and any problems are very rare indeed."
The design is cleverly done—if not flawless—as it requires you to read both sides in order for the big reveal to make sense.
"We tried (where possible) to put the left side where the heaviest footfall was," Kennard and Smith said. "We chose to put it on the streets because it seemed the place that was most appropriate to the issue, and somewhere that the creative would have the biggest impact."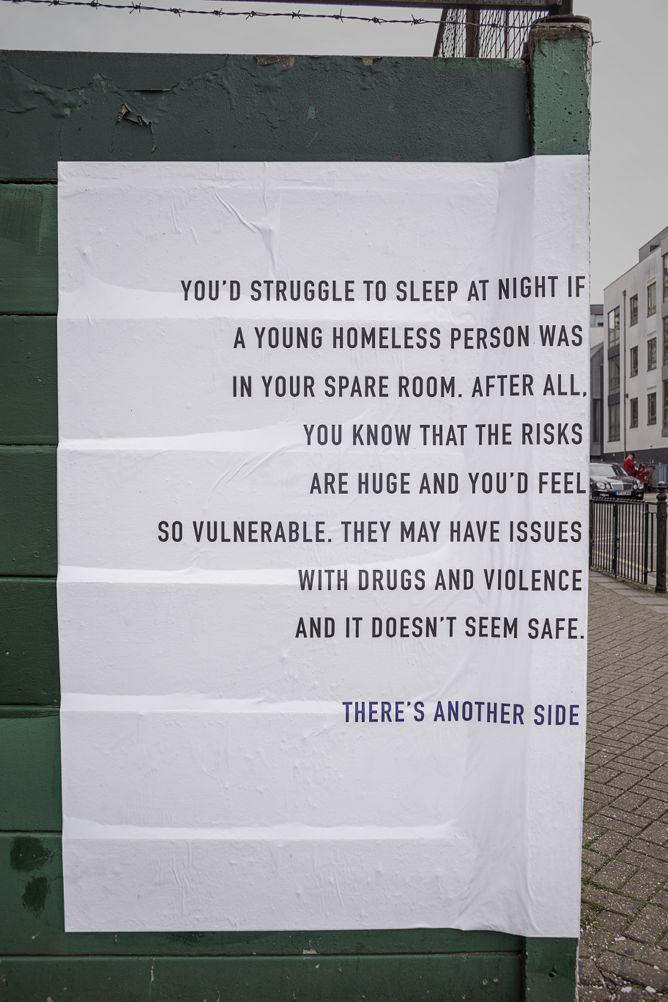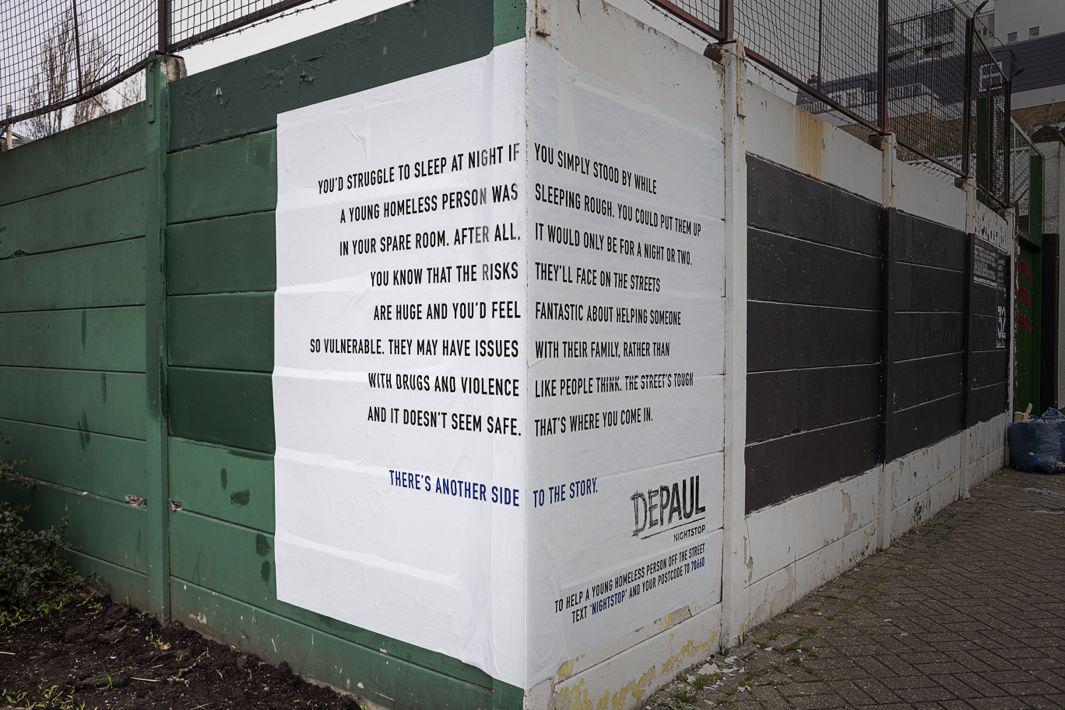 But they added that the design, which seems literally to lean on the built environment to create its effect, was also made to be photographed and shared.
"While this is obviously outdoor advertising, a lot of the way it will be promoted and talked about will be online," they said. "In that context you can show the left side and then both sides. That's always been something we were very aware of when coming up with the idea."
Correction, April 8, 2015: This post originally misstated that the author emailed with Publicis designer Dave Stansfield. She emailed with Publicis art director Dan Kennard.