The look of real-life office spaces of popular tech companies is as much about branding in the image-driven online world as it is about making employees happy. Tech company office design seems to fall into two camps. First there are the neo-industrial, neutral-toned, faux-spontaneous setups that are all about raw materials and open, flexible, blank spaces to foster creativity and collaboration, like Airbnb's San Francisco office. And on the opposite side of the spectrum are the over-the-top theme offices that read like real-life technicolor fantasies of preschools inhabited by kids of all ages, such as the whimsical London office of mobile kids game developer Mind Candy.
Perhaps it's no surprise that the new Stockholm offices of games developer King, the makers of the guilty pleasure that is Candy Crush Saga, fall into the latter camp. Designed by Swedish firm Adolfsson & Partners (the group behind Spotify's Stockholm office), the space is a wildly cartoonish assault on the senses.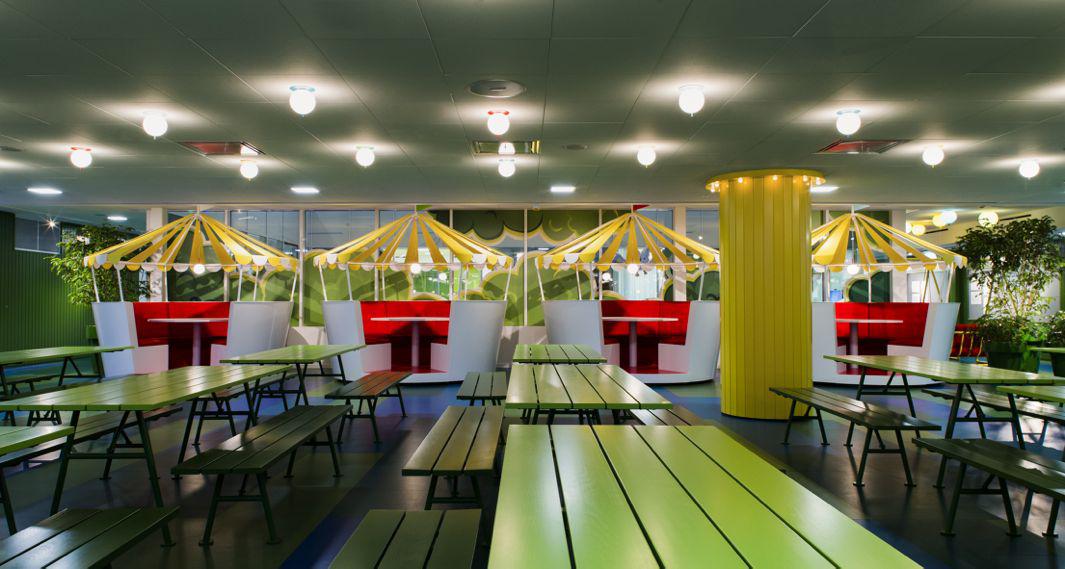 Adolfsson & Partners says in a project description that they were inspired by the "fun" and "magic" of King's nearly 200 games. "With an ambition to bring King's world of games and characters to life," they write, "we created a colorful and energy-filled office featuring both humor and intelligent solutions."
The overstimulating design strikes terror in my introverted heart, but I can't help finding it riveting nonetheless, with its 10 themed areas, color-coded wayfinding carpet, and flexible workstations for individuals and teams, plus an embarrassment of play spaces and meeting rooms of every imaginable configuration wired with the latest technology and video conferencing between King's offices around the world.
"We didn't build an office," the designers write. "We created a kingdom."