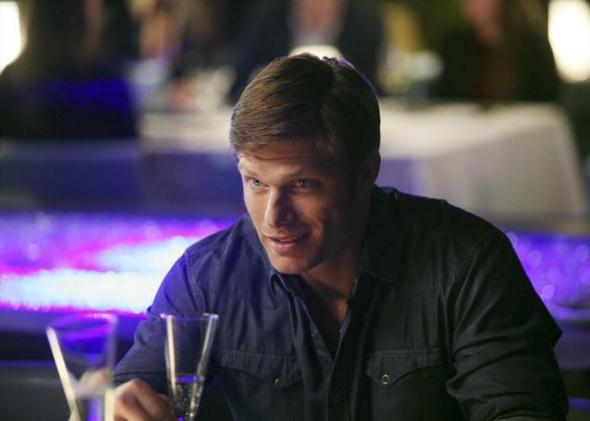 There's nothing the ABC soap Nashville loves more than creating a plot line about a "socially conscious" issue and then beating us over the head with it until we beg for mercy. Take Scarlett's pill addiction, or Gunnar's tortured relationship with his son-cum-nephew. But the most frustrating plot line has also been the longest-running one: The closeted sexuality of country star Will Lexington (played by OC alum Chris Carmack).
Almost as soon as the audience met Will in Season 1, we learned of his sexuality—after his failed attempt to kiss best bud Gunnar. But in the world of the show—now in Season 3—only a select few know Will is gay: In addition to Gunnar (Sam Palladio), there's his ex-beard/ex-wife/ex-reality show co-star Layla (Aubrey Peeples), the producer of said reality show, and former record executive and evil villain Jeff Fordham (Oliver Hudson). And, of course, the guys he's slept with. In an episode last October, Will asked his "trainer" to sign a nondisclosure agreement, a move that—surprise!—went terribly: Will sought solace, only to get beaten up and have his wallet stolen. The possibility of the thieves and his "trainer" spilling the beans prompted Flavorwire to run a post with the headline " 'Nashville' Is Pushing Its Gay Cowboy Out of the Closet, and It's About Time." I agree. It's about time. But, five months later, it still hasn't happened.
Back in 2013, Out.com asked Carmack if he thought it was possible to be openly gay and a successful country singer. He said:
People I've spoken to say that at a certain level it'd be career suicide for somebody to come out of the closet. That's a terrible kind of fame. I don't think executives would give Will the time of day. That's a damn shame, but in country music there's a stigma that's insurmountable.
To be fair, there aren't a plethora of LGBTQ role models in the country community. But even in the few years since the show debuted, the scene has changed: Kacey Musgraves' gay-positive "Follow Your Arrow" won Country Song of the Year at 2014 CMAs. But what about out country stars? Chely Wright famously came out in 2010, and this past November Ty Herndon came out and was quickly followed by Billy Gilman. Up-and-comer Brandy Clark is openly gay, as well. But perhaps the best role model for Will would be Steve Grand. Of course, Grand, whose song "All-American" has had more than 3 million views on YouTube, is a lot less famous than the fictional Will—who has gone on tour with the show's biggest country act and had his own No. 1 album. But Will's also, arguably, more talented and has even more support. What Grand can teach him is that the country community, and listeners in general, will still support a singer they like, even if he sings about lusting after a boy.
If a real role model doesn't do it for you, there's another TV show that has handled a closeted singer in an infinitely better manner. Look at Jamal Lyon (Jussie Smollett) on Empire. Jamal was never closeted to his family and friends—something that caused tension with his father—but he wasn't open with the public. The show explored the drama of the closet for a few episodes—cue shot of boyfriend hearing Jamal tell an interviewer that there's no one special in his life—but then realized how much more interesting it would be to follow his struggles as an out singer, so they had him sing, wonderfully, I might add, his father's song, "You're So Beautiful," replacing "when a man loves a woman" with "when a man loves a man."
And aside from his dad—who flashes back to shoving Jamal in a trashcan when he put on women's clothing as a child—everyone cheers wildly.
I'm not saying that it's easy to be out in country music, or in hip-hop for that matter. But Nashville is a TV show. Keeping Will in the closet is not only bad for the meandering plot, it's also lazy and cowardly. How much more interesting would Nashville be if Will struggled to find his place instead of unhappily pretending to be someone else. How much more of an impact could the show have if it asked these questions.
Last week's episode gave us hope: Luke Wheeler (Will Chase), the king of country and the boss of Will's new record label, set him up to collaborate with out songwriter Kevin Bicks (Kyle Dean Massey). Clearly Luke doesn't care that Kevin is gay. In fact, the only person who seems to care that Will is gay is the comically evil Jeff Fordham, who has fallen so far from grace that it's a wonder anyone is following his directions at all. Fordham, along with the producer he hired for Will and Layla's reality show, continue to be the only ones who have implied that Will's career could end if he came out. We haven't actually seen any real hostility; the few out characters on the show—Jeff's assistant, Bicks the songwriter—have all been respected for the most part (save for by a few drunk cowboys). If Nashville really wants to illuminate what it's like to be gay in country music, it's time to let Will out of the closet.
---