Excerpted from Her Brilliant Career: Ten Extraordinary Women of the Fifties by Rachel Cooke, out now from Harper.
In 1956 Vita Sackville-West reviewed a new gardening book for the Observer. All stirred up, she was unstinting in her praise. "It is," she said, "by a woman who, with her husband, created out of nothing the sort of garden we should all like to have: a cottage garden on a slightly larger scale. … Crammed with good advice … I defy any amateur gardener not to find pleasure, encouragement and profit from [it]."
This was quite something. Sackville-West, then the most famous plantswoman in Britain, had created a ravishing and much-photographed garden at Sissinghurst Castle, yet here she was sounding halfway to envious of someone else's rather more modest plot; if the publisher had written the review himself, he could not have made the book sound any more appealing. But it was also a little misleading. We Made a Garden—its author went by the somewhat unprepossessing name of Margery Fish—was more memoir than manual, a collection of reminiscences rather than a step-by-step guide. Readers in search of hints for mulching their roses were going to be severely disappointed.
Sackville-West was only half right when she wrote that the book tells the story of how Margery and her husband, Walter, built a garden from scratch. In truth, it tells two stories. First, there is the garden that Walter wanted: a regimented suburban parade of paths and lawns and dahlias. And then there is the garden that Margery longed for and did in fact successfully create in the years following his death in 1947: a harmonious, informal, frothing sort of a garden, its borders filled with "green" flowers, its shady corners crammed with hellebores, primroses, epimediums, and, most important of all, her beloved snowdrops. Until her publisher put a stop to the idea, Margery had wanted to call her book, which was her first, Gardening With Walter. But if she thought she'd produced a tribute to her husband, she was surely deluding herself. A more honest title might have been A Gardener's Revenge. Impossible to imagine for a moment that she would, or could, have written it when he was alive.
When the book begins, it is 1937. Walter Fish, a former editor of the Daily Mail, who is 18 years his wife's senior, is convinced that war is coming and that it would be wise for them to leave London. This takes a while: Walter is, shall we say, difficult to please. But their new country house in East Lambrook comes with a farmyard, so Margery and Walter—metropolitan flat-dwellers who haven't a pair of secateurs between them—will somehow have to create a garden "from a farmyard and a rubbish tip."
Where to start? Walter's approach to the initial work is typically bullish. What he can't burn, he buries; and once the old beds, rusty oil stoves, and ancient corsets have all been cleared, the ideological battle must commence. In the red (and yellow and orange) corner is Walter, with his Tudorbethan ideas about tidiness and color. In the green corner is Margery, all sculptural seed pods and luxuriant foliage. Walter is alarmed. He hadn't taken his wife for a modernist.
So he goes on the attack, arguing for, and winning, his much-desired lawn, a province with which he is soon quite obsessed. "Walter would no more have left his grass uncut or the edges untrimmed than he would have neglected to shave," writes Margery, who at this stage in the book is still doing her best impression of a loyal wife. It is deliberately, aggressively vast, this lawn, and it is only grudgingly that Walter makes space at its edge for a very narrow flowerbed in which Margery is allowed to plant a few perennials so long as they don't encroach on the grass.
So it continues, like a bad sitcom (the fact that it began its life as an article for Punch may go some way to explaining this), except that with every chapter Margery seems to grow more confident: No, she was obviously telling herself, Walter's ghost, pale and pugnacious, is really not about to burst in through the French windows. Her courage blooms. She couldn't tell Walter at the time what she thought of him, but she can say whatever the hell she likes now. She attacks his dahlias ("the most flashy collection I have ever seen, only fit for a circus"). She repudiates his paths (since his death she has loosened the cement between the stones with a crowbar). She admits to her deceit in the matter of such things as manure (she used to steal it from around his roses, remembering as she did his oft-repeated comment that "women have no sense of honesty!"). What a fuss-pot he was, always counting the leaves on his clematis, and what a bore, droning on and on about the gardener he used to have in Sydenham, where he lived with his first wife before she died.
We Made a Garden does contain some advice, if that is what you're after. By the time she wrote it, Margery had become an instinctive and highly original gardener; she knew what she was talking about. But its chief pleasure lies in watching its author emerge from an exhausting, all-consuming relationship—a union in which she was expected to defer to her husband, a man who was never wrong—and become a person in her own right. This is my taste, she says; this is my opinion; and this beautiful garden is my victory. Not only did I beat the seasons, the Somerset clay, and the confusing, unpredictable temperaments of my plants, I overcame Walter's dogged campaign to rein me in, to fetter my unexpected, late-flowering creativity. She describes all this with mounting glee: It rises, like sap. A tiny part of you begins to wonder if she didn't, in the end, bump him off, burying him in the dead of night beneath the nearest holly bush.
In 1956 Margery was 64 years old. She had begun her first job before women had the vote. (She had been the secretary to the editor at the Country Gentleman's Publishing Company before joining the Daily Mail, where she would become Walter's assistant.) Only now, in late middle age, was she approaching fulfilment. In the weeks after We Made a Garden appeared in Britain's bookshops, something remarkable happened: a future suddenly opened out before her—and to her astonishment and clear delight, it was more expansive even than her husband's precious lawn.
Unimaginable as it sounds, during the war years, flowers had all but disappeared from view: urged on by government pamphlets with titles like "Cloches v. Hitler," and by Mr. Middleton of the radio program In Your Garden, Britain's gardeners had dutifully given over their plots to vegetables. Now, though, they were back: the roses and the dahlias, the geraniums and the begonias—and the brighter, the better. With postwar austerity came a new lust for color. Thanks to a national house-building program, some people now had gardens of their own for the first time. It occurred to Margery, journalist manqué—while working for Walter she had somehow found the time to write the occasional piece for the women's page of the Mail—that she might be in a position to advise all these eager new gardeners, and in 1951 she wrote her first article, for the Field.
She was perfectly right, of course: People were ready to listen, and in the years that followed, she would become ever more prolific, writing for Punch, Amateur Gardening, Popular Gardening, Homes & Gardens, and the journal of the Royal Horticultural Society. As she soon discovered, her effervescent plot had the virtue of being somewhat smaller than the great prewar gardens. Her readers could relate to her garden; it didn't intimidate. The ideas she had deployed could very easily be replicated in a smaller space with just as effective results. When she wrote about East Lambrook she gave her readers a sense of possibility—and in this sense, she provided a bridge between gardening's high-maintenance past and its low-maintenance future.
Margery didn't need to work; Walter had left her well provided for. But she wanted to. It was exciting to see her name in print again after all these years. In 1952 she turned 60, yet here she was, an unlikely pioneer, keeping company with a whole new generation of professional gardening women. It's true that the Royal Horticultural Society was a bastion of male activity and would remain so for another decade. At botanic gardens and stately homes, head gardeners were still mostly men. But elsewhere women such as Alice M. Coats and Frances Perry were quietly building their reputations. Xenia Field, the daughter of a society rhododendron collector, had recently begun a gardening column for the Daily Mirror, which then had some 5 million readers.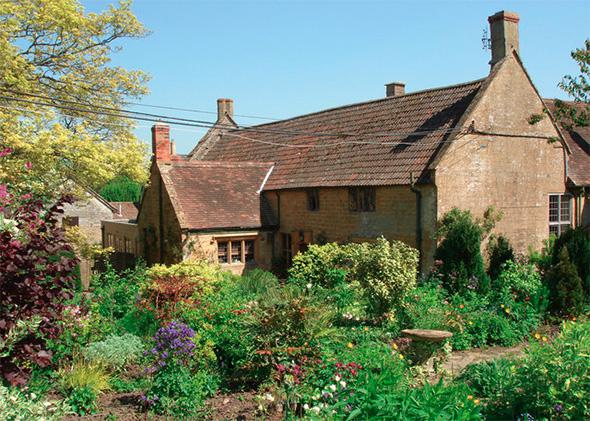 Her career as a journalist now firmly established, Margery daringly began work on We Made a Garden. How did this feel? Writing such a book wasn't a betrayal, exactly, but it was certainly an act of domestic insurrection, albeit a postdated one—and she must have worried, just a little, about how it would be received (our own, more confessional age takes memoir in its stride). Once it was done, though, and she saw how well the book was received, there was no stopping her. Over the course of the next 13 years, she would write another seven books, perhaps the best of which—it is widely considered a classic—is Gardening in the Shade. To the infuriation of her neighbors, Margery wrote to loud music: Wagner, preferably. In 1990 some poor fool made a database of every plant she ever mentioned in print: It comprised some 6,500 names, including more than 200 single-snowdrop varieties.
Then there was the garden itself. Increasingly in demand as a lecturer and with so much writing to do, Margery finally took on some proper help. Slowly, her team grew, and the garden, in its pomp, was opened to visitors one afternoon a week (the money went to the Red Cross). Coach parties would book themselves in and—so long as they weren't late—Margery would go to the gate to meet them, offering herself up as tour guide.
Her staff sometimes found her abrupt, and she could be a slave-driver; there is a story that one gardener resigned after developing frostbite. But she also knew, in most cases, just how far she could go. When she sensed people were fed up, she would turn on the charm, telling her staff how wonderful they were, how appreciated. At bottom, she was warm-hearted. The only thing that truly made her snort was the word ladies. To Margery, women were only ever women.
Margery's fatal illness lasted only a week. She died in 1969, at South Petherton Hospital in Somerset, at the age of 77. When her extended family heard her obituary on the radio, they were agog. They had never taken her gardening seriously—and she, alas, had never troubled to put them right.
I went to see East Lambrook Manor one cold, bright morning in March. It is an enchanting place: so much more restful than those gardens that have been manicured to within an inch of their lives by massed ranks of National Trust professionals. Its beauty is quotidian, and therein lies its charm. There are weeds. There is disorder. It asks for your attention. Even for such a desultory gardener as me, the temptation to fall to my knees and work for an hour or two is powerfully strong.
From Her Brilliant Career: Ten Extraordinary Women of the Fifties by Rachel Cooke Copyright © 2014 by Rachel Cooke. Reprinted courtesy of Harper, an imprint of HarperCollins Publishers.