In early March, just before rehearsals for the Broadway production of Fun Home, the musical based on Alison Bechdel's graphic memoir, were due to begin, Michael Cerveris, the actor who plays Alison's father, organized an outing to Beech Creek, Pennsylvania. The bulk of the cast has been working together for years—most performed in the off-Broadway version at the Public Theater and several in early workshop performances before that—but they had never visited the buildings, roads, and landscapes of the town where the show is set.
The house that was once the Bechdel family home, in which the majority of the show is set, is now a rental property. Alison Bechdel and her partner, Holly Rae Taylor, along with Alison's brother Christian arrived in Beech Creek the day before the actors and hosted a Sunday dinner for some family members who live in the area. Alison hadn't been inside the house since 2006, when she visited with the New York Times' Ginia Bellafante shortly after the book was published. Being there "was very trippy," she told me. "Everything was the same, even the ancient range hood over the stove. A switch plate on the wall, a scrap of linoleum on the stair—it was all so intact and vivid."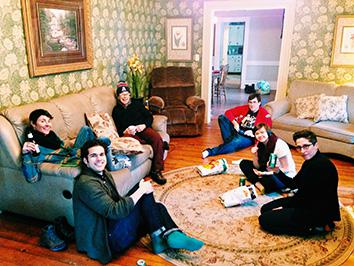 On Monday afternoon, when the actors—Cerveris; Beth Malone, who plays Alison in middle age; Emily Skeggs, who is Alison as a 19-year-old; and Joel Perez, who plays several characters—arrived, Alison, or "the Real Alison Bechdel" as she is known to the cast, took them on a tour of the town. Tour stops included the funeral home—the Fun Home of the title—the house Bruce Bechdel was renovating at the end of his life, and the cemetery where he is buried. Alison had visited the grave the day before. "I'd had my personal emotions separately," she told me "Bringing [the actors] there adds this other layer of strangeness, but it felt really good to share that with them. They seemed moved to be there."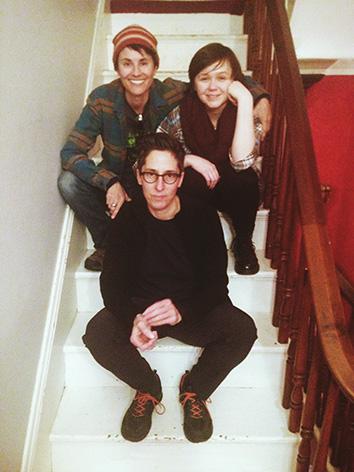 Once the Bechdels and Taylor departed, the actors spent the evening and night in the house. Judging from their photos from the trip, they spent a good portion of their time in Beech Creek re-creating scenes from the show in the rooms where the events they now sing about eight times a week originally occurred.
Fun Home, with music by Jeanine Tesori and book and lyrics by Lisa Kron is now in previews on Broadway at the Circle in the Square Theatre, opening on April 19.
Read more in Slate:
Fun Home: Is America Ready for a Musical About a Butch Lesbian?
Fun Home, a Great Graphic Novel, Falters as a Musical