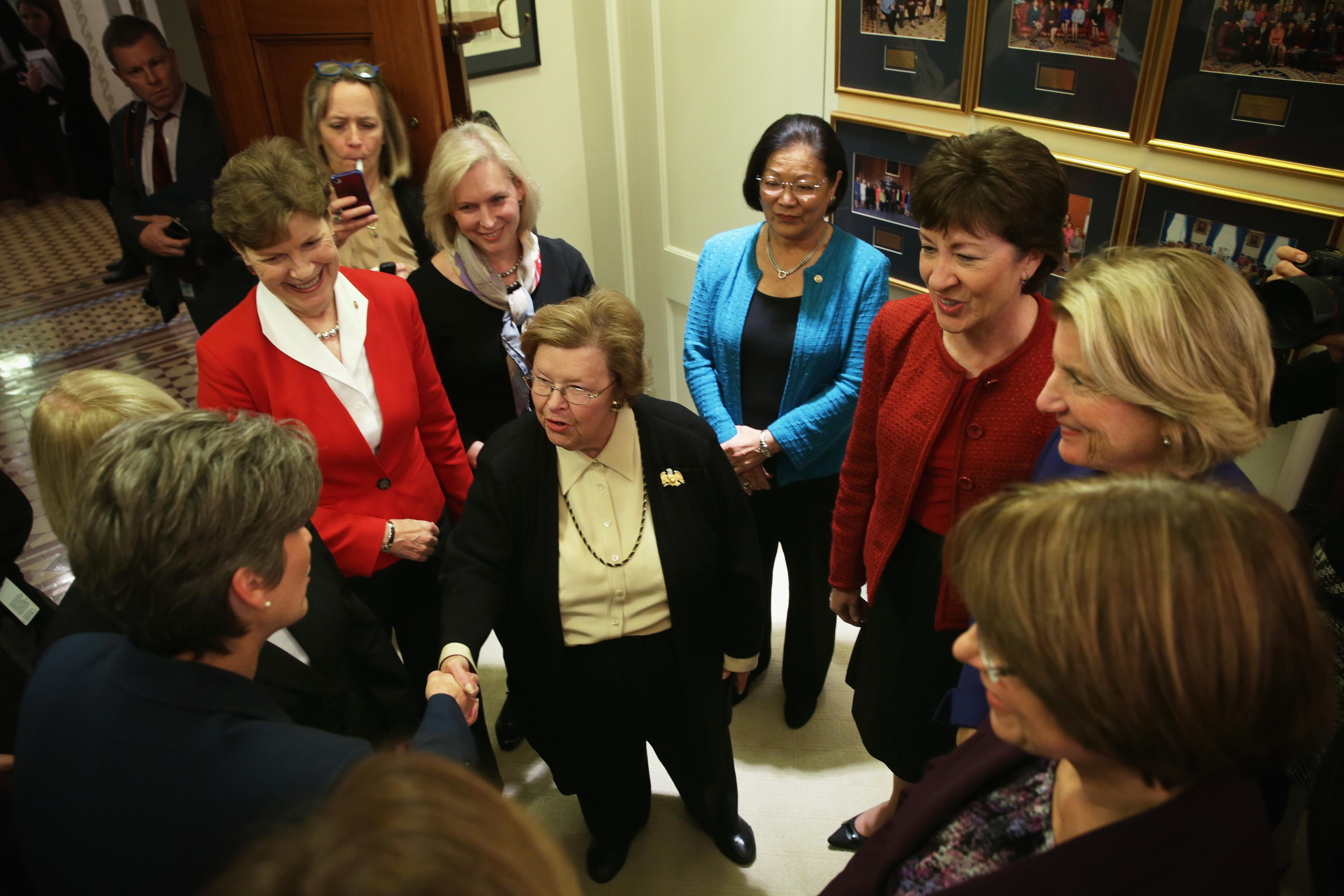 Liza Mundy, writing for Politico magazine, has published an engrossing history of women in the Senate, which is packed with astounding details that show how far women have come in such a short period of time. Until very recently, female senators have had to contend with a boys' club culture that treats them like little more than a temporary annoyance.
The Senate pool was men-only until 2008. It wasn't until 2013 that the Senate cracked and actually gave female senators a bathroom big enough to accommodate them. And then there was the daily sexism from colleagues, ranging from condescending remarks to the fear of being groped if you were left alone with Strom Thurmond in the '90s. Recounting a time she chose the stairs rather than an elevator trip with Thurmond, Maine Republican Susan Collins said that when a male colleague saw her avoiding the elevator, he "started laughing because he knew exactly why I was turning around and not getting on the elevator."*

Women are still a minority in the Senate—only 19 percent of the overall body—but things have changed pretty substantially for the better, with many women chairing committees and taking the lead on major legislation to reduce rape in the military and end the 2013 budget standoff. A major part of the reason things have improved, as Mundy details, is that female senators have stood together since the '90s, when a tradition of periodic women-only dinners began. Maryland Democrat Barbara Mikulski set the ground rules for this bipartisan show of solidarity: "No staff, no memos, and no leaks." And in part because of this, female senators became known for being cooperative and civil, even during stressful political fights. Minnesota's Amy Klobuchar "said she worked hard to get not only her Democratic but also her Republican female colleagues to vote for the Violence Against Women Act," Mundy cites as an example. "That way, when the bill went to the House, voting against it would mean 'voting against every woman in the Senate.' "
Unfortunately, it seems that this sense of solidarity is fracturing a bit. While there are still some successes, such as female senators coming together to end the budget standoff in 2013, it's harder than it used to be for women to cross the aisle on women's issues. "All of the Republican women voted against the Paycheck Fairness Act, which would have made it illegal for men and women performing equal work to earn different salaries," Mundy writes. "That divergence is only likely to grow."
Mundy argues that this divergence mirrors what is happening Senatewide— "a hotly partisan environment that makes their old collegiality and collaboration harder." That's likely part of it, but it's also hard not to wonder if the women are victims of their own success. It's easier to agree to stand together when you're a beleaguered minority, but the women now have a decent bathroom and a stronger sense that they belong with, and are safe next to, their male colleagues in elevators. There's even a record number of female Republicans in the Senate. Sure, that record is only six women, but the fact that their numbers are growing probably lessens the feeling among Republican women that they need to make common cause with Democrats the way they used to.
Obviously, if losing this solidarity is the price of having more women in the Senate, it's better to pay that price than to return to the bad old days. But women are still a small minority in the Senate, and there are no black women at all*. Their gains are more sure than they used to be but are still quite fragile. If nothing else, I hope the women's dinner continues to maintain some sense of solidarity, even if it is harder than it used to be to find chairs for everyone at the table. And, as for now, they still have their dinners.
Correction, Jan. 8, 2014: This post originally said that Strom Thurmond laughed when Susan Collins avoided getting into the elevator with him. It was another male colleague who laughed when he saw Collins avoid the elevator ride with Thurmond.
Correction, Jan. 12, 2014: This post originally said that there are no women of color in the Senate.

---