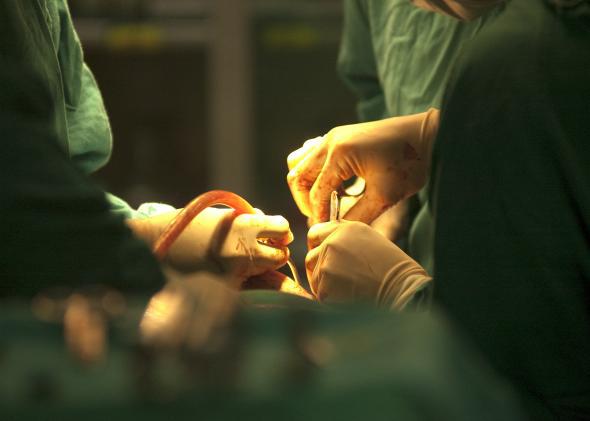 One in 3 American women will have her uterus removed by the time she turns 60. Hysterectomies have declined over the past decade—430,000 procedures were performed in the U.S. in 2010, compared with 680,000 in 2002—but some medical experts warn that the number is still unnecessarily high. In a new study published in the American Journal of Obstetrics and Gynecology, researchers at the University of Michigan and Wayne State University examined the medical histories of more than 3,400 women who received hysterectomies at 52 hospitals across Michigan in 2013 and found that nearly 1 in 5 of them may not have been necessary.
In some cases—like uterine cancer—a hysterectomy is the standard procedure. But for benign conditions—like abnormal uterine bleeding or endometriosis—the American Congress of Obstetricians and Gynecologists recommends the consideration of alternative treatments, such as hormonal therapy, an IUD, or less invasive surgeries. The study found that in nearly 38 percent of those cases, alternative treatments weren't attempted before the hysterectomies. And in 18 percent of cases, pathology reports indicated that the hysterectomies weren't medically supported. The researchers concluded that many of those women were likely suffering from abnormal uterine bleeding, for which the ACOG does not recommend surgery.
But a dominant claim in press coverage of the study—that "nearly 1 in 5 women who undergo hysterectomy may not need the procedure"—is not exactly true. The 18 percent figure refers only to hysterectomies that are performed for benign conditions; before settling on the 3,400 patients for that study, the researchers excluded more than 2,600 women in a higher-risk category who had hysterectomies for reasons such as cancer, pelvic mass, or prolapse. And just because hysterectomies may not be necessary doesn't mean they're not an appropriate choice for some patients. Daniel Morgan, a professor of obstetrics and gynecology at the University of Michigan and an author of the study, says that in some cases, the choice can be attributed to the patient's anatomy—women with smaller uteruses may not be good candidates for IUDs or some minor surgeries. And for others, hysterectomies can appear to be the easiest solution, even if it's not the recommended one. "Hysterectomy can be a very effective treatment," Morgan says. "It might be that the doctors and the patients both want to move forward with it instead of trying one alternative after another." If a woman is suffering from abnormal uterine bleeding, a hysterectomy does make the problem go away.
Still, the study indicates that many women and their doctors may be too quick to choose hysterectomies before attempting treatment. Previous studies have shown that cultural factors can significantly affect that decision: Women in the South and the Midwest are more likely to undergo hysterectomies than women elsewhere around the country (which makes it harder to generalize the Michigan study), as are patients of male gynecologists. A hysterectomy is a choice that a woman should make with her doctor—but it shouldn't be the only choice.
---