With the Alan Turing biopic The Imitation Game looking like a strong contender this awards season, it can be easy to forget that gay-concerned films are still commercially risky—or at least considered that way—for the companies that make, distribute, and promote them.
A striking reminder of that reality arrived over the weekend on the American DVD/Blu-ray case for Pride, the acclaimed 2014 British comedy (and British Independent Film Awards Best Picture winner) that depicts the true story of the unlikely formation of a coalition between LGBTQ activists and striking miners in Thatcher-era Great Britain. As European outlet Pink News originally reported, the case—produced and distributed in the United States under the aegis of CBS Films—appeared to have had all references to the film's queer themes excised from its text and images. The most glaring edits involved replacing a banner reading "Lesbians and Gays Support the Miners!" with some random pink balloons in a promotional image, and the revision of the synopsis copy, which originally included the gay aspects of the story, to the weirdly vague "a group of London-based activists who decide to raise money to support strikers' families … "
Here's the original DVD image: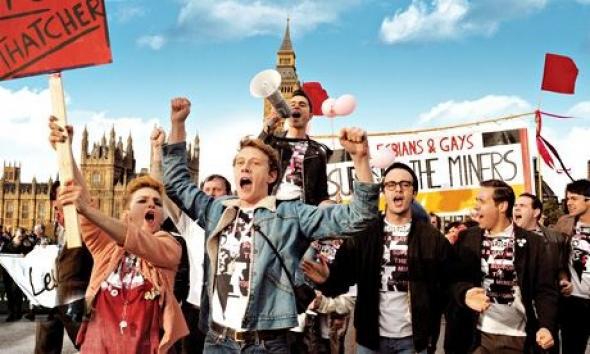 And here are the edited U.S. version, with text: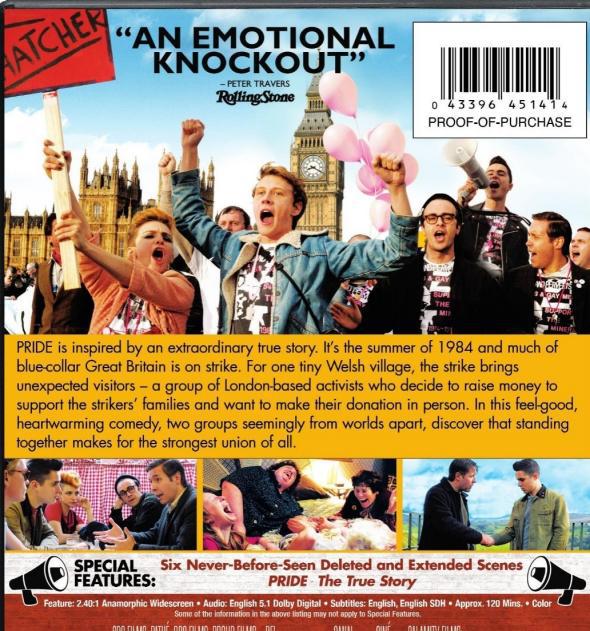 CBS Films has responded to growing coverage of the changes, telling Pink News, "we're looking into this now, and our page for the film remains the same as it has for months." It's unclear if any effort to correct the packaging will be made; Ben Roberts, director of the funding organization that provided financial backing to the film, told the BBC that while disappointed, he was "not surprised" by the clearly strategic move. "It's an unfortunate commercial reality both [in the U.K.] and in the U.S. that distributors have to deal with and consider in getting films onto the shop shelf," he continued. "LGBT material is largely marginalized outside of rare hits like Brokeback Mountain."
Roberts describes a tension familiar to anyone who cares about gay representation in popular media. One would like to think audiences would turn out for "gay" movies of their own accord, but then, it is likely that more people will see a straight-seeming film than one whose marketing materials are honest about any queer content. Are those extra unwitting eyeballs a net gain for tolerance? Possibly, but the subterfuge still feels icky—as it did and does with the Imitation Game trailers that neglect to indicate that the film is as much gay icon hagiography as wartime thriller. As the years go on and Brokeback becomes less of a critical anomaly, let's hope that distribution companies can start to trust their customers to value good art over base prejudice. 
Update, Jan. 6, 2015: 
Pride director Matthew Warchus issued this … careful … statement to BuzzFeed today on the DVD box controversy: 
Pride is a film which plays incredibly well to a global mainstream audience of any political or sexual persuasion. It's a film about two groups of people forming an unlikely alliance and fighting each others' corners rather than just their own. It is probably one of the most political films ever to hit the mainstream and it is certainly one of the most loved films of the year (even by people who hate politics). I don't consider it a 'Gay Film' or a 'Straight Film.' I'm not interested in those labels. It is an honest film about compassion, tolerance, and courage.
Marketing Pride has proved an interesting challenge from day one, and there are many people in the mainstream who have yet to see the film. My guess is some of those people are imagining that the film is maybe 'too political' for them, and some others are imagining it could possibly be 'too gay.' As it happens, these concerns completely evaporate in the presence of the movie itself, but they are important when attempting to manage potential audience perceptions through marketing. Since the day I first read the script I have felt passionately that this film, of all films, deserves to find a fully diverse audience, from all walks of life. Indeed its very meaning and message is diminished the more 'niche' it becomes. I look forward to living in a world where these kinds of marketing negotiations are neither valid nor necessary—but we're not there yet. In a sense, that's why I made the film.
For these reasons I don't automatically condemn any attempt to prevent the movie being misunderstood as an exclusively "Gay Film." I certainly don't regard such attempts as homophobic.
The BuzzFeed post also offered further information on the actual creation of the case, with CBS Films assigning design responsibility (through outsourcing) to Sony Home Entertainment. Both organizations say they are investigating the incident.