Slate is celebrating HBO's marathon broadcast of the remastered The Wire by republishing some of our best coverage of the show. This article, originally published in 2013, is reprinted below.
Graphic designer Oliver Munday was just another fan of The Wire when he decided to rewatch all five seasons of the critically acclaimed, much admired HBO series a couple of years ago. He was living in New York, but had spent 5 years in Baltimore as a student, and felt an extra connection to the real-life city at the heart of the fictional show. After watching David Simon's television masterpiece again, he felt moved to memorialize that connection.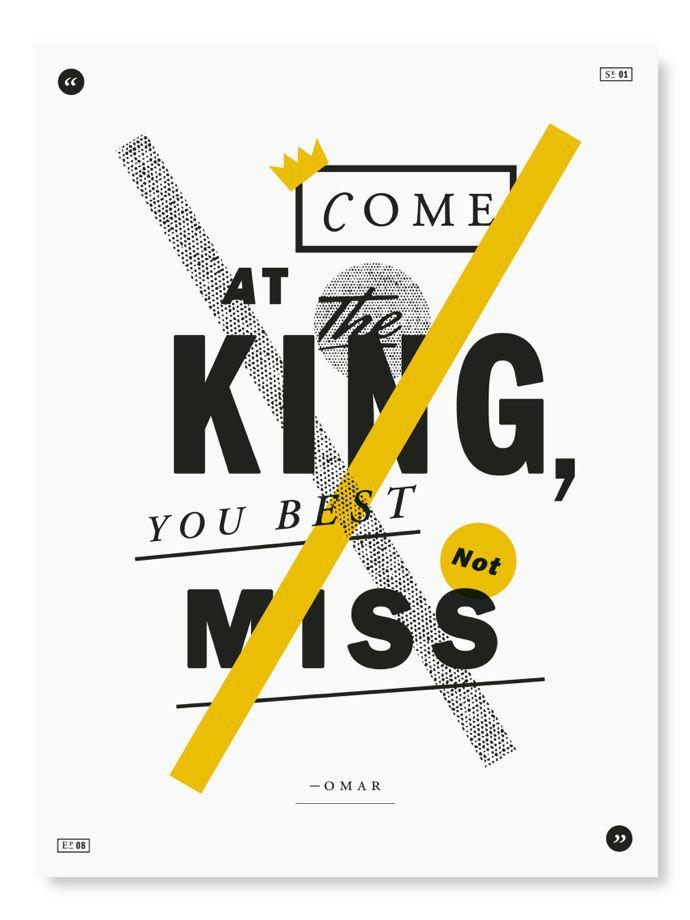 "I was compelled to try to respond to it in some way or create something as a fan," Munday told me. He said that he had always been taken by the epigraphs at the beginning of each of the 60 episodes. He decided to use that collection of haunting, sometimes mysterious quotations to create a series of posters that would embody the spirit of the show and of Baltimore itself using typography and color.
As a point of departure, he looked to Baltimore's Globe Poster Company, an institution founded in 1929 whose posters have been part of the city's visual vernacular for decades, even featuring in an episode in the form of an old poster that reveals that one of the Wire's main characters, Avon Barksdal,e was once a boxer. (The Globe's collection was purchased by Maryland Institute College of Art, Munday's alma mater, after the printing company closed in 2010.)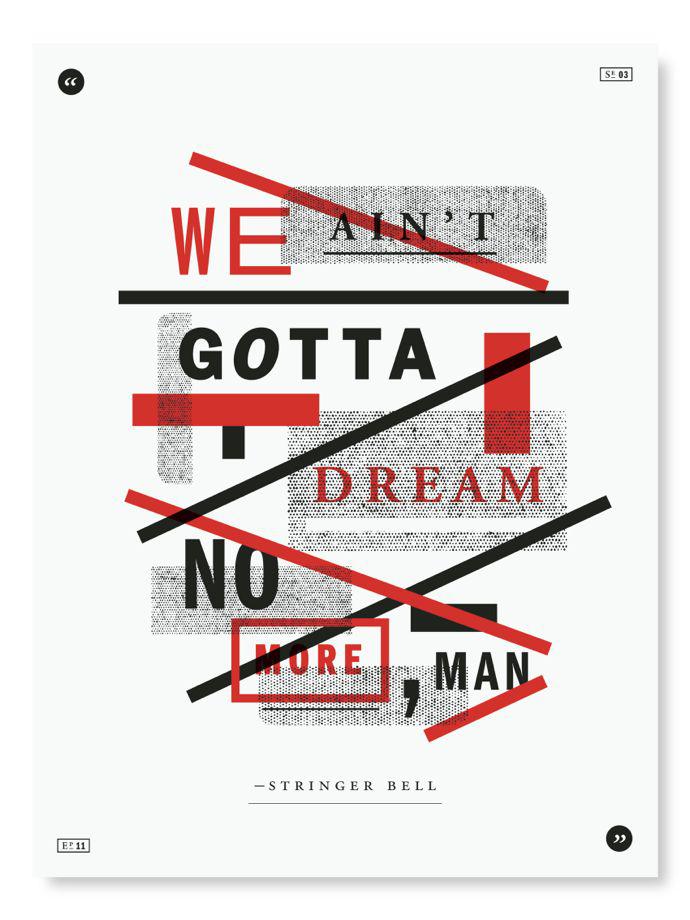 "For most young designers studying in Baltimore it's a rite of passage to reinterpret Globe," Munday said. "It's been referenced so much in design, everyone has done their take on an old boxing poster or a 70s/80s gig poster."
He said he wanted to celebrate the reference while injecting his own sensibility––which is heavily influenced by Russian Constructivist poster design––in a way that would make fans feel like it embodied the show in an authentic way.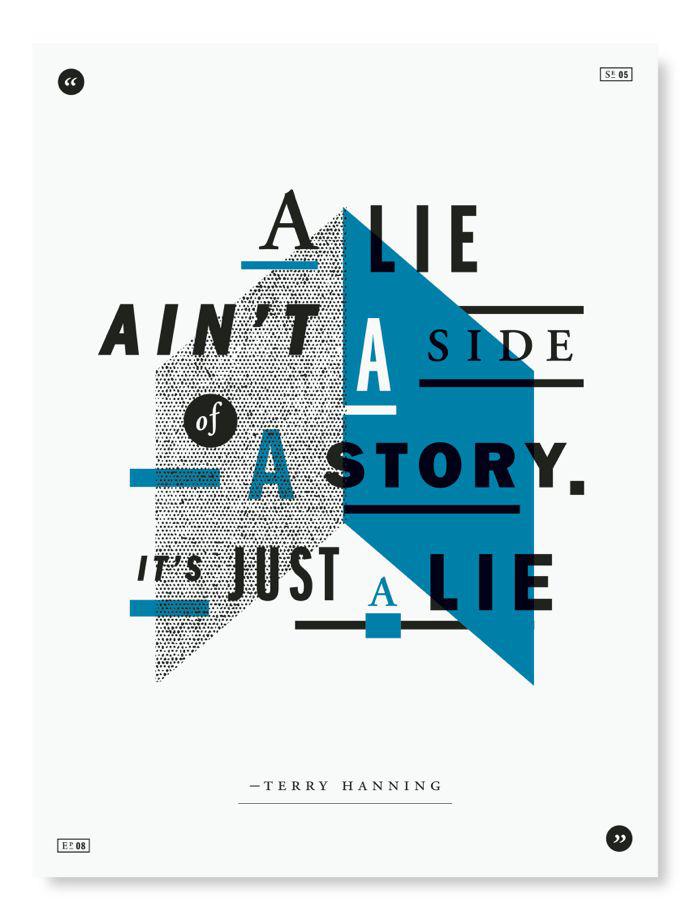 But the Wire is an ambitious, novelistic piece of television drama that is characterized less by a particular look than a multi-layered, sustained mood of modern human urban tragedy that permeates every aspect of the production. The quotations are in the voices of many different characters, and for those who have seen the show and remember the references, they have a resonance that isn't necessarily apparent when read as standalone nuggets of prose.
Munday used a combination of Franklin Gothic and Garamond fonts in a variety of widths and weights, interspersing a few hand-drawn words that were a nod to vintage Globe style. He used scans of half-tone silk-screen swatches reminiscent of the printing process at Globe to add a sense of "grit." The color palette of black, white and accent colors of basic primary red, yellow and blue were somewhat "arbitrary," he said, as were the compositional flourishes in the form of straight lines at various angles that almost look like abstract slashes or wounds, perhaps a subconscious reference to the violence at the core of the show.
"I wanted to create a fragmented, layered, emotion-filled poster," Munday said. "To have all these pieces coming together that would reflect the complexity of the show. It's a lofty goal for a piece of printed matter."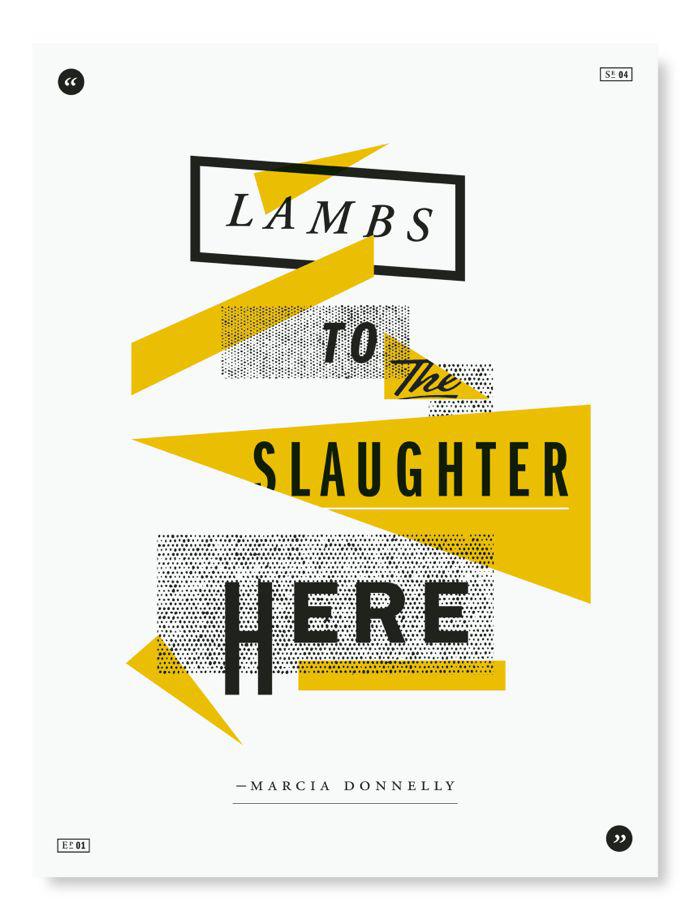 Munday is donating the profits from the sale of the posters to the Baltimore Urban Debate League, which helps at-risk kids in Baltimore and figures in a memorable episode in the final season when, shortly after being taken in by Howard "Bunny" Colvin, a young character called Namond Brice gives an award-winning speech about HIV and AIDS in Africa at a league event.