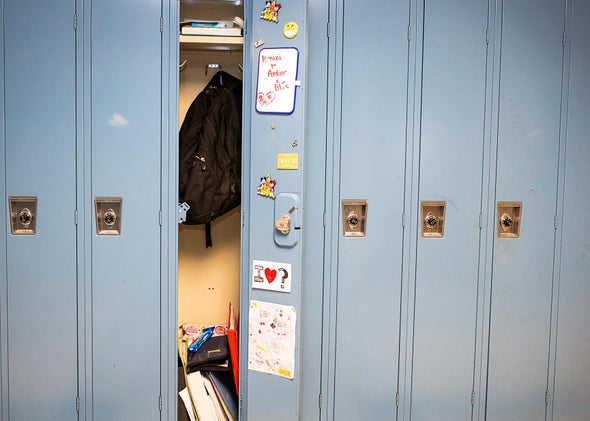 According to data from the Office for Civil Rights at the United States Department of Education, while white girls at public schools are suspended at a relatively low rate of two percent, black girls face an astounding 12 percent rate of suspension. Tanzina Vega of the New York Times takes a closer look at the forces driving this disparity, and finds that the likeliest explanation is that schools are less forgiving when black girls break the rules than when white girls do. 
Vega focuses her story around the case of Mikia Hutchings, a soft-spoken 12-year-old who was harshly handled by her Georgia school for an alleged, and apparently very minor act of vandalism: writing on the bathroom walls. Hutchings, who is black, was accused alongside her white friend, but the penalties they faced were strikingly different. Her friend's parents paid a restitution to the school of $100 and so their daughter was only suspended for a few days. Hutchings's family, however, "disputed the role she was accused of playing in the vandalism and said it could not pay about $100 in restitution," Vega writes. Hutchings was then subject to a school disciplinary hearing and "a visit by a uniformed officer from the local Sheriff's Department, who served her grandmother with papers accusing Mikia of a trespassing misdemeanor and, potentially, a felony." In order to get out of being hit with these rather serious criminal charges, the preteen has to agree to be put on probation for the summer and to do 16 hours of community service. Now the Georgia Legal Services Program has filed a complaint with the Justice Department arguing this is a case of racial discrimination. 
"Mikia's case is not unique," Vega goes on to write, citing other examples of overly harsh punishments doled out to black girls, and the overall statistics showing the racial disparities in school suspensions. But as anyone who tunes into The O'Reilly Factor could tell you, not everyone believes that these disparities are due to racism; "black culture" and feminism's destruction of the family are more likely to blame.
But the rise of the single mother cannot explain another interesting disparity Vega reports on: "An analysis by Villanova researchers of data from the National Longitudinal Surveys of Youth and the National Longitudinal Study of Adolescent Health indicated that black girls with the darkest skin tones were three times more likely to be suspended than black girls with the lightest skin." If the problem was "black culture," then the exact shade of your skin shouldn't be such a major factor, and yet here we are. 
While the baseline unfairness of the imbalance in school suspensions is reason enough to raise alarm, there's also a long-term concern here. As the ACLU notes in its report on this issue, "Suspended and expelled children are often left unsupervised and without constructive activities; they also can easily fall behind in their coursework, leading to a greater likelihood of disengagement and drop-outs. All of these factors increase the likelihood of court involvement." Carla Amurao at PBS writes, "Those who are unnecessarily forced out of school become stigmatized and fall behind in their studies; many eventually decide to drop out of school altogether, and many others commit crimes in their communities." No matter the race of the student, schools should be looking for reasons to keep kids in, not trying to push them out at a moment's notice, particularly for dumb kid stuff like writing on bathroom walls. 
---