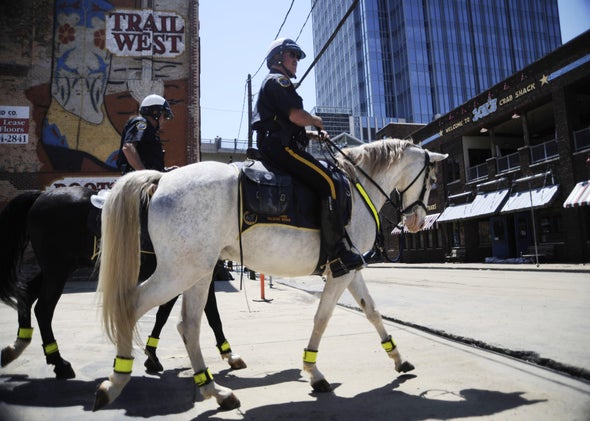 Nashville police chief Steve Anderson grabbed headlines over the weekend by blowing some welcome fresh air into the public debate over how to handle the ongoing protests over police force around the country. While police in New York and Missouri continue berating politicians and public figures for showing support for protesters, Anderson took a very different approach, penning a somewhat sarcastic defense of his department's flexible policy towards protesters in response to a letter-writer who clearly would prefer a skull-cracking approach.
It turns out that Anderson's progressive ideas aren't limited to how police should relate to protesters. Over the summer, Anderson made headlines in Tennessee by drawing attention to what he perceives to be a lackadaisical attitude toward domestic violence in some corners of the judicial system. His complaints centered around the case of David A. Chase, who was arrested for domestic violence back in June. In Tennessee, suspects arrested for domestic violence can be held for 12 hours for a "cooling off" period, but, after getting a call from Chase's lawyer, the Davidson County general sessions judge Casey Moreland let Chase, who is a prominent contractor in the area, out after a mere three hours. Moreland justified the release at the time by saying there was no romantic relationship between the suspect and the victim. Chase went straight from jail to track down his girlfriend, who thought she had more time to go into hiding, and allegedly beat and choked her.
Moreland expressed regret for letting Chase go so soon, but that didn't satisfy Anderson, who saw the whole incident as indicative of a system of "good ole boys doing what good ole boys do." "(D)omestic violence is not a game and any additional antics of this type will completely destroy any remaining confidence in the General Sessions Courts," Anderson wrote in his letter to presiding general sessions Judge Bill Higgins. Anderson also demanded "measures that will give the monitoring public an assurance that such misconduct will not occur in the future."
It wasn't the first time that Anderson had clashed with Moreland over the issue of domestic violence. As detailed in the Nashville Scene, in 2005, Anderson wrote Moreland a letter expressing concern about delays and "improper practices concerning the commissioner's decisions as to whether a warrant should be issued" in domestic violence cases. Writing about a specific case, Anderson noted:
Later, the arresting officer on the domestic case presented the defendant to the commissioner and gave testimony about the altercation. Included in this testimony were the accounts given to him by the witnesses, that the witnesses had made themselves available for testimony and that the female victim had visible injuries to her face.
The commissioner then engaged the defendant in conversation about his occupation and about his relationship with the female. After defendant told him that he and this female had lived together for three years and that they generally got along, the commissioner abruptly dismissed the charges. His statement to the defendant was "you seem like a nice young man, I want to give you a break. I'm going to let you go."
Despite this vivid and troubling example, however, Anderson said in 2014 that his concerns had been swept "under the rug" by Moreland. 
In a Christmas Eve profile of Anderson for the Tennessean, Adam Tamburin reveals that Anderson rates high among domestic violence activists in the area. "He's used everything he has. His influence, his power, his brilliance," YWCA President and CEO Pat Shea told Tamburin when he asked about the Moreland incident. "He used his clout, and he used his position to say we're not going to do this good ole boy stuff anymore." Moreland received a public reprimand from the Tennessee Board of Judicial Conduct in October. 
Between his focus on domestic violence and his approach to protesters, Anderson is showing that it is quite possible for a police department to be run without protecting the powerful at the expense of the vulnerable. Police chiefs of other cities should be taking copious notes. 
---