The Vault is Slate's history blog. Like us on Facebook, follow us on Twitter @slatevault, and find us on Tumblr. Find out more about what this space is all about here.
A new book of classic crime photos from the Chicago Tribune, Gangsters & Grifters, contains a few interesting shots of late-1940s forensic science. In this era, photographers covering crime, Tribune writer Rick Kogan points out in the book's forward, "got up close," allowing for the photographs' "compelling intimacy." (Many of the book's other photos—those of dead and dying criminals, for example—are positively grisly.)
Forensic science, as a distinct job within police departments, was relatively new at the time these photos were taken. August Vollmer founded the first American crime lab in Los Angeles in 1924, and the FBI got one in 1932. The Chicago investigators, civilian employees working in the police crime lab, were part of the first generation of specialists in the field.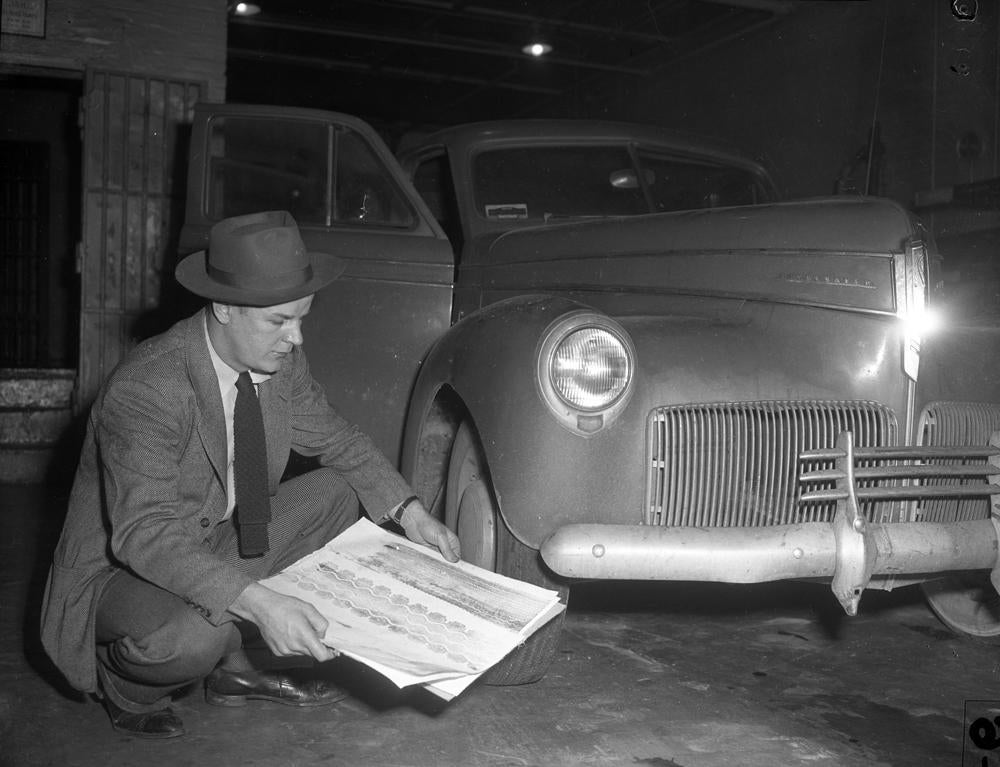 Crime lab employee Joseph Haas holds an imprint of tire marks found near the body of the murder victim Roberta Rinearson, comparing them to a car belonging to suspect Harold Poull, on Feb. 12, 1949. This inefficient method of contrasting the two tracks was probably staged for the photographer's convenience. An investigator would likely make a second flat impression of the suspect car's tire track, in order to be able to compare the two side by side.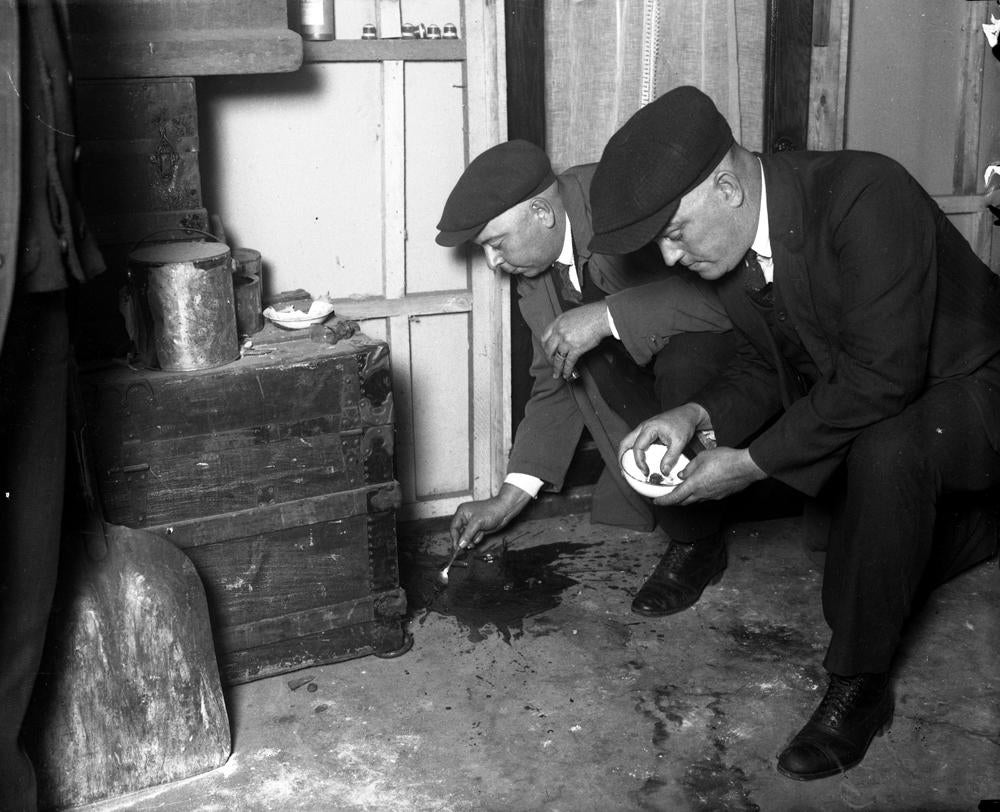 Two detectives gather evidence in an undated photo from the Tribune's archive. The detective to the left appears to be scraping up blood with a spoon—a practice that would be verboten today, when investigators would use a sterile swab or pad to gather this type of evidence.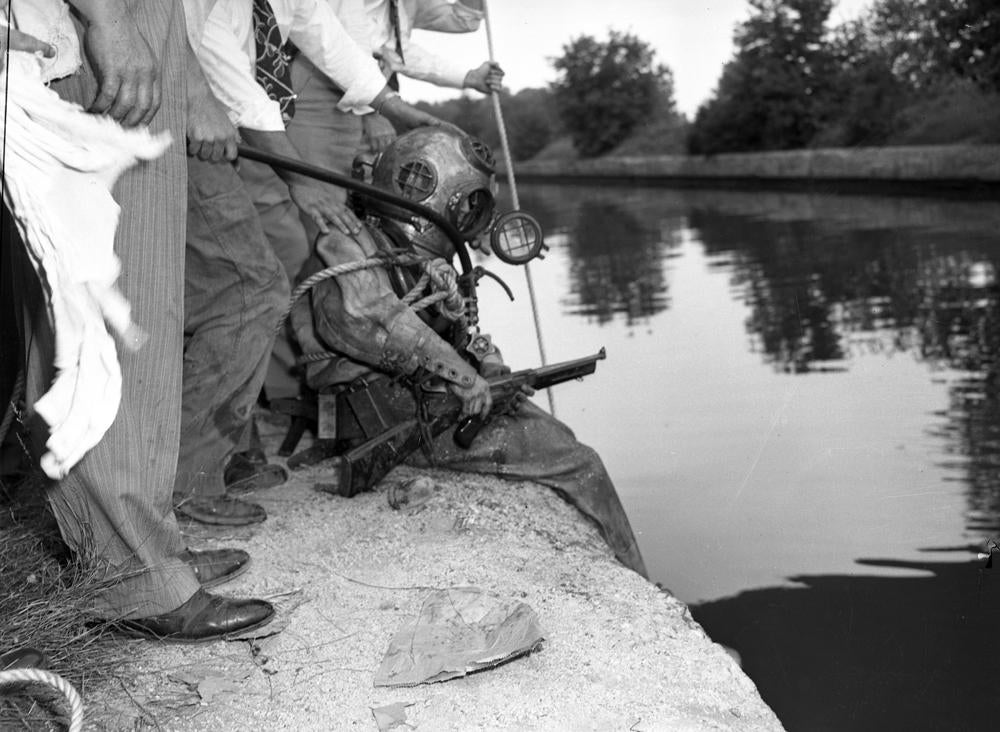 A diver recovers a Thompson submachine gun from the Calumet-Saganashkee Channel in a photo that ran in the paper on Saturday, Aug. 6, 1949. The story that accompanied the photo reported the investigation of a holdup that led to the deaths of two guards in the course of a bank robbery. "Two revolvers taken from the slain guards had been recovered with magnets from the same spot Thursday," the paper reported, "together with cartridges and two machine gun clips." Three of the robbers were nabbed after a fourth named names; one of these identified the machine gun as the one used in the course of the crime.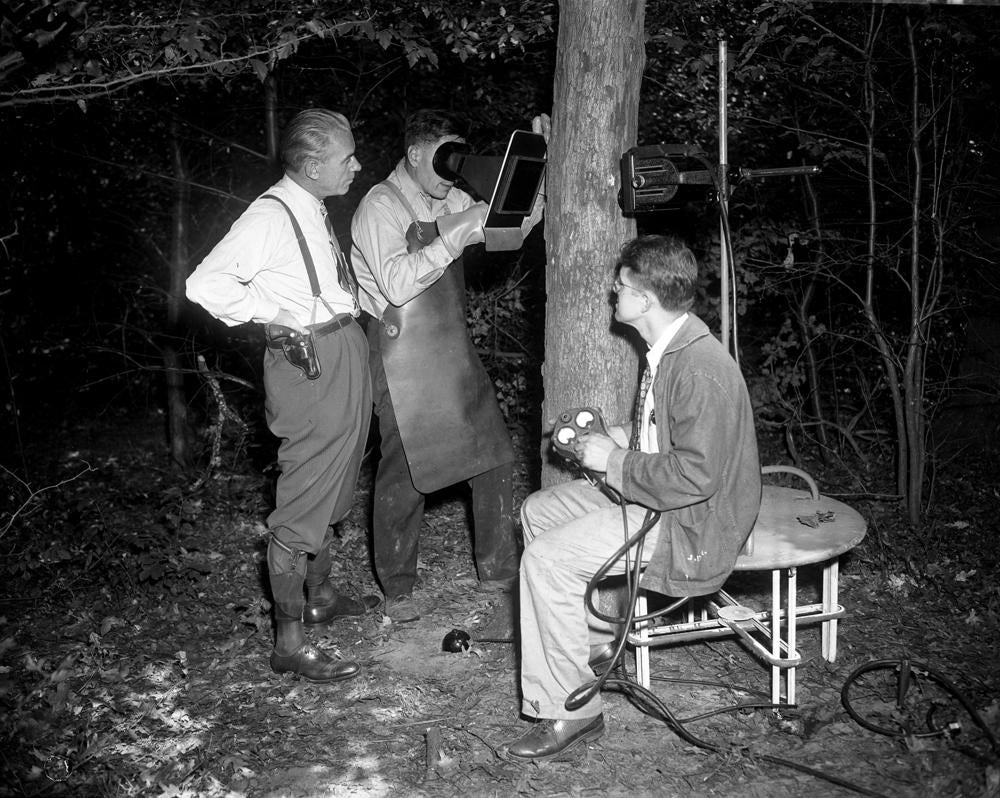 On Sept. 3, 1949, State's Attorney Officer John Sojat and Police Lt. James Oakey watched Joseph Nicol, of the police crime lab, use a fluoroscope with a portable power unit to look for bullets in a tree. (The bank robbers who killed those guards took target practice in the woods, near 139th Street and Ridgeland Avenue. Police hoped to find bullets matching to those guns, but found none, despite looking in 150 trees.) The fluoroscope, a type of X-ray machine, is often used to scan bodies, in order to obtain information about foreign objects inside them without resorting to autopsy.