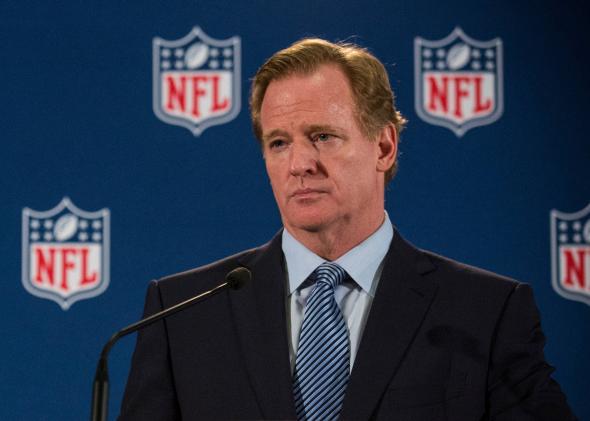 As 2014 comes to a close, DoubleX is looking back on the year that was—the stories we covered and missed that captivated, puzzled, enraged, and delighted us.

In February, Baltimore Ravens running back Ray Rice punched his fiancée Janay Palmer in the head in an Atlantic City casino elevator, knocked her out cold, dragged her unconscious body out of the elevator, and kicked her legs aside to clear them of the closing doors. A month later, Rice was indicted for third-degree aggravated assault in New Jersey, then welcomed into a pre-trial diversionary program that will allow him to avoid prosecution if he completes an anger management course and stays out of trouble for a year. It's the kind of get-out-of-jail-free card that's generally reserved for those charged with non-violent or "victimless" crimes. Many Americans believed that Rice got off easy because he's a big football star. So they turned to big football to balance the scales.
When NFL commissioner Roger Goodell handed down a two-game suspension to Rice over the incident, he incited a months-long shit storm over the league's approach to players accused of committing violence against women. It was an outrage perfect storm—a celebrity player, a female victim, a viral video, and an embattled commissioner. But the event also keyed into a growing appetite for a strange new form of justice, one that's dispensed outside the bounds of the traditional justice system—particularly in cases where the victims are women.
The fact that we now expect Goodell, of all people, to properly adjudicate claims of domestic violence and sexual assault says less about his duty as commissioner and more about the total failure of the cops and courts to fulfill their own responsibilities. The system for processing these cases has been broken for so long that it often seems pointless to even try to make it work. So now, we've resorted to calling on the closest American institution—be it sports league, university, media company, or brewery—to pick up the gavel. When the state of New Jersey helped Rice evade trial, we asked Goodell to take him off the field, and when his judgment failed to pacify our outrage, we appealed to NFL sponsors Anheuser-Busch, Cover Girl, and PepsiCo to call him out. Police stations are inhospitable to victims of sexual assault, so we've asked university administrators to carve out a safer space for reporting those crimes, and allowed them to mete out punishments in the form of semester-long suspensions instead of jail time. And when the statute of limitations ran out on Bill Cosby, we pressured TV executives to ban his reruns from their airwaves.
What else are we supposed to do? Police killings of black men from Ferguson to Staten Island inspired massive demonstrations this year, but it's easier to criticize cops who engage in violent aggression than ones who lean back on quiet apathy. (And even when an officer kills a man on tape with a banned chokehold, we still can't get him indicted!) We can't pick a new American justice system, but we can switch from Bud to Miller—or at least threaten a brand change on social media until a beer executive releases a vague statement pandering to our concerns. Targeting corporate interests at least provides an illusion of control; just ask North Korea, which staged its large-scale terrorist attack not on American soil but on the Sony servers.
This process has been more effective in some cases than others this year. Widespread outrage over reports that CBC radio host Jian Ghomeshi had assaulted a long line of women culminated with criminal charges in Canadian court; the Los Angeles police department is exploring its capacity to investigate some of the unearthed sexual assault claims against Bill Cosby. But even when consumer rage manages to rap at the door of the criminal justice system, the phenomenon only works on offenders with fancy radio shows or flush football contracts. It does little to improve the system for all the women who are abused or assaulted by average Joes.
When the real justice system takes a pass, and the system of public shaming takes over, we're forced to translate our indignation over violence against women into missed football games or lost syndication checks. It makes for an unsettling calculation. As Drew Magary put it at Deadspin, nobody can reasonably say whether "hitting a woman is 'worth' more games missed than hitting a child, or if killing a shitload of dogs and going to jail is worth more missed games than killing a teammate," so Goodell "has free rein to spin a magic wheel and hand down whatever stern-sounding punishment the arrow lands on." This is the justice of optics: The "correct" punishment is whatever makes Budweiser feel comfortable, Goodell look good, or TV Land seem sensitive.
Even when the criminal justice system works the way it's supposed to, the vigilante troops don't always stand down. After a Steubenville high school student finished his sentence at a juvenile detention facility this summer, where he'd been locked up for raping a teenage girl, he was released back into society only to be surveilled by television cameras and publicly shamed for rejoining the football team. And after one student was disciplined for low-level sexual misconduct at Wesleyan University (he was accused of sending harassing text messages and "forced kissing"), he attempted to move on with his life only to be fired from his job after an anonymous caller phoned his employer and informed her of his ostensibly private record. Citing the "political reality of the situation," the employer let him go. "At first I thought they didn't want me to participate in campus activities," he told BuzzFeed's Katie Baker. "Then I thought they didn't want me to graduate. Now they don't want me to have a job or be part of society. Do they want me to commit suicide? Is that what they want me to do? What is the endgame?"
The idea of looking outside the courts for ways to protect women is not new. Decades of civil rights legislation have put some onus on employers and educators to prevent discrimination based on gender, by protecting women from sexual harassment at work and assault on campuses. This civil system is not meant to supplant our criminal one, but because female victims have so little leverage in the courts, feminists have pooled their resources into filing grievances with more responsive institutions. As my colleague Emily Yoffe noted last month, young women who don't attend college are actually at a slightly greater risk of sexual assault than those who do. And yet the national conversation around sexual violence this year was laser focused on college victims, to the exclusion of working women—not because campus rape is a bigger problem than the alternative, but because anti-rape activists have more sway over university administrators than they do police and prosecutors, and because college victims have tuition checks and alumni donations to hold over their universities' heads. Reporting a rape to a college doesn't preclude a victim from reporting it to police, of course. But it's a little depressing when so much activism and media coverage is dedicated to the first option, and so little to the second.
It's understandable that activism around domestic violence and sexual assault would follow the money, capitalize on media attention, and call the powerful to account. But NFL commissioners and corporate CEOs make for strange bedfellows in this fight; they will invest in the lives of women only so long as it bolsters their own reputations and preserves their bottom lines. And this movement doesn't just compel them to use their resources for good—it also increases their power by granting them a claim to moral authority. As this year comes to a close, we shouldn't look back and mistake a press release from Bud, a nod from football, or a campus tribunal as justice served.
---