The French don't do Christmas cookies, but the French Christmas dessert known as a yule log (or bûche de Noël) has been around since the 19th century. By now it is both a staple on French tables and a nostalgic classic made in its most traditional version of rolled sponge cake iced with chocolate to resemble a log, dusted with powdered sugar snow, and scattered with meringue mushrooms to add to its rustic woodsy charm.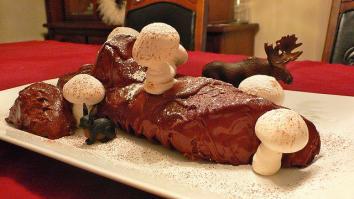 But while Martha Stewart can show you how to make an old-school version, in France every Christmas it's a battle of the bûches in which home cooks comb through culinary magazines and websites for fresh takes on the iconic cake.
And every pâtisserie and fancy hotel pastry chef brings out their most high-concept limited edition designs that offer a visual twist on the traditional dessert. Whether it's a deconstructed take on the conventional yule log shape or an ambitious design that uses the classic dessert as a takeoff for a wild flight of culinary fancy, for a few weeks each holiday season Parisian pastry chefs vie for the most creative and imaginative ode to the Christmas dessert—and charge customers a pretty euro cent for the pleasure.
Here's a handful of some of the most innovative bûches de Noël being whipped up just in time for French Christmas tables.