Recent posts on Norway's vibrant, dynamic new banknotes and passport stirred up feelings of design envy among some readers, who questioned the aesthetics of our own staid government-issued currency and documents. American designer Travis Purrington asked himself a similar question when he moved to Switzerland to study design in 2009. Designboom recently featured a look at his master's thesis, a proposed redesign of U.S. banknotes that swaps historical figures for a focus on America's technological and environmental achievements and brings the overall design aesthetic firmly into the 21st century.
Purrington told me in an email that his project came about when he noticed how Switzerland, like some other European countries, holds competitions to update its currency designs, allowing citizens to participate in the country's branding.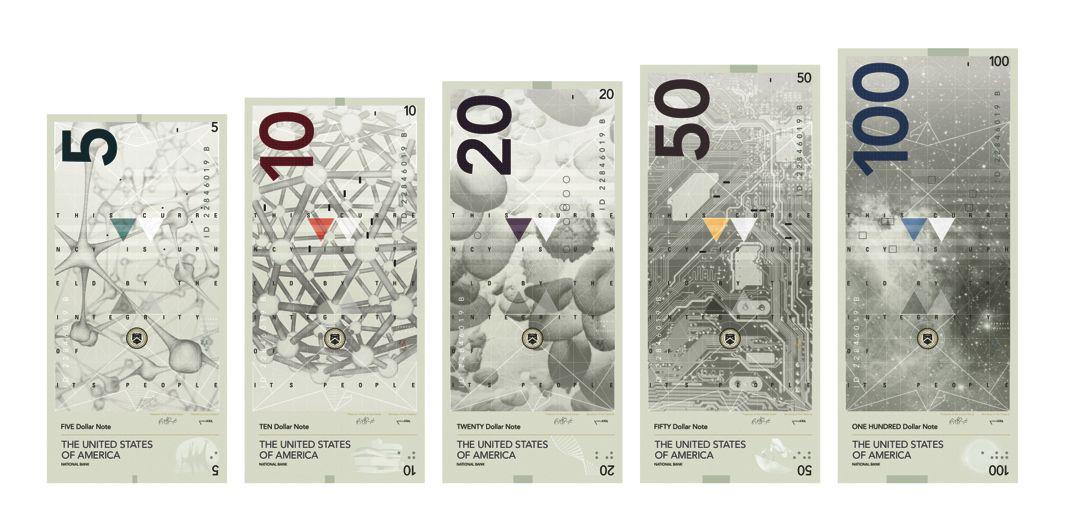 "This idea of such a strong visual change every 20 years or so within a relatively conservative culture deeply rooted in banking lead me to ask, 'Why couldn't the U.S. do this?' " Purrington wrote. "And subsequently, 'What would it look like if the U.S. held such a competition?' "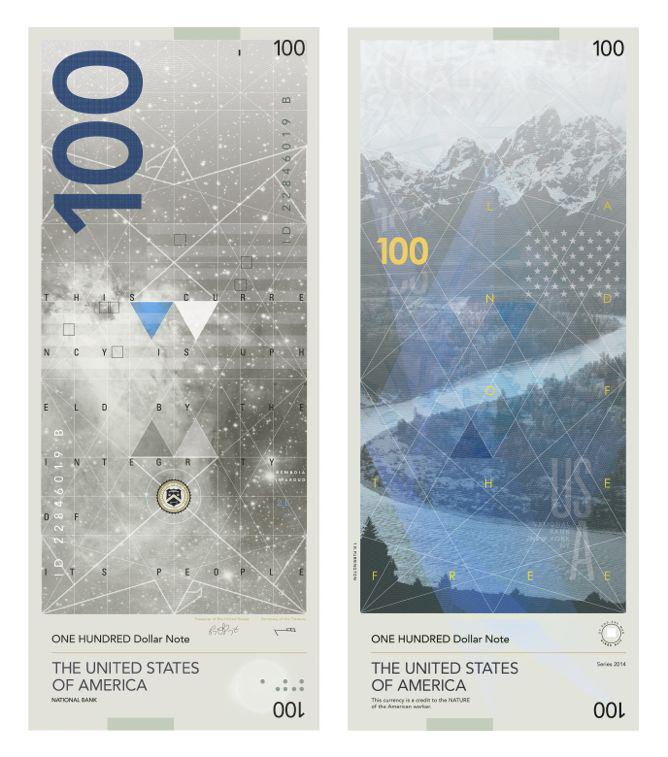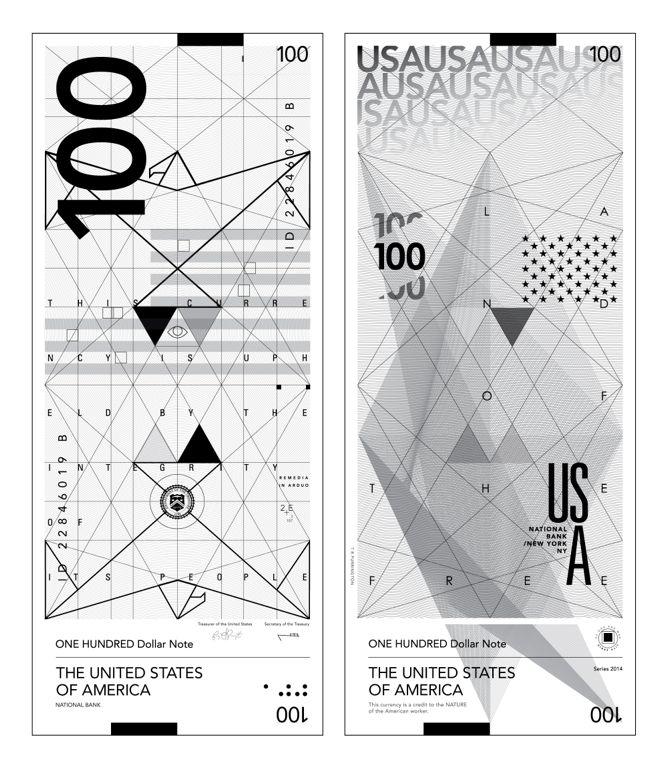 Purrington first researched the historical evolution of the U.S. dollar, concluding that the tradition of experimentation and exploration within U.S. currency history had stagnated in the last 80-plus years. "I simply wanted to introduce the idea that there is still room to grow and innovate in U.S. culture with currency," he said.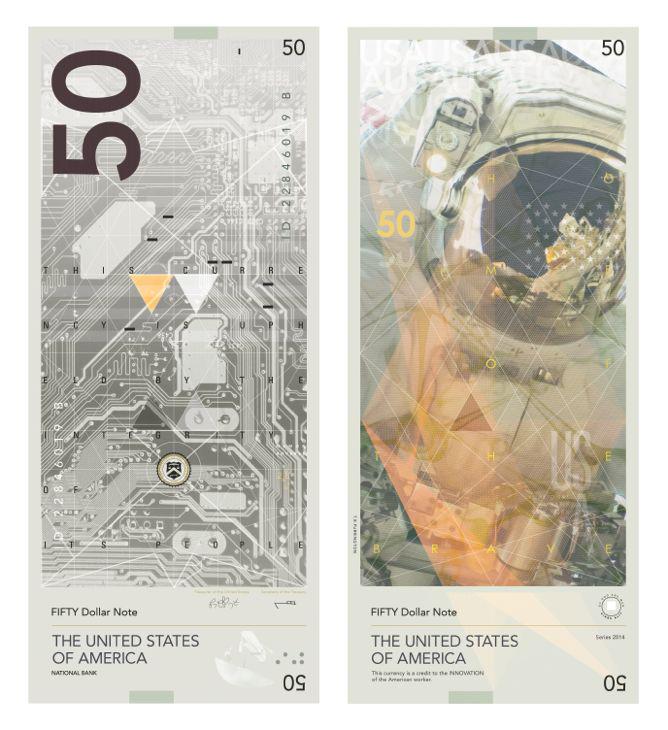 But is there really a chance that the U.S. would redesign the dollar bill?
"I'm not declaring that this proposal is a suitable replacement for the USD as much as I'm suggesting that one could exist," he said. "But we simply don't know because those gates are closed pretty tightly." Purrington said that his proposal is not ultramodern—it's still traditional paper-based currency. The idea, he said, is "transitional," and he never considered it realistic. "I've taken great liberties with terminology and design elements that wouldn't survive the bureaucracy or banking structure. It is more relevant to say that this is a conceptual system."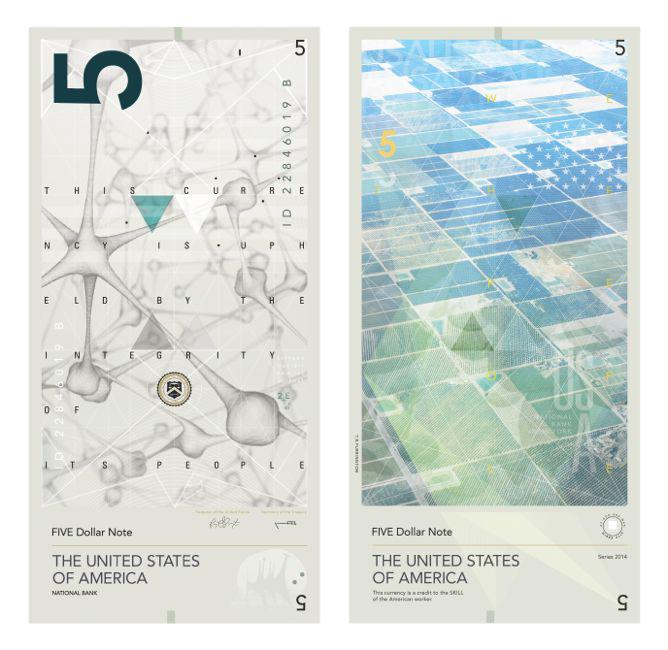 The look of Purrington's banknotes seems to borrow inspiration from European currencies. But the U.S. dollar design is iconic, so Purrington had to consider a balance between facelift and complete overhaul. To do so, he drew from the modern design and art movements of the early 20th century, much of which is European-influenced; his experiences and education as a native of the Northwestern U.S.; and his observations and interactions from around the world.
"I tried to tie the concept of learning, discovery, authorship, and accountability into the notes in a way that was aesthetically conducive to the organisation of information more than I worried if it looked too European or not 'American' enough," Purrington wrote.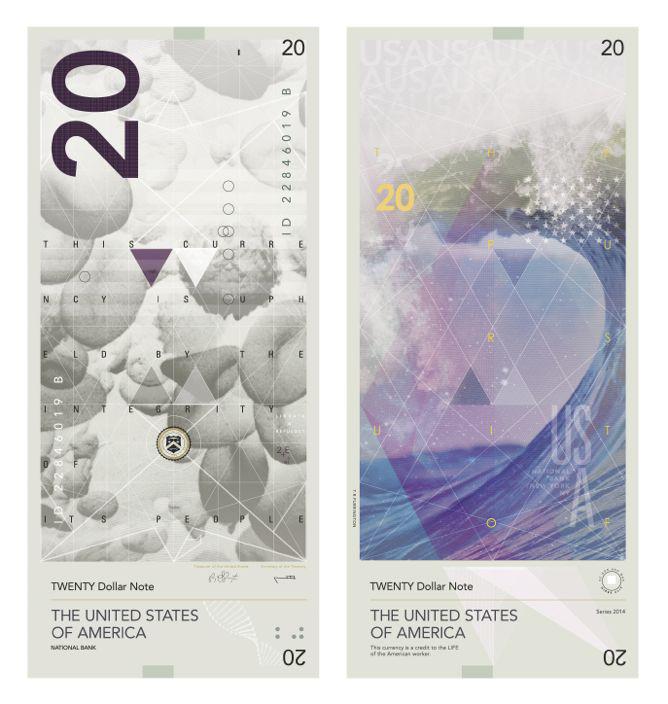 Purrington conceded that creating a transitional U.S. currency would be challenging for any modern designer. "History is integral to the development of the nation while tradition can be a slippery slope. It's a bit of a cultural mind game based on legacies," Purrington wrote, also noting that the idea of presidents' images on U.S. currency was originally shot down by Congress.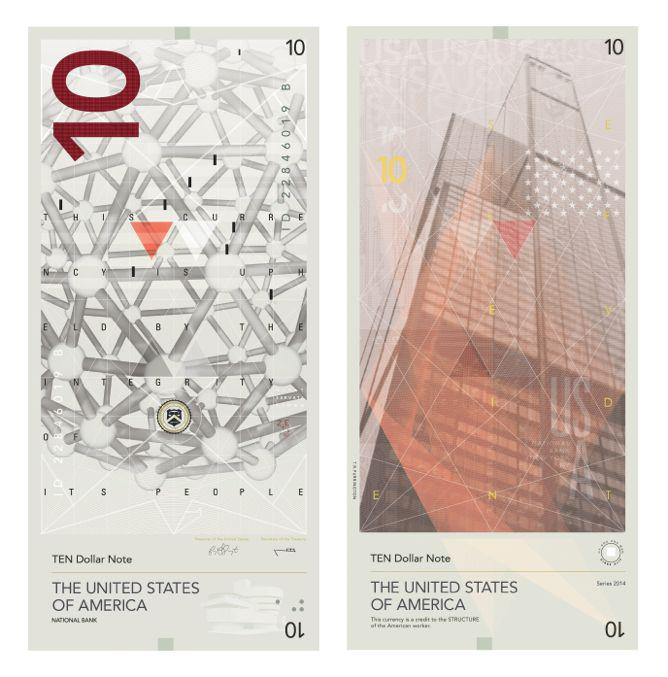 Purrington said the goal of his project was to start a discussion rather than propose a definitive solution.
"One day we Americans will make a significant move in our currency design that reinforces the evolution of our cultural climate," he said. "That day was not in 2011 (when I designed this series) or 2014 (the date printed on them), today or anytime soon (based upon the latest unfortunate $100 bill update). But this is where I would start."