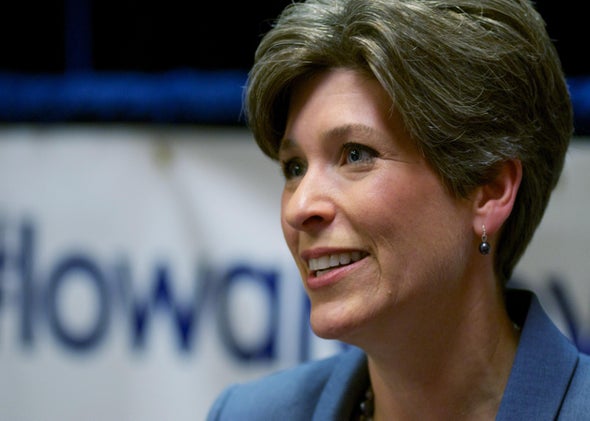 Sunday, Buzzfeed released a video of retiring Iowa Sen. Tom Harkin, campaigning on behalf of Rep. Bruce Braley, who he hopes will succeed him. In it, Harkin takes a rather foolish swipe at Braley's opponent, Republican candidate Joni Ernst. "In this Senate race, I've been watching some of these ads," Harkin said in a speech that was recorded a week before it was released Sunday night. "And there's sort of this sense that, 'Well, I hear so much about Joni Ernst. She is really attractive, and she sounds nice.'"
"Well I got to thinking about that. I don't care if she's as good looking as Taylor Swift or as nice as Mr. Rogers, but if she votes like Michele Bachmann, she's wrong for the state of Iowa," he added. 
Harkin was talking about the fact that, in a close race, Ernst's likeability could push her over the top. But his comment was dumb and sexist, despite the Mr. Rogers reference, because ultimately he was focusing on Ernst's looks, when her flirtation with conspiratorial right wing views should have been the real issue. 
It's particularly dumb for a Democrat to make sexist attacks on female Republicans in an era when Republicans are on the defensive about the "war on women" and eager to seize on anything they can use to argue that Democrats are just as bad. Ernst, unsurprisingly, did just this, releasing a statement that says, "I think it's unfortunate that he and many of their party believe you can't be a real woman if you're conservative and you're female," Ernst said. "I believe if my name had been John Ernst attached to my resume, Sen. Harkin would not have said those things."
The other problem with Harkin's comments: Telling people that are undecided but leaning towards Ernst that they are shallow and thoughtless isn't going to shame them into switching over to Braley. It will just make them even more fond of the candidate who doesn't insult their intelligence. You'd think Democrats would have figured this one out, considering how they like to highlight any sexist comment made by Republicans in order to garner the female vote. 
---