Atlas Obscura on Slate is a blog about the world's hidden wonders. Like us on Facebook and Tumblr, or follow us on Twitter.
Nov. 16, 2014, marks the 40th anniversary of the Arecibo message, an interstellar communiqué transmitted from the Arecibo radio telescope in Puerto Rico toward Messier 13, a globular cluster of stars located more than 22,000 light-years away.
The content of the message was determined by astrophysicist and Search for Extraterrestrial Intelligence (SETI) founder Frank Drake, with a little help from luminaries like Carl Sagan. It used a string of 1,679 binary digits—the idea was that the alien civilization who receives the message will recognize 1,679 as a semiprime number and multiple of 23 and 73.* "Ah," they will think (in their native language, obviously), "this binary string of unknown origin is intriguing. Let's lay out the info in a 23-by-73 grid and see what emerges."
When the ones and zeroes are put into grid form, what results is a pixelated summary of humanity. It contains seven parts. The first part of the message shows the numbers one through 10. Next are the atomic numbers for carbon, hydrogen, oxygen, nitrogen, and phosphorus. A very simple representation of the DNA double helix follows. Then there is a blocky image of a human, a depiction of Earth's position in the solar system—with Pluto still shown as a planet, a matter that is still up for debate—and an image of the Arecibo telescope that, to a 2014 eye, resembles the Gmail logo.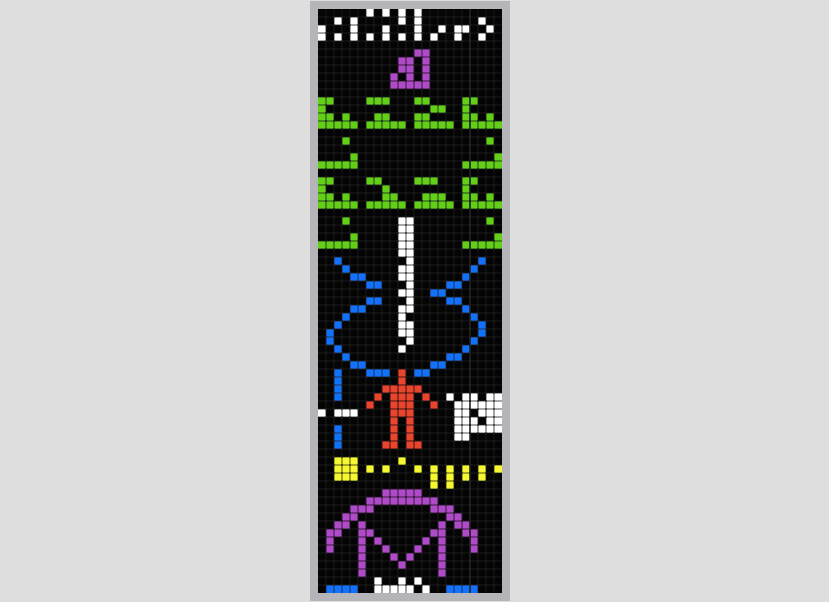 Even if the folks in Messier 13 were to respond promptly to this message, we'd still have to wait at least 43,960 years for their reply. But the Arecibo message was never really intended as genuine interstellar communication—it was chiefly a demonstration of the Arecibo telescope's might. (The dish was upgraded in 1974, and the three-minute digital transmission, ostensibly sent to an alien civilization, was quite the celebratory attention-getter.)
Messier 13's assumed inhabitants may never become our pen pals, but the tantalizing prospect of interstellar communication continues to entice Earthlings. Since the Arecibo message was transmitted into the universe, at least eight other interstellar radio messages have been beamed into the sky—all within the last 15 years.
In 2001, Russian astronomer Aleksandr Zaitsev and a group of Russian teenagers broadcast a series of transmissions collectively known as the "Teen Age Message." Targeted at six stars located between 45.9 and 68.5 light-years away, the messages included Russian folk music and works by classical composers such as Beethoven and Vivaldi. All of this music was played on the theremin—Zaitsev referred to the message as the "First Theremin Concert For Extraterrestrials." Sent from Yevpatoria Planetary Radar in Crimea, the transmission was the first interstellar musical radio message. There have been more: In 2008, NASA sent the Beatles song "Across the Universe" across the universe, targeting the Northern Star, Polaris.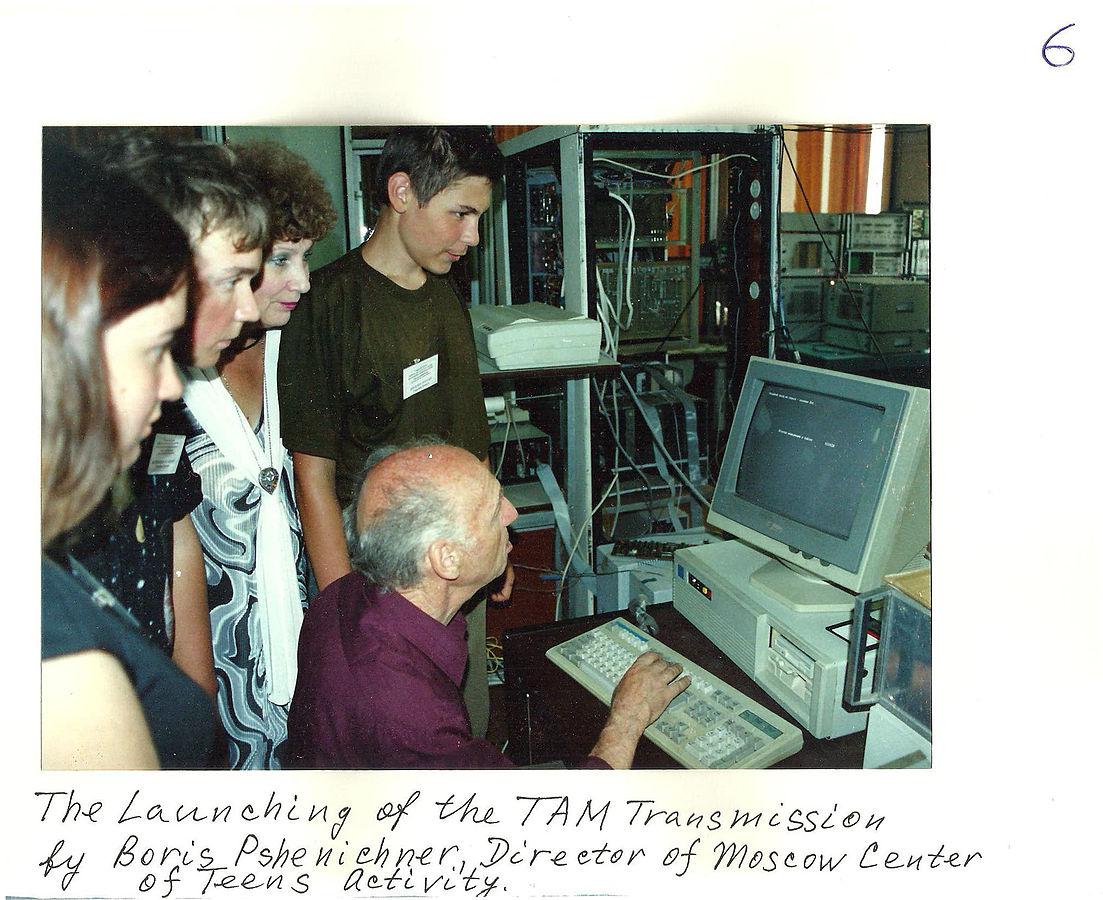 The question of how best to communicate with extraterrestrials is one of SETI's ongoing concerns. Earlier this week, the organization held a workshop in California with the title "Communicating Across the Cosmos." A common theme was humanity's self-obsession. In composing interstellar messages, we tend to assume the intended recipients will get what we're trying to say. But the scientific knowledge and physiology of nonhuman civilizations may be so different to our own that a Beethoven composition or a stick-figure human is totally indecipherable.
Even the supposedly universal language of mathematics may not be the best lingua franca. During a talk at the SETI conference, Carl DeVito posed a mind-bending question: "Are the natural numbers, 1, 2, 3, 4, … merely creations of the human mind or do they exist independently of us?" You can watch his talk for more, but for the record, here is his own answer: "I think the natural numbers do exist independently of us. The rest of mathematics, however, might not exist anywhere but in our minds."
Of the eight interstellar messages sent since 1999, the first to reach its target will be A Message From Earth, which was sent to extrasolar planet Gliese 581 c in October 2008 and is scheduled to arrive in early 2029. The transmission, intended as a digital time capsule, was initiated by now-defunct RDF Digital—a subsidiary of the U.K. production company responsible for the TV show Wife Swap—and Bebo, a social networking website that declared bankruptcy in 2013. The 501 photos and text messages in the transmission were selected by Bebo users via web vote. In about 15 years, the residents of Gliese 581 c, assuming there are any, will receive a deluge of information about faded British pop stars.
Though each interstellar transmission has varied wildly in tone and content, each reflects a common core message: "We are here. This is us." Whether they reach other civilizations is almost irrelevant. The chance to sum up humanity to an extraterrestrial audience is an alluring task, and one that allows us to feel absurdly important while inhabiting, as Carl Sagan wrote in Pale Blue Dot, "a lonely speck in the great enveloping cosmic dark."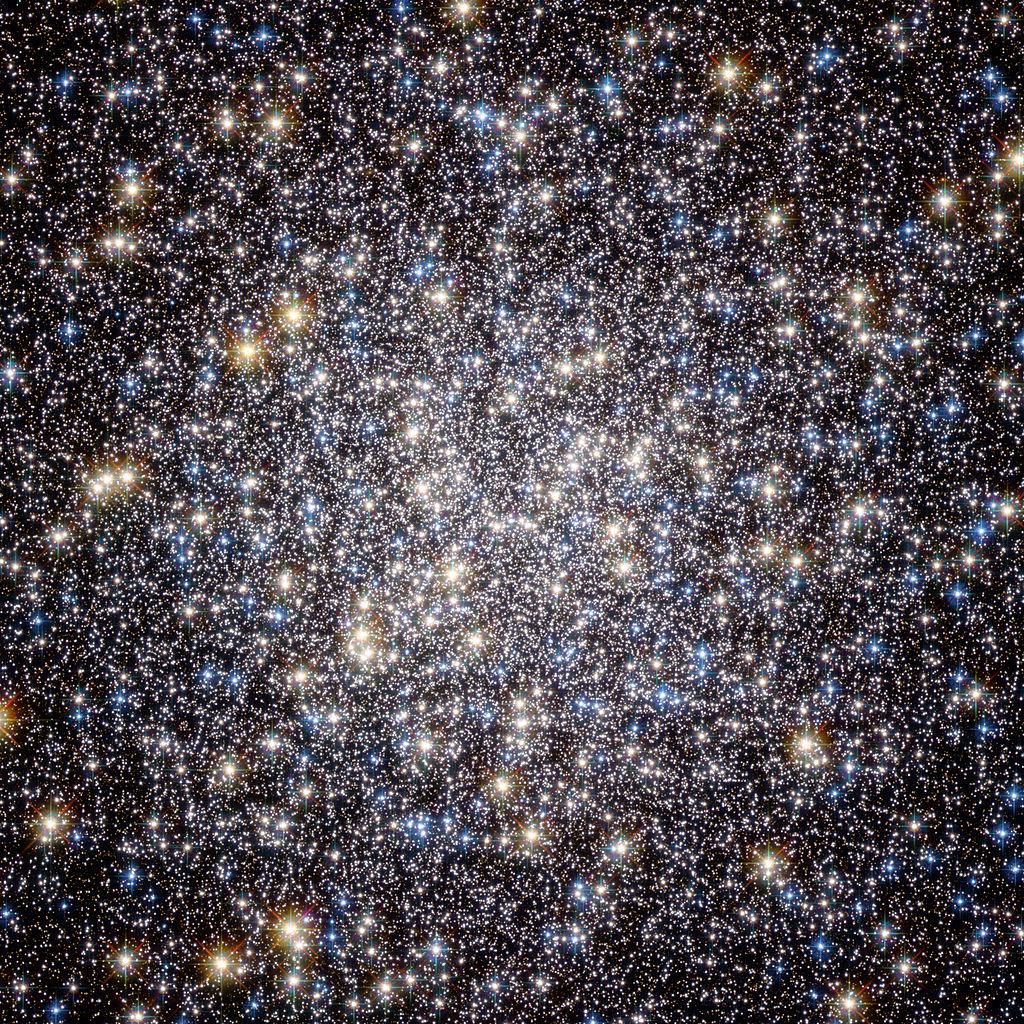 Visit Atlas Obscura for more on Arecibo Observatory.
More out-of-this-world observatories:
*Correction, Nov. 14, 2014: The post originally misstated that 1,679 was a prime number. (Return to the corrected sentence.)