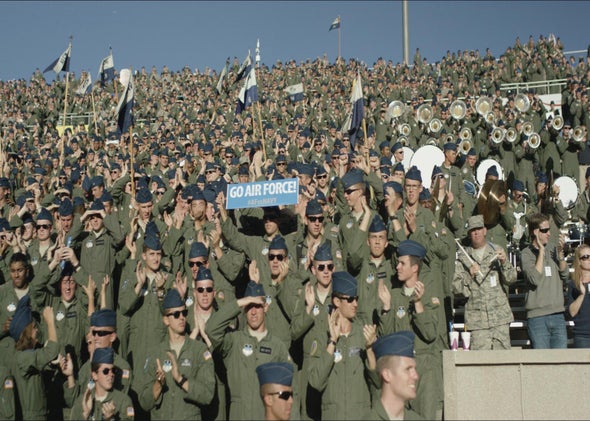 In 2009, Eric Thomas enrolled in the Air Force Academy to play soccer and serve in the military. He soon found that certain cadets were privileged for providing another type of service. "If I'm a good football player, then I'm bringing the academy a lot more than just points on a board: I'm bringing fame, I'm bringing money, I'm bringing a lot to the table," he told ESPN newsmagazine E:60 in a report, "Operation Gridiron," that aired Tuesday night. In return, Thomas says, football players were afforded special treatment by academy brass.
In 2010, the Air Force's internal law enforcement agency began looking into claims of sexual assault allegedly perpetrated by cadets at a postgame party attended by Thomas. After interviewing him about the events of the night, the Office of Special Investigations soon recruited Thomas to work as a confidential informant, gathering information at more parties about several football players who were suspected of assaulting cadets. "I didn't see it as [spying]," he told E:60. "I saw it as protecting some cadets." Over the next two years, Thomas provided information to OSI—about one football player he witnessed attempting to rape a female cadet after she passed out, and a group of cadets he saw lace a liquor bottle with Rohypnol to serve only to women—that eventually led to three Air Force players being convicted of sexual assault, the first such convictions of academy cadets to come down in over 15 years. In August, the New York Times reported that sexual assault complaints at the academy "almost doubled" in the wake of those convictions.
But Thomas and his OSI contact, Sgt. Brandon Enos, say that academy superintendent Lt. Gen. Michael Gould, himself a former Air Force football player, wasn't pleased with the results of the investigation. Enos says Gould balked at evidence that players had committed crimes and denied OSI's request to interview football coaching staff about the incidents. The academy's "zero tolerance policy," Enos told ESPN, appeared not to apply to football stars. Enos was later stripped of his badge and transferred to a job performing menial tasks like taking out the trash. Just weeks before he was due to graduate, Thomas was told that he'd amassed hundreds of demerits—for infractions like drinking in the dorms and leaving campus without authorization, incidents that Thomas says occurred in the course of his work as an informant. (He witnessed the attempted rape on one such off-campus excursion and routinely gathered information at parties where alcohol was served.) He was expelled. The OSI's academy informant operations were discontinued, and sexual assault reports among cadets dropped again. This year, the academy commissioned an inspection of its athletic department but won't reveal what it found.
Thomas' story has been widely reported since he first told it publicly last year, and Lt. Gen. Gould appears to be tiring of the retelling. In a letter to ESPN, Gould implored the network to just "let this fabricated story fade away." But reporters and legislators won't let it go. In August, Sens. Kirsten Gillibrand and John Thune called for an independent investigation into the academy's handling of sexual assault, and its possible retaliation against witnesses.*
It's particularly important that ESPN has now taken up the cause. Lt. Gen. Gould has since resigned from the academy, but he's gained a perch on the College Football Playoff selection committee, where he and his 11 fellow committee members wield great power over NCAA football and its coverage. (Just before the E:60 report aired Tuesday night, ESPN aired the announcement and analysis of a new set of College Football Playoff rankings released Tuesday by the CFP committee.) One of the players convicted of sexual assault as a result of Thomas' work, Jamil Cooks, now plays football at Alcorn State. Thomas sells nutritional supplements in South Dakota.
*Correction, Nov. 5, 2014: This post originally misspelled Kirsten Gillibrand's first name.

---