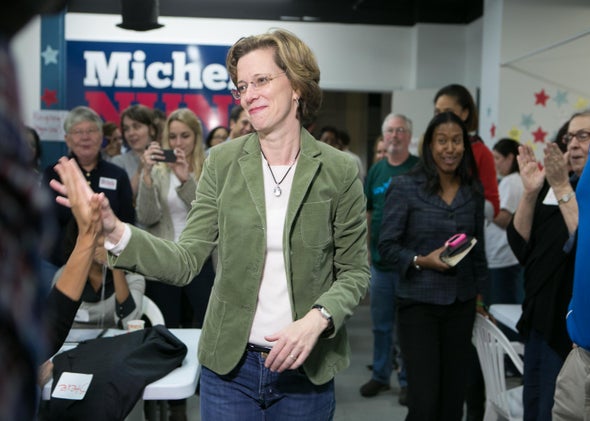 While the "war on women" narrative hasn't had quite as much power this election season as it did during the 2012 elections, gender politics have still played a major role in shaping the course of an election where Republicans hope to seize the Senate. With that in mind, here are some of the Senate races to watch on Tuesday night. 
Iowa
Joni Ernst, running against Rep. Bruce Braley to replace retiring Sen. Tom Harkin, has attracted a lot of attention for running a campaign that could be a case study in how to appeal, as a woman, to Republicans. As Sheryl Gay Stolberg of the New York Times explained, Ernst hits that uncannily perfect blend of being masculine enough to draw conservative confidence but feminine enough so as not to provoke gender anxieties: She's ex-military and motherly. She shoots guns and bakes cookies. Her campaign tagline is "Mother. Soldier. Independent Leader." Strangely, her first major ad in which Ernst brags about "castrating hogs," which many guessed would send male voters running, had the opposite effect and appears to have coalesced early support around her. She's working the same territory as Sarah Palin once did, but doing it better. 
Ernst was pulling ahead in the polls in recent weeks, but a recent Quinnipiac University poll puts her in a dead heat with Braley. The Ernst campaign's last big maneuver before the election was gender-related, accusing Harkin of sexism for his comments comparing Ernst's demeanor to that of a combination of Mr. Rogers and Taylor Swift, and suggesting that the true Joni Ernst is closer to Michele Bachmann.
Colorado
In a contest between two men—Republican Rep. Cory Gardner and incumbent Democratic Sen. Mark Udall—women and their bodies have been a major campaign issue. Udall has strongly attacked Gardner for his support of "personhood" laws, on both the state and federal level, that would define fertilized eggs as full human beings. Personhood laws threaten not just abortion rights, but IVF treatments and could be used to prosecute women for miscarriage. And, as the Rachel Maddow Show reported, because so many of the same people in Colorado who support personhood amendments also believe, incorrectly, that some forms of birth control are "abortion," such laws could be used to float bans on those forms of contraception.
The debate over personhood has been so heated between Gardner and Udall because Colorado will also be voting on a personhood amendment Tuesday, which would define fertilized eggs as persons in the Colorado criminal code. It's the third time such an amendment has been put on the ballot there, having lost the first two times. 
Gardner has fought back on the issue by arguing that he loves the birth control pill so much he wants it to be over-the-counter. (He has avoided discussion of the IUD, though his fellow Republican, gubernatorial candidate Bob Beauprez, claims that IUDs are "abortion.") He's also denied that his support of personhood amendments should be construed as support of personhood amendments, a tactic that caused a debate moderator last month to lash out at Gardner and say, "a charitable interpretation would be that you have a difficult time admitting when you're wrong and a less charitable interpretation is that you're not telling us the truth." 
Despite Gardner's ability to get journalists to boldly accuse him of lying to his face, he's doing pretty well in his challenge against Udall, with the Quinnipiac poll deeming the race too close to call going into Election Day. 
Kentucky
A few months ago, Senate Minority Leader Mitch McConnell seemed to have legitimate reason to worry about a challenge from Democrat Alison Lundergan Grimes, particularly when it came to appealing to female voters. Over the summer, Grimes hit McConnell hard, accusing him of voting against equal pay and the Violence Against Women Act. (One is true and the other not so much.) McConnell has done well, for a Republican, with female voters in the past and was clearly worried that this young, female challenger would run an effective war on women–style campaign against him. So he hit back by highlighting his work fighting violence against women and put his wife, former Labor Secretary Elaine Chao, out front and center in his campaign.
Since then, it seems McConnell needn't have worried at all, because the Grimes campaign was happy to self-implode for him. The iconic moment was when Grimes refused to answer the simple question of whether she voted for Obama for president. Grimes wanted to paint herself in the same image that Ernst is successfully pulling off—a woman who is both tough and tender, strong but feminine—but her "evading and obfuscating at every turn," as Jason Zengerle of the New Republic put it, is making the tough gal image impossible for voters to buy. Subsequently, the can't-win candidate of 2013, McConnell, is leading Grimes by nine points in the latest NBC poll. 
Georgia 
With Grimes self-immolating in Kentucky, Democrats have turned their attentions to another female Democrat in a red state who has a chance of beating a male Republican: Michelle Nunn of Georgia. As my colleague Jamelle Bouie reported, the Democratic Senatorial Campaign Committee shifted money away from Grimes and toward Nunn in October, hoping, in part, that the polls may be underestimating the number of black voters who will show up and help push her over the top. In part because of the Libertarian candidate Amanda Swafford splitting off 5 percent of voters, neither Nunn nor her opponent David Perdue has been able to pull ahead in the polls decisively, though Perdue has opened up a small lead. Unlike Grimes, Nunn has had no problem telling voters she backed Obama.
Nunn has played a light hand with reproductive rights issues, but she's been fierce on the topic of gender discrimination. Her campaign has been running ads highlighting Perdue's opposition to equal pay legislation and the fact that Dollar General, of which Perdue was the CEO, was hit by a massive gender discrimination lawsuit. As Mother Jones explained, "Shortly after Perdue stepped down as Dollar General's CEO, hundreds of female managers sued the company for pay discrimination that allegedly took place during Perdue's tenure." The lawsuit was eventually settled out of court for nearly $19 million, with Dollar General admitting no wrongdoing. 
Perdue's attempt at defending himself over the Dollar General suit during a debate was odd, to say the least: "That lawsuit, or that claim, or that complaint was settled five years after I had left. She knows that. And it was less than 2,000 people. We had upwards of 70,000 employees in that company," he told the moderator. Nunn replied by saying 2,000 women (the number was actually 2,100) "seems like quite a lot to me." As Mother Jones reported, while the lawsuit was settled after Perdue left, it was addressing a time period that corresponds "almost exactly the dates that Perdue was CEO."
---