The Vault is Slate's history blog. Like us on Facebook, follow us on Twitter @slatevault, and find us on Tumblr. Find out more about what this space is all about here.
These hand-tinted Japanese postcards are part of a new exhibit on the history of tourism in Asia at the Smithsonian's Sackler Gallery, titled "The Traveler's Eye." The postcards, produced in the early 20th century as Western visits to Japan increased in volume, show off the skills of Japan's photo colorists.
The art of hand-tinting photographs, write the curators of a Harvard exhibit on the early photography of Japan, while first introduced in Europe, "became more refined and widespread" on the archipelago. Many Japanese artists who had been employed by ukiyo-e woodblock studios found new employment with photographers when the popularity of photos pushed woodblocks out of fashion.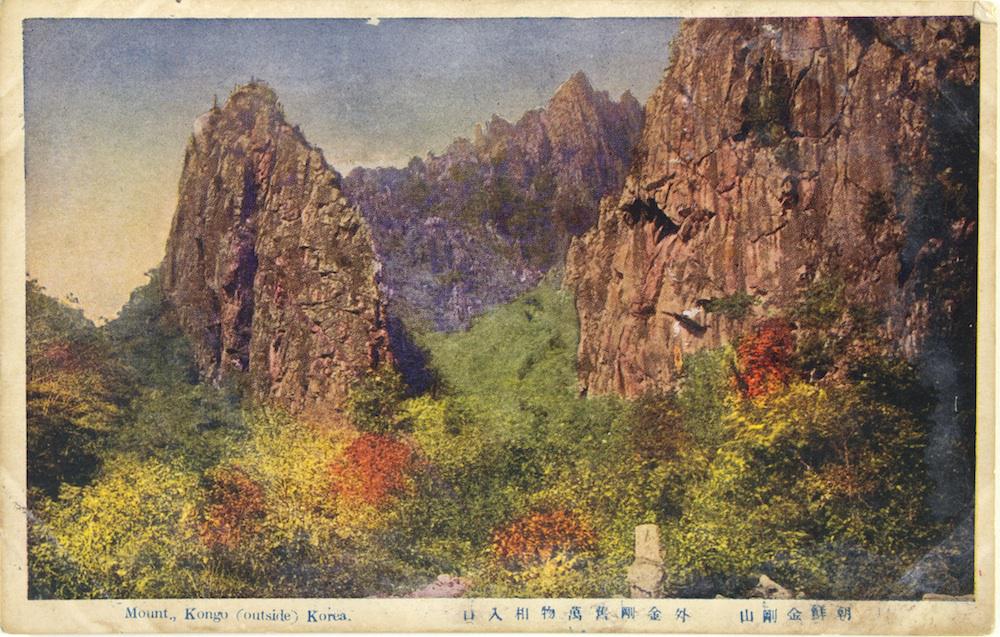 Mt. Kumgang, Korea, before 1930. The mountain, located in today's North Korea, was a popular tourist destination (see this 1939 Japanese map of the area), especially noted for its beautiful autumn leaves.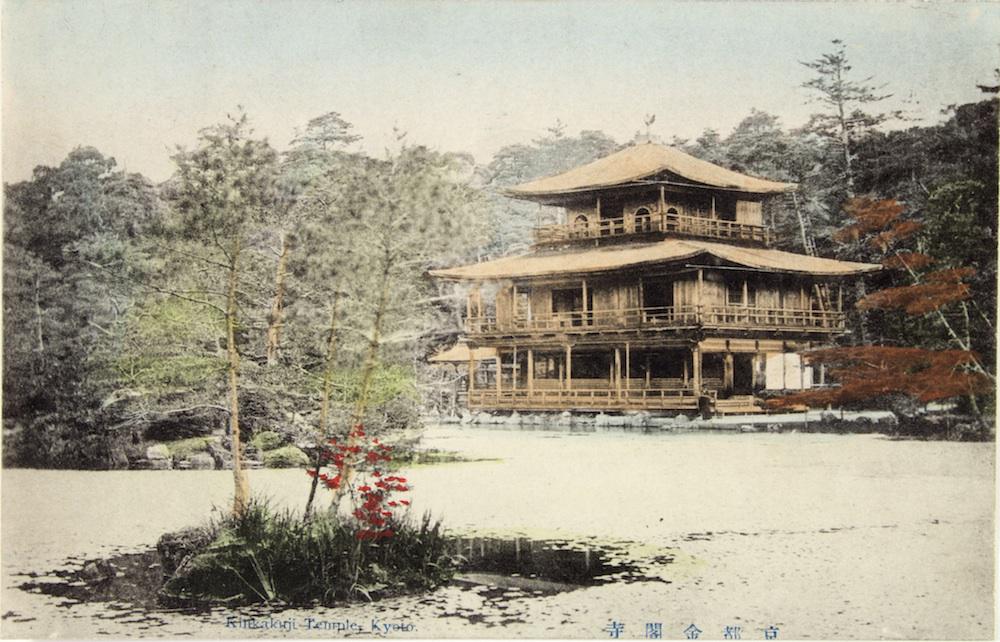 Kinkakuji, Kyoto, early 20th century. This Zen temple beside a pond (which is covered in lily pads in the postcard) was originally built in the 14th century, and has been burned and rebuilt several times since.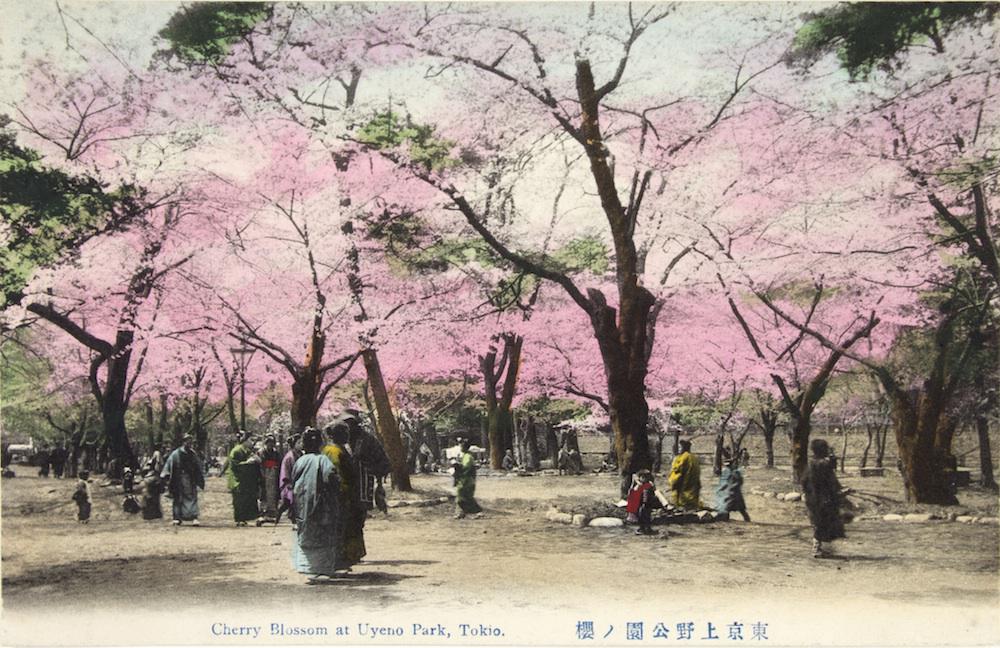 Cherry blossoms at Ueno, Tokyo, early 20th century. The Japanese tradition of viewing cherry blossoms (sakura) in the spring dates to the eighth century. "With wider exposure to Japanese art and culture in the 19th century," the curators of the Library of Congress' web exhibit on cherry blossoms in art write, "audiences in the U.S. and around the world embraced sakura as a particularly Japanese hallmark." Although Western audiences enjoyed images of cherry blossoms in black-and-white stereograph form, the blossoms lent themselves particularly well to hand-tinting.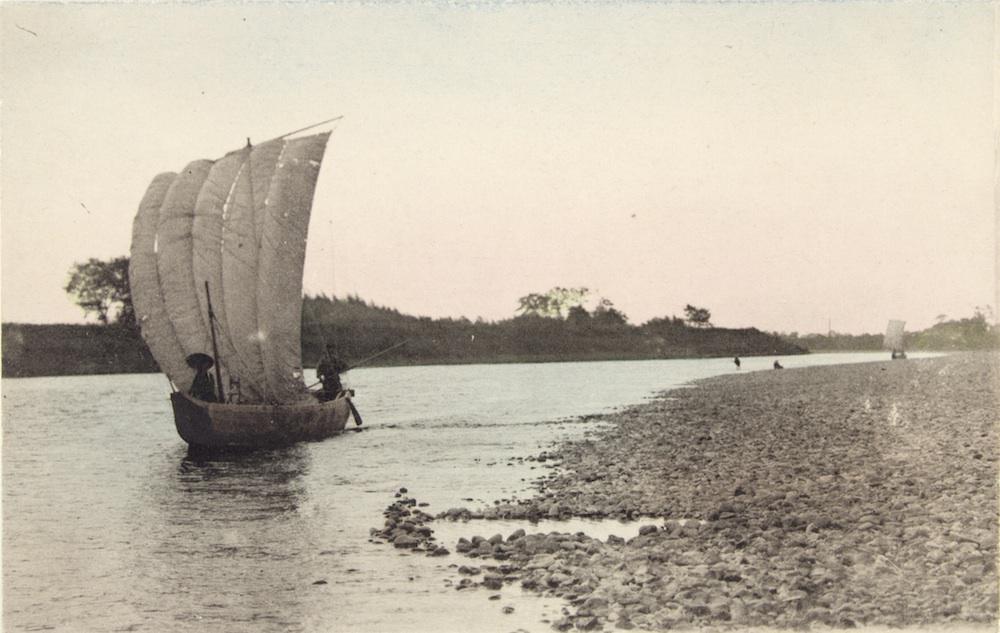 Sailboats on a river, early 20th century. A gentle scene, illustrating what Western eyes would have perceived as a pre-modern way of living.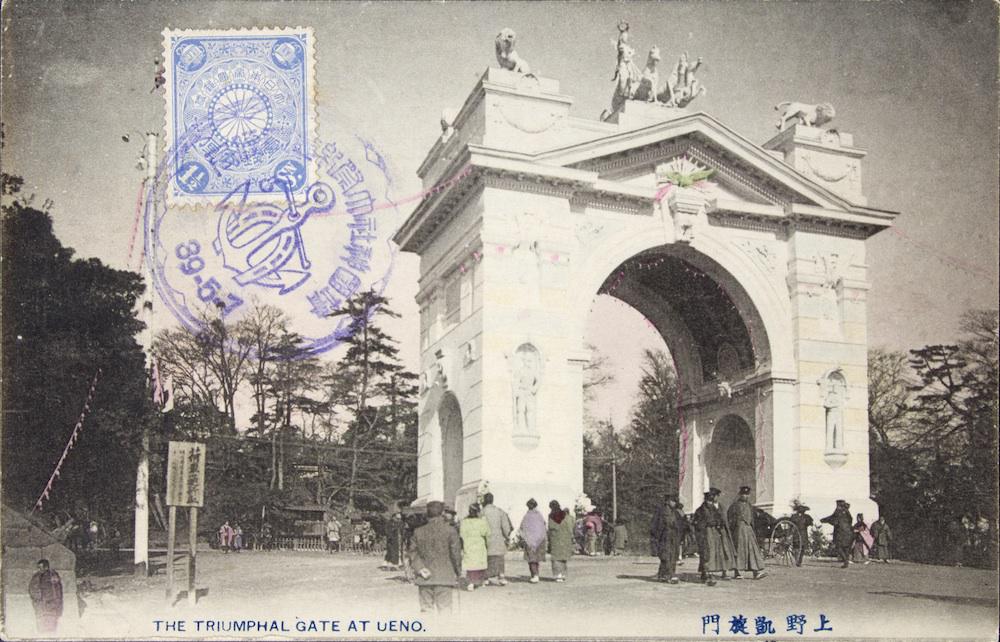 Triumphal Gate at Ueno, circa 1905. The gate was erected to commemorate the Russo-Japanese War. According to the Freer-Sackler's head of scholarly programs and publications Nancy Micklewright, Japanese citizens purchased images of the triumphal arches of their cities, sharing them with each other as acts of civic pride. A postcard like this one may have been intended for the domestic, as well as foreign, markets.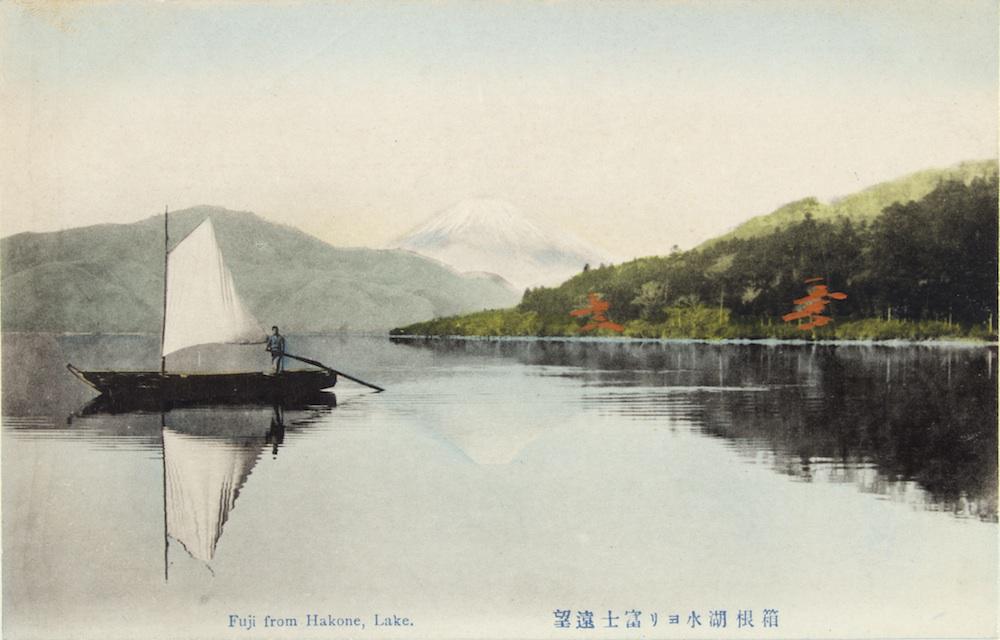 Mt. Fuji from Lake Ashi, Hakone, early 20th century. The beloved mountain, portrayed in many paintings and prints, had recently been the subject of Katsushika Hokusai's famous series of woodblocks titled "Thirty-Six Views of Mount Fuji," first printed in 1831. The postcard, which is quotidian in its framing and approach, nonetheless references these grander efforts.