The Vault is Slate's history blog. Like us on Facebook, follow us on Twitter @slatevault, and find us on Tumblr. Find out more about what this space is all about here.
Using data from the 1890 census, Frederick E. Pierce and New York's Tenement-House Committee published these maps in 1894, looking to illustrate population density and nationality in Manhattan. In the nationality map, each of the island's sanitary districts (small service areas, as designated by the sanitation department) is striped with patterns. The stripes indicate the national origin of the New Yorkers inhabiting the area, with the width of the stripes signifying the proportion of the population represented by each group.  
The map doesn't represent the total diversity of population groups in a given district, showing only the two (or sometimes three) largest groups that made up two-thirds of each district's population. Through this choice, Pierce and the committee were able to dramatize the strong presence of foreign-born citizens from Germany, Ireland, Italy, and Russia. In the article in Harpers' Weekly that accompanied the maps, Pierce notes that Scotch, English, Welsh, Scandinavian, and Canadian New Yorkers were not recorded on the nationality map, "being in small numbers and perhaps less foreign than the others."
I first saw this pair of maps in a post on the blog Making Maps, where cartographer John Krygier noted that the original versions were in color, and lauded the clever choice to redraw the map for black-and-white publications by swapping colors for monochromatic patterns. Pierce's tenement-worker colleagues in Chicago created similar color maps charting nationality, density, and average wages in that city. These were included in the 1895 book Hull-House Maps and Papers, plates from which are reproduced here. 
Previously on the Vault: An 1885 temperance map of bars and saloons on the Lower East Side; a vice map of San Francisco's Chinatown, 1885.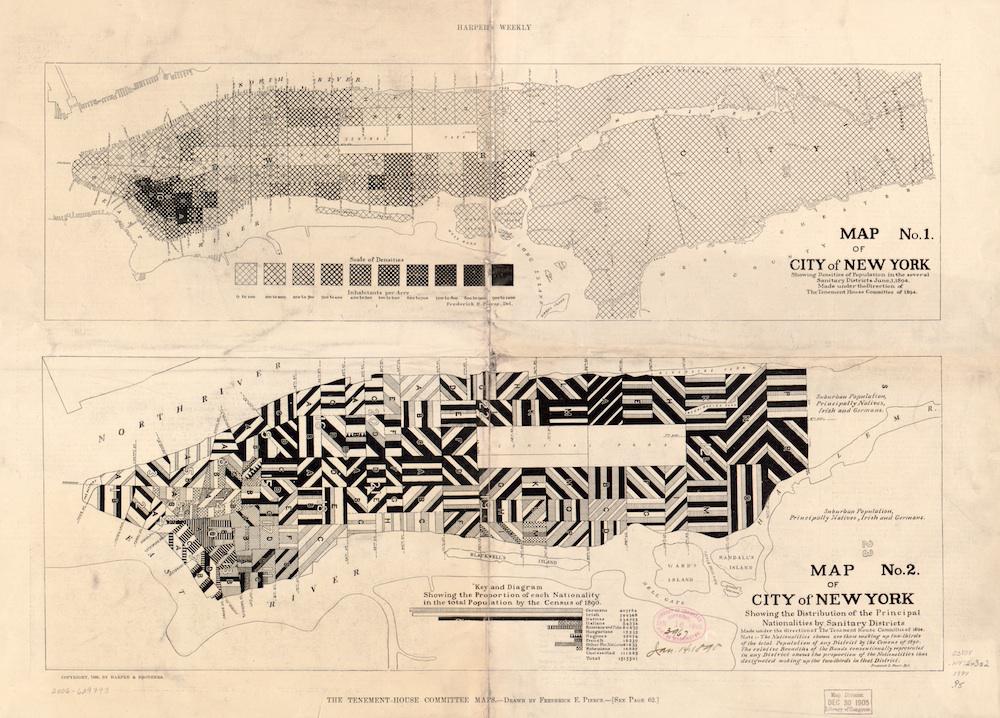 Click on the image to reach a zoomable version, or visit the map's page on the Library of Congress website.