The Vault is Slate's history blog. Like us on Facebook, follow us on Twitter @slatevault, and find us on Tumblr. Find out more about what this space is all about here.
The great historical photo blog The Passion of Former Days recently featured a batch of proto-baseball cards from the late 19th century. These studio portraits, taken in Boston and Philadelphia, were sold as small cabinet cards that advertised the photographers' businesses, as well as being reprinted on cigarette cards that were packaged as collectibles along with tobacco in the 1880s and 1890s. (Former Days' Anna Krentz points to a pair of photos to show how a studio's portraits were repurposed by cigarette manufacturers: the Philadelphia Quakers' Jack Clements in the studio; the same Jack Clements portrait used on an Old Judge cigarette card.)
In a short history of the baseball card, historian John Bloom points out that these cigarette cards, by the very nature of their association with tobacco, were marketed to adults. While some kids might have been the beneficiaries of adult cigarette purchases, collecting cards handed down to them by their elders, it wasn't until after World War I that baseball cards came to be associated with young people. During the 1930s, the cards were increasingly packaged with bubble gum, candy, or other sweet products.
In a past Vault post, I wrote about William Vander Weyde's 1904 photos of baseball players, which have a naturalistic, kinetic sense of composition. Seen in comparison with this set of recent painfully posed antecedents, the Vander Weyde group seems all the more remarkable.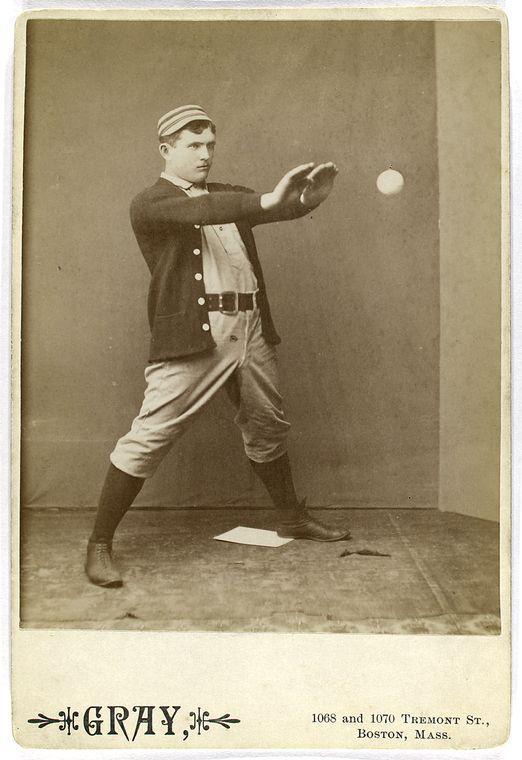 Jack Clements, left-handed catcher and outfielder, played for the Philadelphia Phillies, Quakers, and Keystones; the Boston Beaneaters; the St. Louis Browns; and the Cleveland Spiders, 1884–1900. (Clements, like all of the men in these cards and most players of this era, caught the ball without a glove.)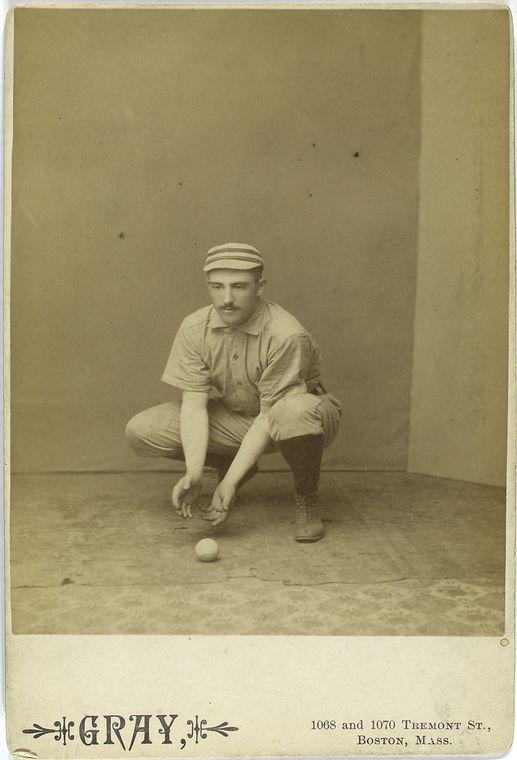 Jim Fogarty, outfielder, second and third base, played for the Philadelphia Quakers and Athletics, 1884–1890, before dying of tuberculosis at age 27.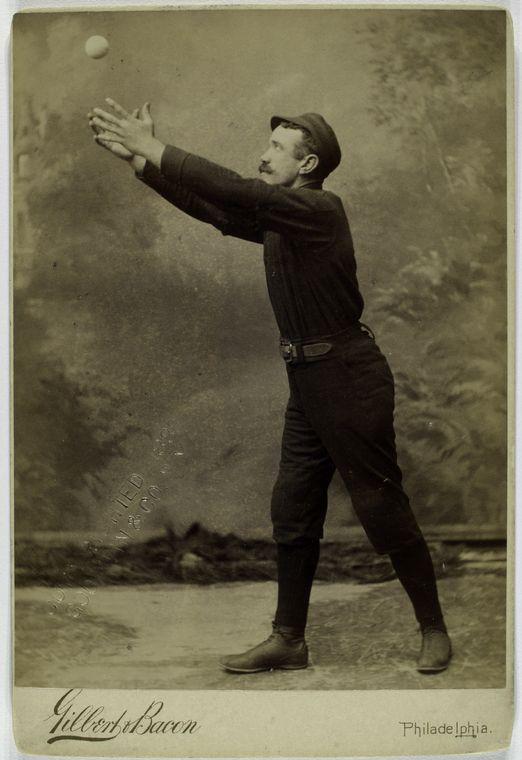 Ohioan "Deacon" (James Thomas) McGuire, catcher and first baseman, played for a long list of clubs, including the Toledo Blue Stockings, Detroit Wolverines, Philadelphia Quakers, Cleveland Blues and Spiders, Rochester Broncos, Washington Statesmen and Senators, Brooklyn Superbas, New York Highlanders, Boston Americans and Red Sox, and the Cleveland Naps (whew), from 1884–1912.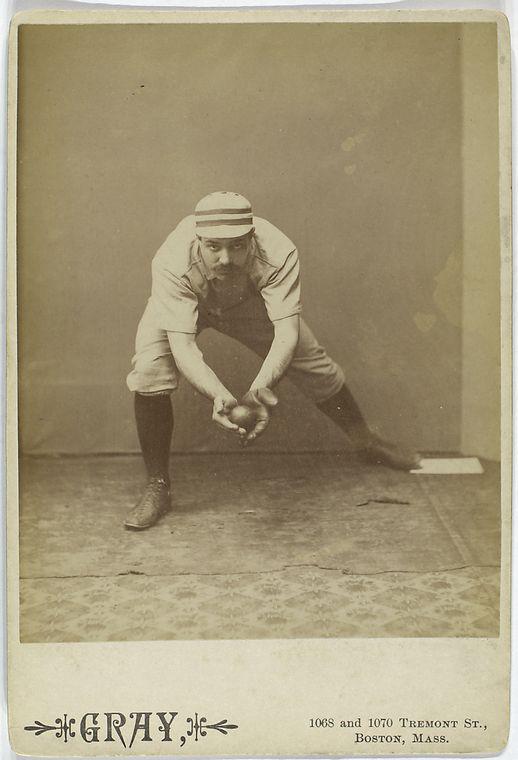 Sid Farrar, first baseman, played for the Philadelphia Quakers and Athletics, 1883–1890.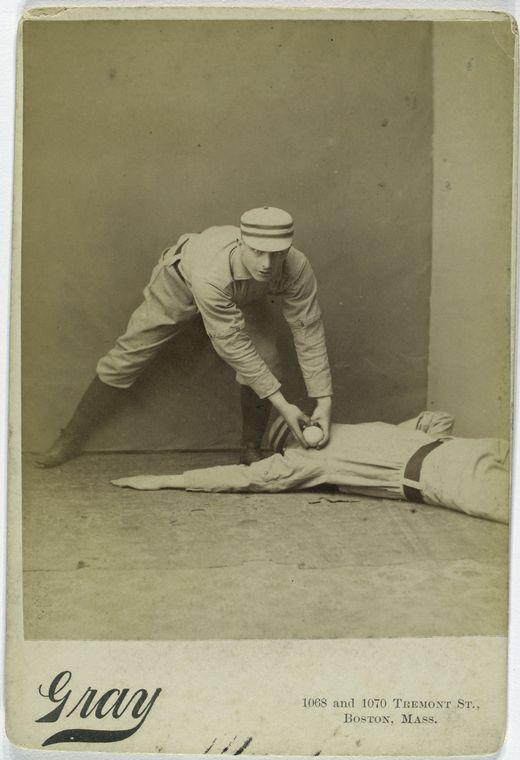 Tommy McCarthy, outfielder and controversial Hall of Famer, played for the Boston Reds and Beaneaters, St. Louis Browns, Brooklyn Bridegrooms, and Philadelphia Quakers, 1884–1896.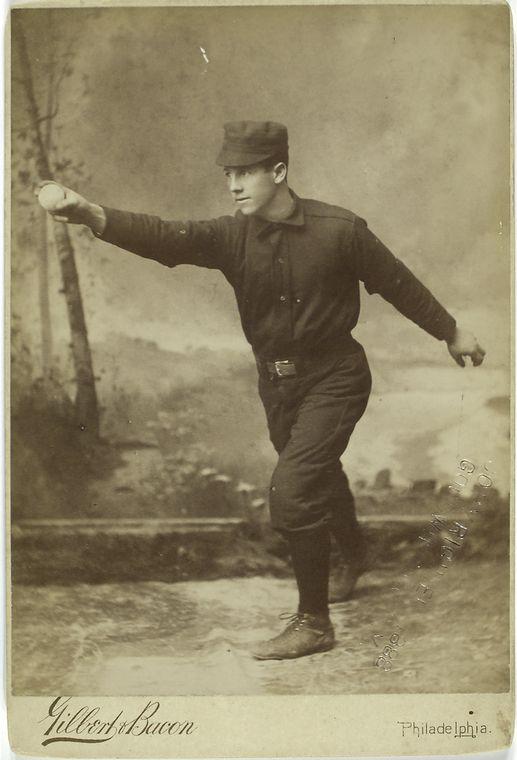 William Gleason, shortstop, played for the St. Louis Browns, Philadelphia Athletics, and Louisville Colonels, 1882–1889.