Once upon a time (last week), in a magical kingdom far far away (Florida), I took my overheated, sugar-high children to an enchanted place where they got to step into beloved stories and watch their favorite brands come to life. First opened in 1971, Walt Disney World's Magic Kingdom is beloved for its costumed characters and traditional theme park rides: roller coasters, spinning tea cups, rickety carts shaking their way to an encounter with Snow White's witch and her poison apple. But my visit to the park's new Fantasyland—a radical reimagining of one of Disney's original themed lands, which finally completely opened this summer after a $600 million, three-year expansion—revealed a new and fascinating vision of a theme park attraction, one that serves the modern parent who expects only the best for his child. The new Fantasyland is made for the parent who wants children's entertainment that's interactive, personalized, and quality—with his child as the star of the show.
Fantasyland has gotten facelifts before, as facades were altered and revamped. But this is more like a heart transplant, altering Fantasyland's core to reflect a new vision of theme park attractions. Sure, there's a new roller coaster, and it's fun. And sure, kids can still ride Dumbo around in circles, though he's been moved to the back of the park. But the expansion, which more than doubled the size of Fantasyland by building on undeveloped land and replacing the former Mickey's Toontown Fair, really codifies what an advanced theme park attraction in 2014 ought to be.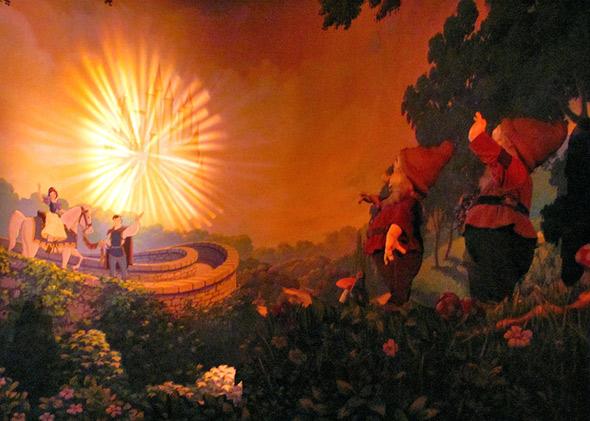 Snow White's Scary Adventures, an old-style "dark ride" in which visitors rode a little car through Snow White's storyline, has been replaced by Princess Fairytale Hall, where guests wait in line for hours to meet and hug Cinderella, Rapunzel, and Sleeping Beauty—not to mention Disney's newest queens, Elsa and Anna. (Fans of Ariel, never fear: She has her own grotto for meet and greets.) The current hottest ticket is the immersive dining experience Be Our Guest; tables at this restaurant, themed to look like the inside of the Beast's castle, are fully booked months in advance. And the thematic centerpiece of the new Fantasyland is a remarkable attraction that uses both high- and low-tech tools to allow visiting tots to be the heroes of their own stories. Call it the boutique theme park experience, and get ready to stand in line for Enchanted Tales With Belle.
That line wends its way through the front yard of Belle's childhood home—the cottage of her inventor father, Maurice. Once queuers get inside, the cottage is picturesque and cozy, just like in Beauty and the Beast, with such charmant details as a portrait of Belle's mother and marks on the wall gauging petite Belle's height from 24 mois to 18 ans. Or so I've heard. We skipped the line, thanks to the FastPasses I secured two months before our visit. (By 10 a.m. on the day we attended, the wait for patrons without FastPasses was over an hour.) In the first room we saw, Maurice's workshop, my kids crowded up front with the other children as a Disney "cast member" in period garb led us in an intonation: "Take me back to the day Belle and Beast fell in love." And then: gasps all around as the magic mirror in front of us shimmered, expanded, and opened into a long hallway.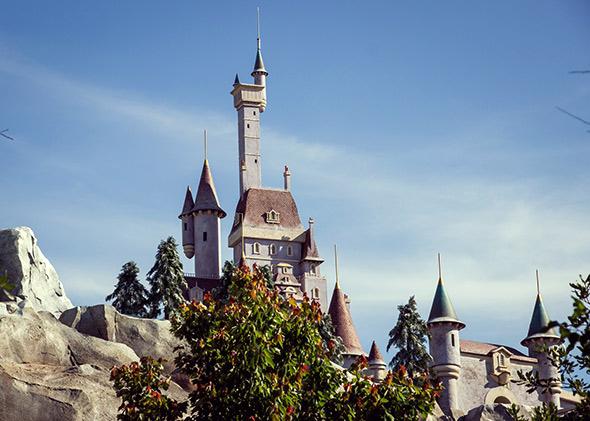 Inside, an eye-popping animatronic Madame Wardrobe welcomed the 50 or so of us to the castle and told us we were going to surprise Belle with a theatrical re-creation of her story. Roles were assigned—two dads (not this one, though I tried) played suits of armor, but all the other parts (including the Beast himself) were played by eager kids—and the story rehearsed. Then, in the library, an expressive little Lumière animatronic shushed us as Belle was about to arrive. "Surprise!" we all shouted as Belle entered—and she was, of course, delighted to see so many of her beloved villagers here to share her story with her.
Mixed in with the high-tech animatronics and detailed set design, though, were satisfying low-tech accoutrements: the cardboard cutouts each guest used to act out his or her role, the simple storytelling and audience participation that encouraged the entire crowd to join in. Once the story was over, Belle led the kids in a march around the room to "Be Our Guest" and then took photos with each child. (One of my daughters played Philippe, Belle's horse; the other played "a friendly villager.") Within minutes we were ushered out, with little bookmarks to remember Belle by (and the opportunity, of course, to buy photos of the experience were you not quick enough with your own phone).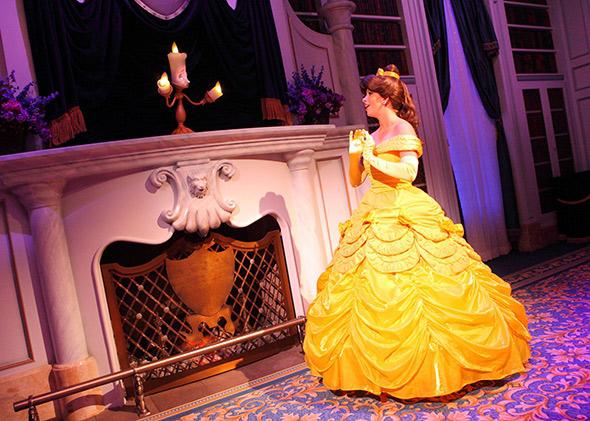 Enchanted Tales is, then, a simple character meet and greet—but one that, thanks to superb design and clever storytelling, addresses the two problems that have always plagued meet and greets. Enchanted Tales satisfies dozens of families in just a few minutes rather than one family every few minutes. And it gives kids a more memorable experience than the fraught, forced interaction of the traditional meet and greet, the kinds that Disney has made available for years through character meals and photo ops.
My kids—even the one who claims to be over princesses—beamed their way through the show, and parents raved about the experience afterward. ("It was just quality, you know?" said one dad to another.) And this isn't just a Disney thing. Our long weekend spent in Orlando was enough to demonstrate that, while coasters still thrill, the real sweet spot at high-end theme parks now comes in making the guest part of the show—generating immersive experiences that may or may not include rides at all.
Take Universal Studios Florida's new expansion of the Wizarding World of Harry Potter, a perfectly designed version of Diagon Alley that, through RFID-enabled wands and dedicated employee "wizards" and "witches," offers a great measure of the personalized magic that the first iteration of the attraction lacked. Even though the only ride in the joint was broken for much of our visit—it's suffered technical difficulties since launch this summer—we spent hours casting spells and buying butterbeers.
Of course, making visitors feel like part of the action isn't a brand-new theme park innovation. Theming, ride design, and preroll video have long encouraged visitors to imagine themselves inside the stories, driving their coasters and thrill rides. Ten years ago, Disney's Turtle Talk With Crush revealed the fun that a good, live comic actor and advanced motion-capture technology can create on the fly. But Enchanted Tales feels like a new way of thinking about the amusement park experience, one that goes hand in hand with Disney's new MagicBand program, which stores guests' travel histories in accounts and uses a rubber armband to access things at every park. Employees at the entrance to Enchanted Tales welcomed my kids by name as they used their MagicBands to enter, and the entire experience felt personal and individual—a feeling that's really difficult, and expensive, to create at amusement park scale. This is why Enchanted Tales is much admired in the theme park industry, and surely other parks will be working hard to replicate its magic—though it's hard to imagine companies besides Disney and Universal pulling it off.
There is also the question of whether we want them to. In retrospect, one of the great things about my amusement park visits as a child was the way the mass experience of the roller coaster, or even the line for the roller coaster, drew hordes of very different people together to share a kind of communal transformative experience. Part of the idea of such a ride, it seems to me, is to demonstrate in a safe manner the insignificance of the individual in the face of the world's grandeur: I am a speck among thousands while in line and then once buckled into the car am helpless in the face of gravity and physics.
And lines? Forget it. (Who would mourn them? Not even me.) Theme parks now encourage us to pay up to skip the line entirely, and to remain individually engaged in themed waiting areas if we can't. (The new Dumbo ride at Fantasyland gives guests pagers, which buzz when it's their turn to ride.) It's not hard to imagine that soon the line might disappear entirely, replaced by FastPasses throughout the day. Maybe the future of theme parks, in fact, doesn't involve crowds at all: It's simply a well-timed conveyer belt of perfect experiences, each little family entering a little room and making itself the star of the story. "Take me back," we'll say, and the magic mirror will open wide, just for us.