Atlas Obscura on Slate is a blog about the world's hidden wonders. Like us on Facebook,Tumblr, or follow us on Twitter @atlasobscura.
When building a ship, steel is your best bet for optimum seaworthiness and cost efficiency. But there are other options. Concrete, for example.
Though not the material of choice for your average shipbuilder, concrete was used to create experimental fleets during World War I and II, when metal shortages caused transport manufacturers to look to alternative materials. (Remember the Spruce Goose?)
After the United States entered World War I in April 1917, Woodrow Wilson quickly established the Emergency Fleet Corporation to oversee the construction of cargo ships. In addition to thousands of steel ships, the corporation commissioned 24 ships made of ferrocement, or reinforced concrete. By the time the war ended, however, only a dozen were under construction. None were finished in time to carry supplies to the troops, but one, the S.S. Atlantus, was deployed in late 1918 to bring soldiers home from Europe.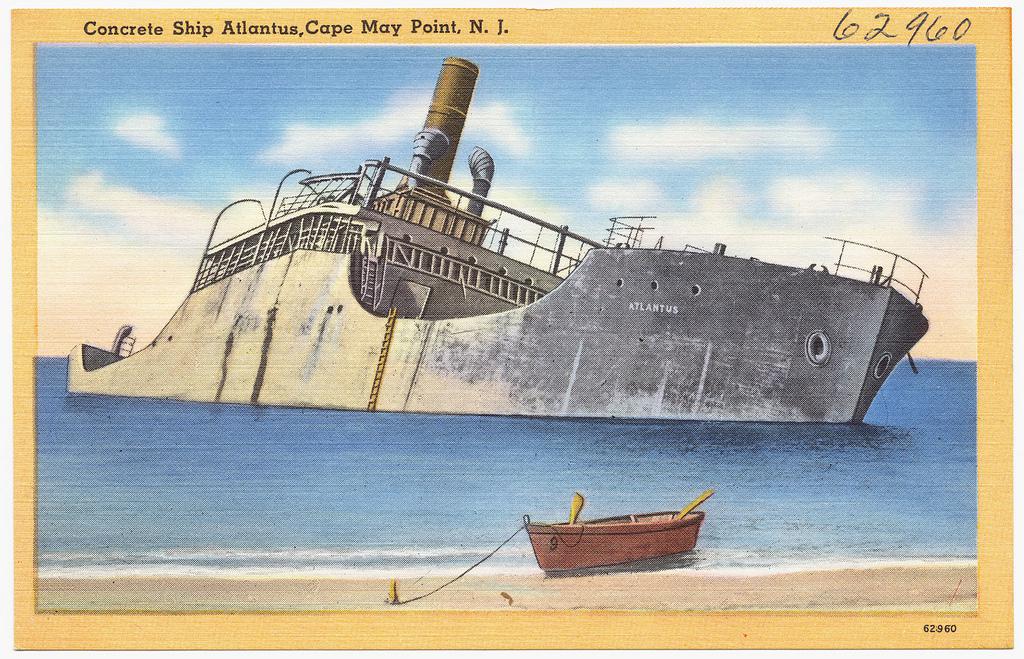 A similar shipbuilding situation took place during World War II. In 1942, the U.S. government commissioned two dozen concrete ships from Philadelphia firm McCloskey and Company. This time, all 24 ships were completed before the end of the war. Many functioned as store ships during combat in the South West Pacific.
The post-war fates of these concrete vessels have been mixed. Many lie half-sunk in bays, having either run aground or been placed there deliberately. At Kiptopeke State Park in Virginia, nine of the McCloskey ships have been lined up to form a breakwater for the park's pier. Birds nest in the ships' pock-marked hulls and the concrete has eroded to reveal rusting rebar skeletons. It's a similar sight at Powell River, near Vancouver in Canada, where nine of the World War II ships, along with World War I oil tanker the S.S. Peralta, have been arranged to form a breakwater.
Other ships are all by their lonesome. The wrecked WWI oil tanker S.S. Selma, launched in 1919, sits half-submerged off the coast of Galveston in Texas, after a 1920 collision with a jetty ripped a big hole in her side and took her out of commission. The S.S. Atlantus, or what's left of it, sits in New Jersey's Delaware Bay, having run aground there during a storm in 1926. The S.S. Sapona, commissioned for World War I, rests in the Bahamas, its wrecked hull a playground for fish and divers. 
Visit Atlas Obscura for lots more on the concrete ships.