When Atiya Haynes' grandfather gave her a pocketknife in July, she was hesitant to accept the gift. The 17-year-old didn't want to think she needed a weapon for protection. But her grandfather said that was not a luxury the southwest Detroit native could afford. One of Haynes' two summer jobs was as a lifeguard in the nearby suburb of Dearborn Heights, and to get to the pool she had to bike alone through some of the city's rougher neighborhoods. Haynes humored her grandfather and slipped the pocketknife into her bag, along with a bevy of other teenage summer essentials: lotion, sandals, hair products, a swimsuit. She luckily never found herself in a threatening situation and, Haynes says, quickly forgot about the gift.
None of that mattered to vice principal Cheryl Howard, who found and confiscated the knife on Sept. 26, during a spontaneous bag search at the Annapolis High School senior's homecoming football game. Though Haynes cooperated fully with the search, handing over her purse to Howard, according to Michigan state law she was in possession of a dangerous weapon, and the administrators asked her to leave the premises. When she showed up at school on Monday, Haynes was told she would be suspended for a mandatory 180 school days—in other words, the remainder of her senior year.
"I think they honestly thought in their mind, 'this is the punishment', 'OK, goodbye' and they thought we would just leave this alone. I don't think they were expecting us to fight this," Haynes' mom, Guisa Bell, told me late last week, after a community dinner held in support of her daughter, who has become something of a local cause in Detroit. Bell, who immigrated to America from Ecuador when she was 6 years old, has given up a lot to ensure Haynes' successful future. So, the notion that this Advanced Placement student with a 3.0 grade point average and dreams of attending Howard University would just clean out her locker and slink home was not only baffling to Bell, but unacceptable.
Haynes' punishment is a byproduct of the Guns-Free Schools Act, which was adopted by the U.S. Congress in the early 1990s. Under the bill, states receiving federal funding for schools must have a law on their books mandating the expulsion of any student who brings a firearm onto campus or into a school zone. Michigan expanded its zero-tolerance legislation to include other dangerous weapons, such as brass knuckles, chains, and knives longer than 3 inches. (The blade on Haynes' pocketknife was 3¼ inches.) If a student is found in possession of any of these, he or she is to be automatically expelled not only from the district but from any school in the state. (Haynes's 180-day suspension is effectively an expulsion, even though her lawyer and the board have been using the terms suspension and expulsion interchangeably. The law, however, calls for expulsion.) The student's only option becomes "alternative schools," which are campuses designed for "disruptive or dangerous" students. A 2013 research paper "Reconsidering Alternatives" found an overwhelming correlation between these alternative schools and their students ending up in prison, often called the "school-to-prison pipeline." For example, the study found that 43 percent of middle-school students placed in alternative schools were detained in the juvenile justice system within two years.
There is, however, a loophole to Michigan's zero-tolerance policy, as Haynes and her family discovered. A school board is not required to expel a student for possessing a weapon if the student can prove in a clear and convincing manner one of the following: the item was not possessed for use as a weapon, the item was not knowingly in the student's possession, the student didn't know the item could be considered a dangerous weapon, or the student was given express permission to possess a weapon.
So Haynes set about trying to convince her school that she didn't remember the knife was in her purse. At a disciplinary committee hearing last week, Annapolis principal Dan Scott and vice principal Howard did not contest Haynes' explanation of events, but both recommended following the state's zero-tolerance policy and kicking Haynes out of school. Haynes and her newly appointed lawyer Mark Fancher, the staff attorney for the Racial Justice Project of the American Civil Liberties Union of Michigan, argued for an exemption.
"I'm not a bad kid at all," Haynes told the panel. "I've seen so many statistics in my life of what not to be and I try so hard not to go down that path and for something like this to affect what I'm trying to be. … And this is an issue that is not just affecting me; it's something that's nationwide. No-tolerance policies are unholistic and very, just, unjust. It doesn't give a chance to explain or acknowledge circumstances."
Three days before Haynes' pocketknife was confiscated, the NAACP Legal Defense and Educational Fund and the National Women's Law Center released a report finding that black girls are more likely to be held back, suspended, or expelled than any other female demographic. Gender and racial stereotypes, disparities in resource distribution, and zero-tolerance punishment systems are to blame, write the report's authors. (This follows a large Department of Education study, which found racial inequality in discipline and pretty much every other area of school life.)
But while zero-tolerance has been the focus of Haynes' hearing, and while that policy can be ineffective and often applied with bias, her case seems to illustrate an even larger problem: a complete lack of understanding of urban students when suburban and city worlds collide through "school choice," a system that allows students from outside the district to enroll in a school other than their own.
Bell chose to send her daughter to school in Dearborn Heights, a half-hour away from their home in Detroit, because she wanted to give her an opportunity to defy statistics like the one that says four in 10 black females drop out of high school. Academically, it was a good choice: In 2013, for example, 23 percent of Annapolis High School juniors were proficient in math according to the Michigan Merit Examination while less than 10 percent were proficient at Western International, a Detroit public school in Haynes' southwest neighborhood. However, sending Haynes to Annapolis High means that she is, in many ways, an outsider at her own school.
"Dearborn Heights, like many of the inner-ring suburban districts across Detroit, is in this position of needing the bodies and per-pupil dollars that are attached to school choice students," Thomas Pedroni, an associate professor at Wayne State University's College of Education, explained to me. But that doesn't mean the community wants the students.  
"We were the first year, the first group to go out to the school of choice out in Dearborn Heights," Bell told me. "And Atiya was the only little brown girl in her first grade, second grade, I think by third grade there was one more. Within this decade or so you've seen the influx.  There are more Hispanics, there are more brown people there. And I honestly believe, now there is a fear. This is the same place where the girl [Renisha McBride] knocked on the door and got her head blown off."
According to research by Barnard College's Randall Reback, property values depreciate in neighborhoods that accept transfer students through school choice, just one factor in a chain of fear and institutional racism that leads schools to dole out severe punishments in unequal ways. "School choice is really hard for residents, simply because a lot of people feel like 'We purchased our home for this particular school district and now you're going to open it up to typically urban students?' Not only do they think it's going to bring down property value, but they also feel it's going to impact the school through lower test scores and increased violence," Kim May, a former principal in a metro-Detroit district where school choice was prevalent, told me. "Therefore, when disciplinary actions need to be taken there is sometimes a harder line there because there needs to be that reassurance to your residents—resident student body and resident parents—to say 'You know, we aren't going to tolerate this, things aren't going to change because of school choice.' " (May recalls a heartbreaking experience in which she felt forced to expel a sixth-grade boy who brought a broken BB gun to school.)
But the home culture of a student from outside a district "doesn't just stop because now they're setting foot in this door," May explained to me. Schools like Annapolis High School need cultural proficiency—and that doesn't necessarily mean knowledge of black or Latino culture, but rather, as May puts it, "survival culture."
When Haynes looks out her bedroom window, she sees vacant houses, pit bulls, barbed wire, and streets clogged with trash—a far cry from the clipped lawns and strip malls that litter Dearborn Heights. In 2012, Detroit had a crime rate 3.35 times the national average, and there were nearly 14,000 burglaries and 441 reported rapes per 100,000 people that same year. Detroit, in other words, is a place where it might make sense for a 17-year-old girl to carry a small pocketknife.
"I don't live in this neighborhood. I don't have the same reality that a lot of the kids in this neighborhood have," Haynes said of Dearborn Heights at the hearing. "And you can find that a lot of kids in Dearborn would not have a pocketknife, they would not need a pocketknife because that's not their reality. I don't think I should be punished for that."
Unfortunately, the disciplinary committee that heard Haynes' case does not agree.  After a 45-minute deliberation, the committee decided to continue her suspension— now in its second week—and pass the decision-making responsibility off to the Dearborn Heights School District No. 7 Board of Education, who will meet on Monday night.
Now, Haynes waits, very aware of what the pending decision will mean for her life and future outcomes. "A lump sum of students who face expulsion from school are sent back to their reality of poverty, angst, unhappiness, and neighborhoods filled with negative influence," Haynes wrote in an open letter to the school board. "Many people who are unnecessarily expelled because of the No-Tolerance Policy become another statistic, get behind in their studies, drop out, and commit crimes in their community." Why do schools have an easier time tolerating that?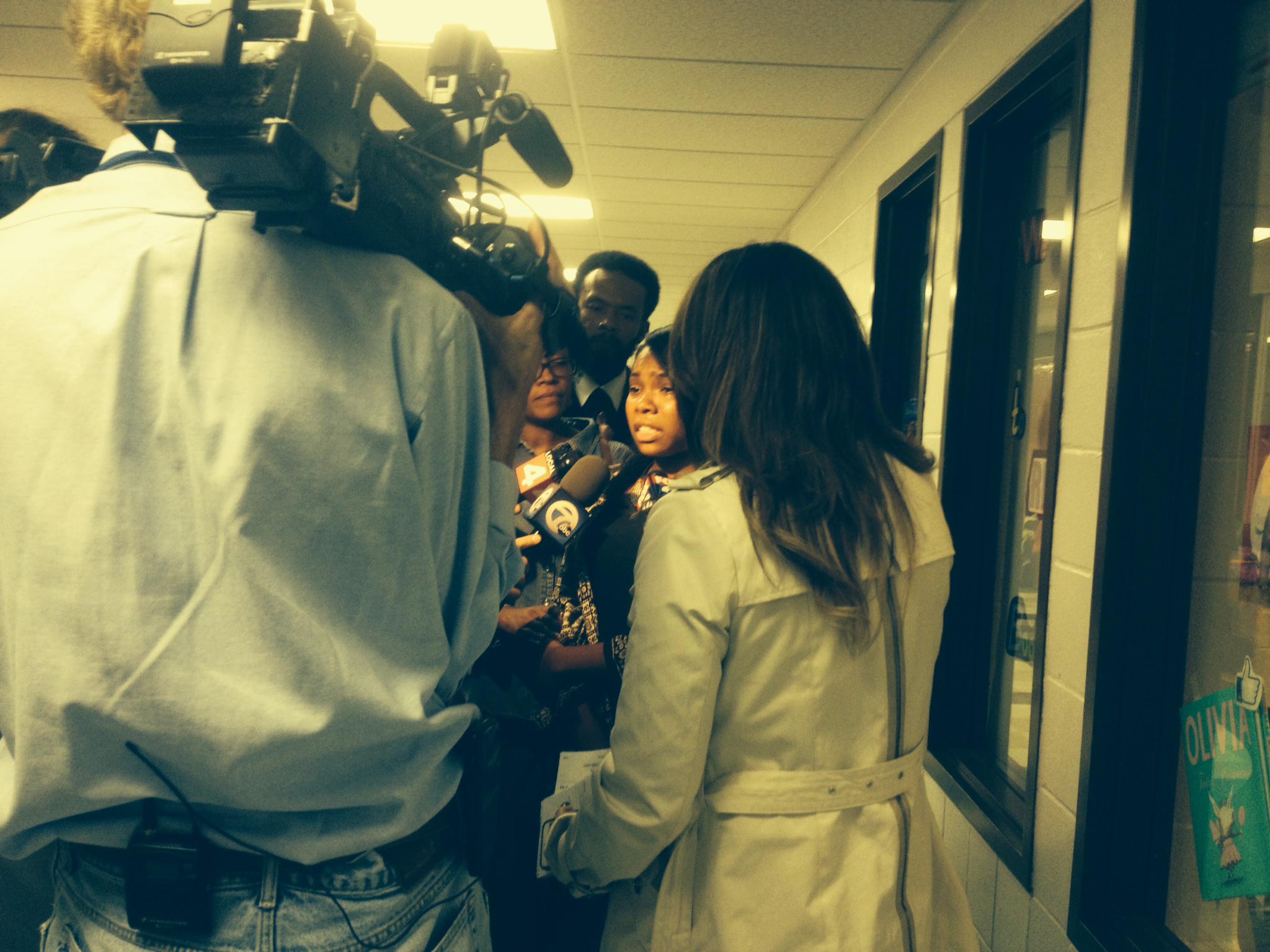 Update, Oct. 13, 10:30 p.m.: On Monday night all present board members voted to expel Atiya Haynes for the remainder of the school year but gave her the option of virtual classes so that she can graduate with her class. The board says it made its decision not under Michigan's zero-tolerance weapons law, but because of Haynes' failure to adhere to the school handbook. "This is a barrier," Haynes told the gathered crowd, "but I'm still going to set out to do what I'm going to do."