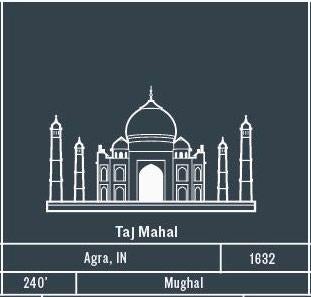 Brooklyn-based Pop Chart Lab—makers of such visual compendia as the chart of 500 beers, pasta permutation map, and The Great Gatsby as an infographic—has turned its sights toward architecture.
"The Schematic of Structures" is a handily compiled 18-inch-by-24-inch poster that is a greatest hits of architectural monuments from prehistory to the present, including the Greek Parthenon, Buckingham Palace, and Freedom Tower. Each of the 90 chosen buildings are hand-illustrated to scale in a blueprint-inspired style, and include the location, year construction began, height, and primary architectural style.

"We tried to gather an eclectic mix of structures," the designers said in an email about their criteria for choosing which landmarks made the cut. "Historical and architectural significance were probably the most important criteria—the usual suspects such as the Pyramids and Stonehenge, as well as some lesser-known structures such as the Cairn of Barnenez, which is widely regarded as oldest manmade structure still standing. But we also made room for historically and/or visually interesting structures, e.g., the Ryugyong Hotel in North Korea, which has been under construction since 1987 and at one point was reportedly consuming around 2% of the country's GDP."
They wrote that one of the challenges of creating the poster was "figuring out how exactly to illustrate some structures (especially the more ornate ones) in a minimalist vector style while still making its character shine through to the reader."
Why did they choose to line buildings up by height? Were they making a statement about the relationship between height and architectural achievement?
"There isn't necessarily a relationship between height and majesty," the designers said. "Some of the most amazing achievements are indeed those before the modern era. But height did provide a data point that illustrated the Babel-like ambitions of modern architects who are empowered by new technology and have the entire survey of mega-structural history as a catalog of inspiration."
Via ArchDaily