Atlas Obscura on Slate is a blog about the world's hidden wonders. Like us on Facebook, Tumblr, or follow us on Twitter.
At a National Police Remembrance Day ceremony in Australia on Monday, three murdered policemen were honored with the Victoria Police Star: an award for officers killed in the line of duty. For the families of those slain, it was a long-awaited recognition—the trio died 136 years ago.
Constables Michael Scanlan and Thomas Lonigan, and Sergeant Michael Kennedy, perished at the hands of the Kelly gang, a notorious group of bushrangers—bushrangers being the forest-dwelling marauding outlaws of 19th-century Australia.
The first bushrangers were convicts who had been transported to the country's penal colonies in the early 1800s, escaped, and gone on the run. The mid-century gold rush in southeastern Australia ushered in the bushrangers' heyday—over the next few decades, outlaws with names like Mad Dog Morgan and Captain Thunderbolt robbed coaches, bars, banks, and hotels, often shooting police officers in the process.
The most famous bushranger, and the man whose legacy maintains a firm hold over the collective cultural psyche of Australia, was Ned Kelly, the ringleader of the Kelly Gang. He is remembered by many with fondness as an underdog and a maverick who fought laws that targeted the poor. He is regarded by fewer with abhorrence for being an unrepentant murderer.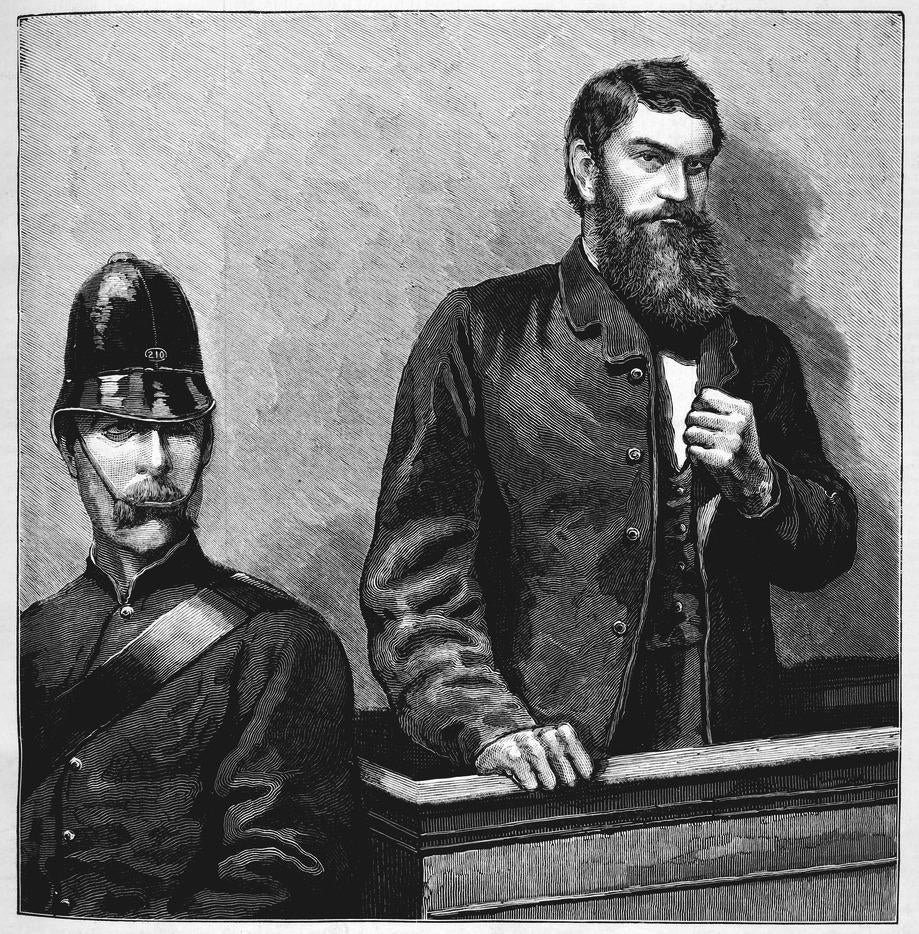 Born to an Irish convict father who was transported to Australia in 1841 for stealing two pigs, Kelly racked up his own criminal records as a teenager for theft, robbery, and assault. After shooting a police officer who got too friendly with his sister, Kelly and his brother Dan went on the run. Police gave chase, and the brothers shot back, killing three officers—the trio whose sacrifices were honored earlier this week.
Despite being wanted—dead or alive—by the government, the Kellys re-emerged a month later and committed two brazen bank robberies, holding police and customers hostage as they emptied the vaults. With the authorities closing in and the situation ever more desperate, the Kelly brothers and other members of their gang created now-iconic suits of armor out of metal plates, including cylindrical helmets with small slots for the eyes. The gang wore the armor at the final showdown in June 1880, where they held 60 people hostage at the Glenrowan Inn and engaged in a half-day shootout with police. Three civilians died, along with all members of the Kelly Gang but Ned. He was finally captured and sentenced to death.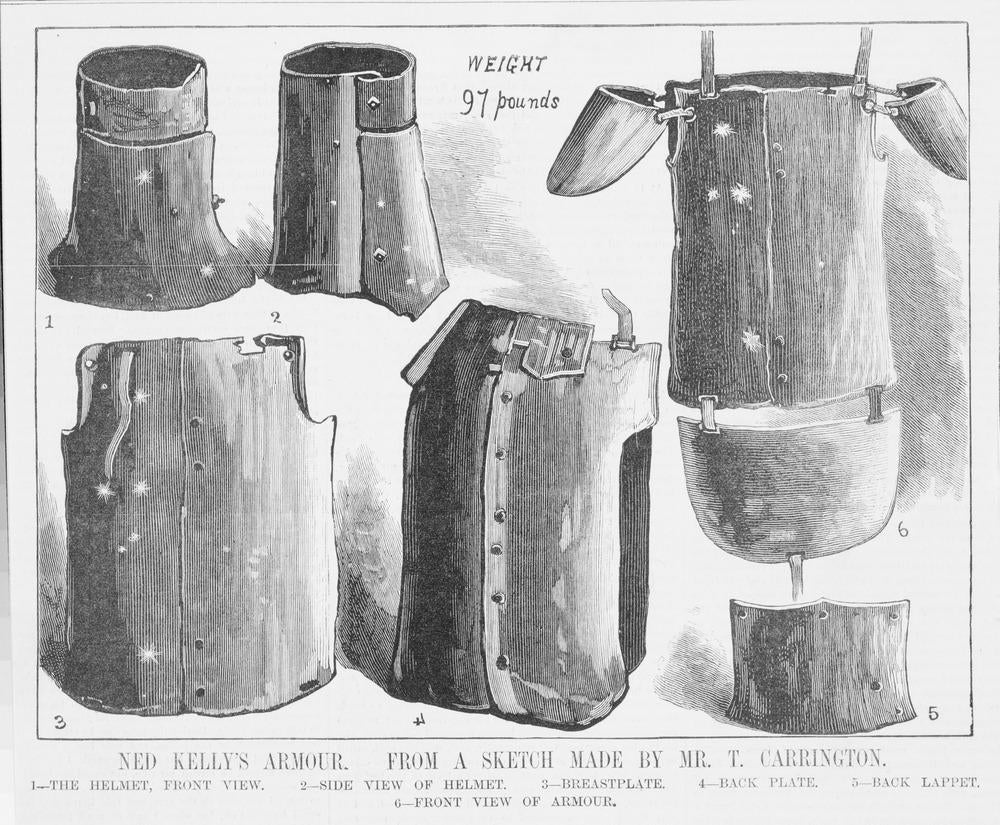 The Old Melbourne Gaol (the Australian spelling for "jail"), which operated from 1845 to 1924, is the site of Kelly's November 1880 hanging. He remained defiant of authority to the end, responding to the sentencing judge's customary "May the Lord have mercy on your soul" with "I will go a little further than that, and say I will see you there where I go."
Ned Kelly is a widely celebrated folk hero in Australia, not to mention a pop-cultural mainstay. He has starred in TV ads for cereal and headache pills. Heath Ledger, Yahoo Serious, and Mick Jagger have all portrayed him on film, to wildly varying degrees of critical acclaim. When Kelly's childhood home sold at auction in September, the atmosphere was carnivalesque—local newspaper The Age reported that the day featured a "sausage sizzle [barbecue, in Australian parlance], clowns, a couple of Irish people playing Ned Kelly ballads and a guy who rocked up on a horse with a driza-bone [a waterproof riding coat] and a Ned Kelly hat on".
Kelly embodies the eminently Australian character of the lovable larrikin—the waggish, convention-flouting mischief-maker who sticks it to the man. But the country's embrace of this figure has caused grief for descendants of the policemen Kelly killed. At Monday's award ceremony in Victoria, Sergeant Kennedy's great-grandson Leo Kennedy told AAP that "bad movies, fictional accounts, [and] a mixture of fiction and fact" have softened the harsh reality of Kelly's crimes. "People forget, or neglect to realize, this person murdered three policemen," Kennedy said to AAP.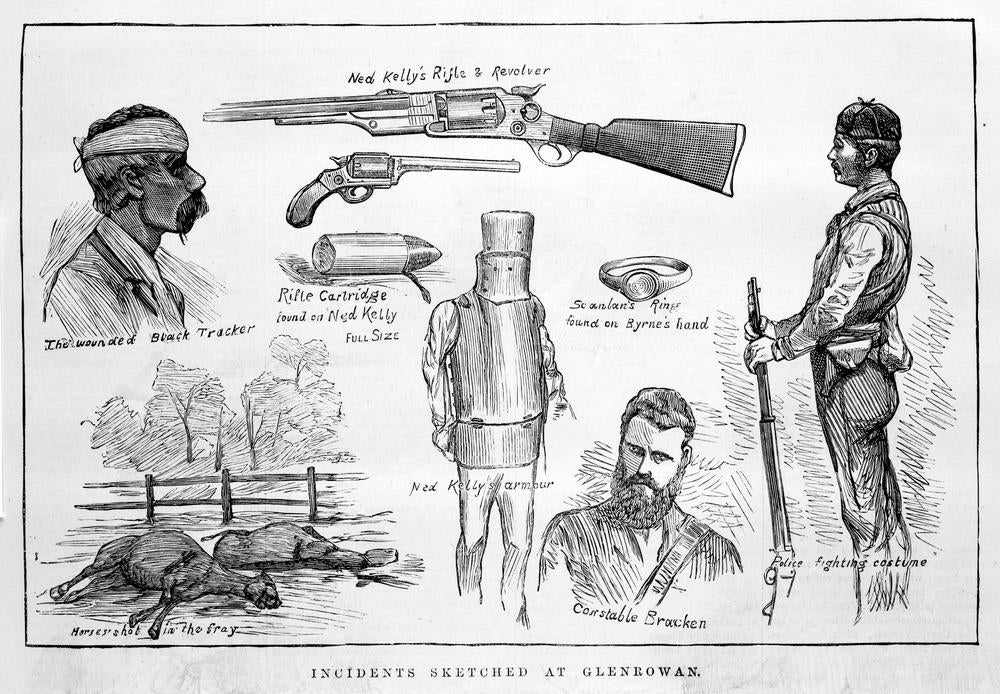 Some of the tourist-targeted stops on the Ned Kelly trail reflect the skewed, even kitschy perception of the bushranger: in keeping with Australia's tradition of immortalizing national icons in towering concrete and fiberglass, there are not one but two roadside Big Ned Kellys. The Ned Kelly Story, an animatronic attraction at Glenrowan, has received near-universal derision in TripAdvisor reviews, with one visitor describing it as "awful spaghetti western set meets bad side show ghost train." (Another referred to the taxidermied, urinating German Shepherd as "tacky beyond belief.")
For a more balanced view of Kelly's life, crimes, and demise, visit Old Melbourne Gaol, which displays Kelly's death mask and revolver as part of a comprehensive exhibit. Even here, though, the man's memory is muddled. A skull thought to be Kelly's was on view until 1978, when it was stolen. The skull was finally returned in 2009, after which DNA testing showed it was not actually Kelly's. The whereabouts of his cranium remain unknown. His skeleton, minus the skull, was discovered in one of the jail's mass graves in 2009 and turned over to the Kelly family in 2012 for a proper burial.
Visit Atlas Obscura for more on Ned Kelly and the Old Melbourne Gaol.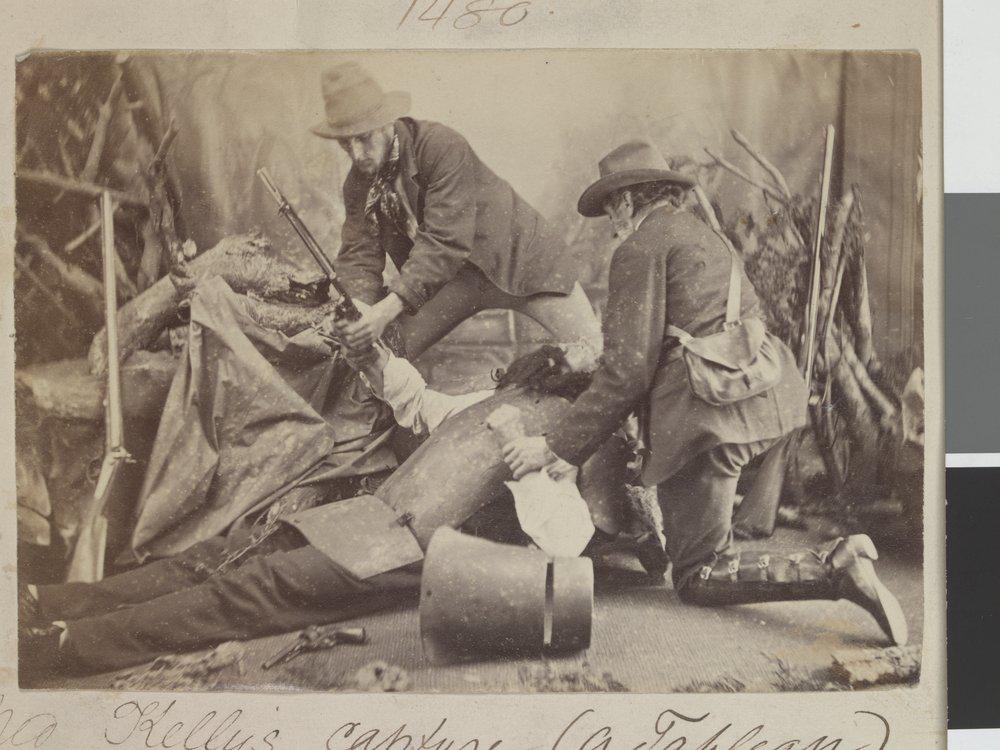 More outlaw stories on Atlas Obscura: