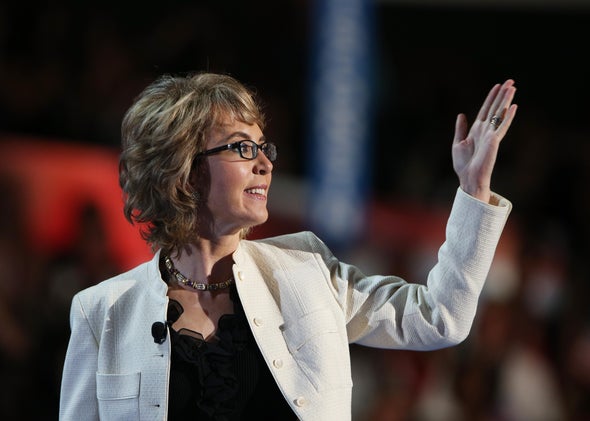 "Gabby Giffords gets mean" blares a Sunday Politico headline for a story attacking Giffords, who was shot in the head at a public event in 2011, for running pro-gun control ads through her PAC, Americans for Responsible Solutions, against Republicans in various states. Writer Alex Isenstadt calls the spots "some of the nastiest ads of the campaign season" and calls Giffords a "ruthless attack dog." He also implies that the gunshot wound Giffords took to the head is an unfair advantage because it presents "quite the conundrum" for those who might otherwise attack her.
Eager to see "Giffords' bare-knuckled approach" for myself, I fired up the most controversial ad, an attack on Arizona Republican Martha McSally, who is running for Giffords' former seat, which the congresswoman gave up in 2012 to focus on recovering from being shot. The ad features a woman named Vicki, who describes how her daughter's ex-boyfriend, who had a history of stalking her, was able to get a gun and murder both Vicki's daughter and husband. In another ad, a woman named Carol explains how a man with a criminal background was able to murder her daughter because he bought his gun at a gun show, where background checks are not required.
Both ads reference this ABC News article from April 2014, where McSally's campaign defended her rejection of any laws that would require background checks at gun shows. Her deputy campaign manager told ABC News that McSally instead supports "enforcing background check laws already on the books, not expanding those laws that will do little to prevent violence and infringe on the rights of law abiding citizens." The ads from Giffords' PAC serve as a rebuttal by noting that stronger gun control laws would have prevented these crimes. 
So why are these ads supposedly so ruthless and nasty? Because they remind voters of the human cost of the candidates' preferred policies? Since when is it dirty to say that a candidate's policy has consequences and that voters should consider those consequences before they cast their vote? Isenstadt doesn't accuse Giffords of lying. It seems his concern (and the concern of the Arizona Republic editorial board, who Isenstadt quotes) amounts to: It's unpleasant for opponents of gun control to contemplate the results of their policies. It's particularly odd to ding Giffords over this, as she has to live every day, whether she likes it or not, with a constant reminder of the price of America's infatuation with easily accessed firearms.  
---