You and I may think he's wasting what is surely the best death metal lead singer name around, but John Thrasher has made a pretty solid career for himself. Thrasher is a current Florida state senator, former GOP lobbyist, and close associate of such GOP A-listers as Florida Gov. Rick Scott, for whom he serves as re-election campaign manager. So why is he giving it all up to be president of his alma mater, Florida State University? I suppose the "why" is between Thrasher and his God (ooh! Band name! Called it!), but his appointment has been roundly condemned by faculty and staff as an insider job for which better-qualified competition never stood a chance.
"Perhaps the least political of objections is that Thrasher has no experience in higher-education administration whatsoever," explains Kyle Munzenrieder in the Miami New Times. As to Thrasher's politics, his skepticism of both evolution and global warming make him an unpopular choice to run an institution that houses both a well-established ecology and evolution program and the office of the state climatologist. What many in the Florida State community are most upset about, though, is the apparent political cronyism, as Thrasher is, according to Adam Weinstein in the Ocala Star-Banner, "the insider the board of trustees planned all along," despite objections by the university community.
Thrasher's chorus of critics is loud and growing, but I'd like to come in on the other side. He's got a singular chance to change things at FSU, and to change the way his critics view him. He could even take the first step in transforming the role of the university president from out-of-touch rich dude who's only there to raise money to truly dedicated servant of the student body, faculty, staff, and public. And I've got some pointers. Consider me a fixer: the much less attractive Olivia Pope of beleaguered college president PR.
According to the Miami Herald, Thrasher's next goal is "reconciliation." So you know how to get John Thrasher to reconcile with students and faculty? He should get to know as many as he can, as quickly as he can—in a highly public way that demonstrates beyond a doubt (even overdemonstrates) his commitment to them.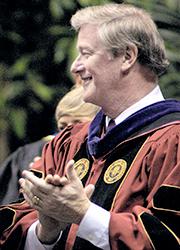 Immediately upon his arrival to campus, Thrasher should make himself as available and accessible to students as possible. Sure, town hall–style meetings would be a great and productive start, but how about some even more creative and visible activities? For example, he should take to eating his lunch in student dining halls most days, at tables where students are welcome to join him. At every philanthropic carnival thrown by a student organization (especially those organizations that represent political causes contrary to his personal beliefs), he should volunteer for the dunk tank. I don't even care if he undertakes these tasks as a cynical ploy to appear like a man of the people—if he talks to enough students, really talks to them, some of what they say is bound to sink in, just as surely as he'll sink to the bottom of that dunk tank. Other top university executives know how great this is for PR (and, less cynically, for the good of the university)—take, for example, Tufts' former President Larry Bacow, who trained with students for the Boston Marathon, or former St. Anselm College President Jonathan DeFelice, who cooked for them, or Salisbury University's Janet Dudley-Eshbach, who accompanies them abroad.
Speaking of being a "man of the people," Thrasher also has a unique opportunity to make a statement with his salary. To a man with a net worth of more than $7 million thanks to his lobbying career, the FSU estimated base pay of just under $400,000 is chump change. He's basically doing volunteer work. So since he is obviously not in this gig for the money, he has a spectacular opportunity to garner goodwill by voluntarily cutting his salary, say, in half, and using the rest for an apolitical scholarship fund for incoming Florida State students. This isn't even unprecedented: Former Ohio State President E. Gordon Gee, for example, has done this—but it was with his bonus, and that guy was notoriously highly paid. For Thrasher to publicly cap his own (comparatively modest) base salary would shake up the entire notion of what a university president is and does.
Finally and most importantly, since it's been a good long while since he got his B.A., I think it would be amazing if John Thrasher went back to school at his own school. He should take advantage of that staff tuition discount and sit in on a different class—no skipping out early for a "doctor's appointment"!—every single week, actually learning about what his faculty do all day. Because the sad fact is that most college presidents go their entire tenure without seeing what goes on in most of the classrooms over which they technically preside.
You might think all of this is a pipe dream, because the trustees have been open in their reasoning that Thrasher's fundraising ability is what qualified him for the job. So won't these do-goody activities cut into his golf game—erm, I mean, fundraising efforts? Well, first of all, the emphasis on fundraising as the college president's most important job is problematic—because sure, a lot of money is coming in, but around the country, academic programs are still closing. Full-time faculty are still being replaced en masse with barely paid adjuncts. Students, bless their misguided hearts, vote to raise their own fees to pay for the installation of waterslides and lazy rivers, so no need to raise funds for that.
The private fundraising model is an unfortunate result of the consistent decrease in public funds for higher education—and it seems to fall far short of what universities actually need. Perhaps instead of capitulating to that model, the next generation of presidents should come up with an alternative. Thrasher was hired precisely because of his political influence and acumen. So if he really cared about the Florida state system of higher education, he would be using that acumen to persuade the legislature and the voters to return public education to the hands of the public (yes, that means taxes, egad), not to raise a comparatively paltry sum that can be (and often is) earmarked for luxurious building renovations and better skyboxes at the football stadium.
In the case of John Thrasher, few of the priceless goodwill gestures I'm suggesting even have to challenge his much-maligned politics. But they can change the very sour beginning of his tenure. And more importantly, they can begin to correct the image of what a university president should be and do. I'm looking at Thrasher's appointment not as a miserable demonstration of just how for sale the American university is (though, obviously, that would also be an accurate way to look at it), but as an opportunity for him to honor the spirit of his party's patron saint, Ronald Reagan, by serving as a proverbial shining-city exemplar of a public university president who is a true public servant. If not, he's just another rich guy playing his part in Reagan's master plan of undermining public education until it's dead.