Designer Dominic Wilcox has dreamed up an improbable but dazzling stained glass "Driverless Sleeper Car of the Future," currently on display at Designjunction, part of the London Design Festival, until Sunday. The project is part of the Dezeen and Mini "Frontiers" exhibit on the future of mobility.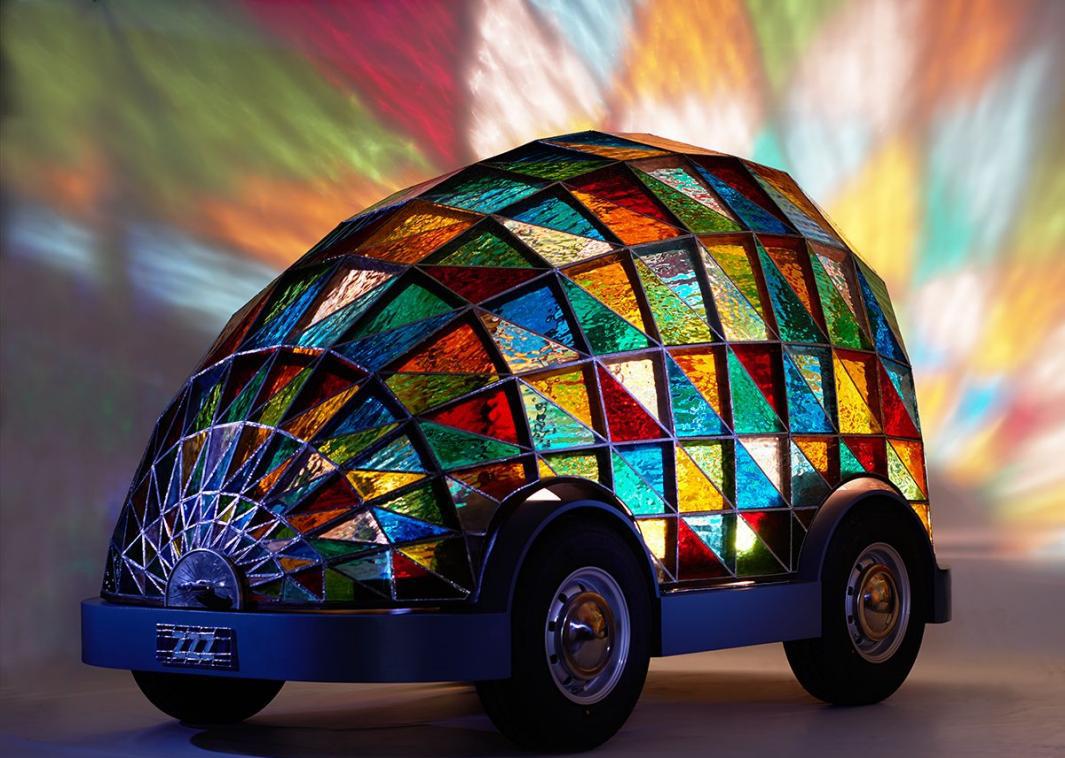 The tricked-out Mini prototype has a tortoiselike, multicolored stained glass shell that lifts up to reveal a single bed. The frame was cut with a computer numerical control machine and slotted together. The stained glass was hand-cut and attached to the frame with a meticulous copper foiling technique, also used to make Tiffany lamps, before being connected to the Mini chassis.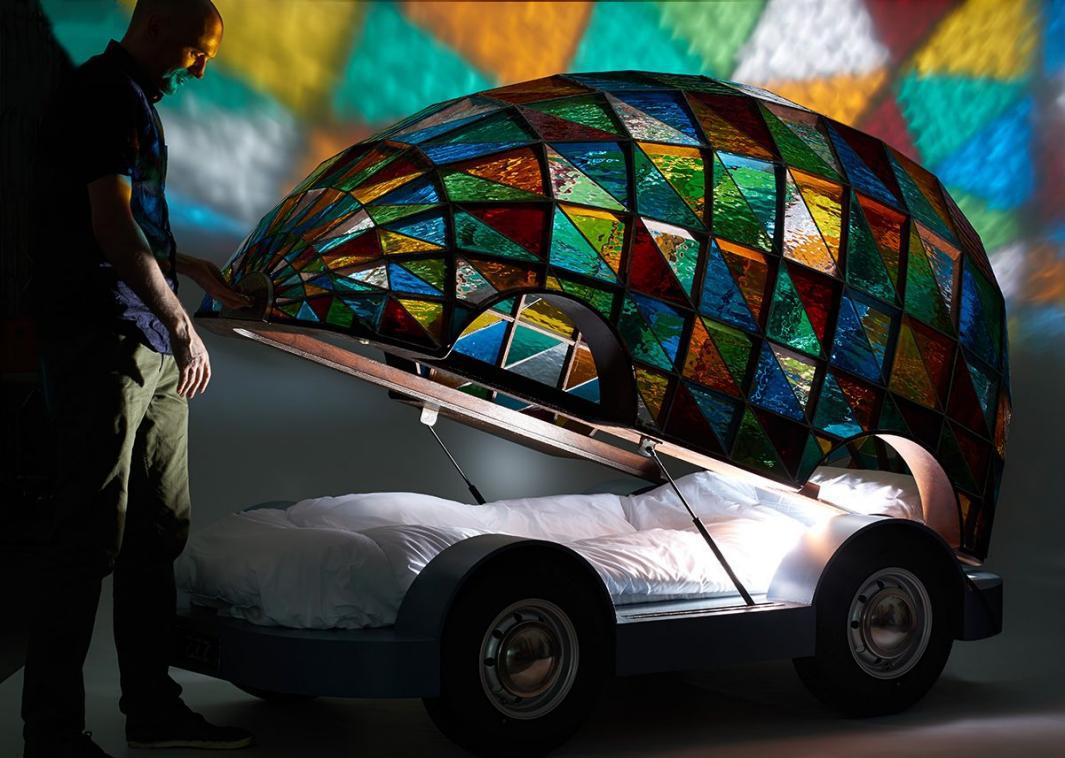 "I propose that in the year 2059 it will be statistically proven that it is safer to ride in a computer controlled 'driverless' vehicle than to ride in a human driven vehicle," the designer wrote on his website. "This means that driverless vehicles will not require the typical safety equipment we see on current cars such as air bags and bumpers. We will simply require a living space on wheels. The technology of the motor and driverless, automated navigation system will be held within a standard, modular chassis, on to which any living space shell can be built."
Wilcox said the stained glass epiphany came to him after a visit to Durham Cathedral. "The stained glass element also developed out of my interest in taking what I admire from objects of the past and merging it with technology of the future, to create a new vision," he writes. "I … was struck by the wonderful stained glass windows there. I wanted to bring the visual experience I had in the cathedral into a new, contemporary, three dimensional form."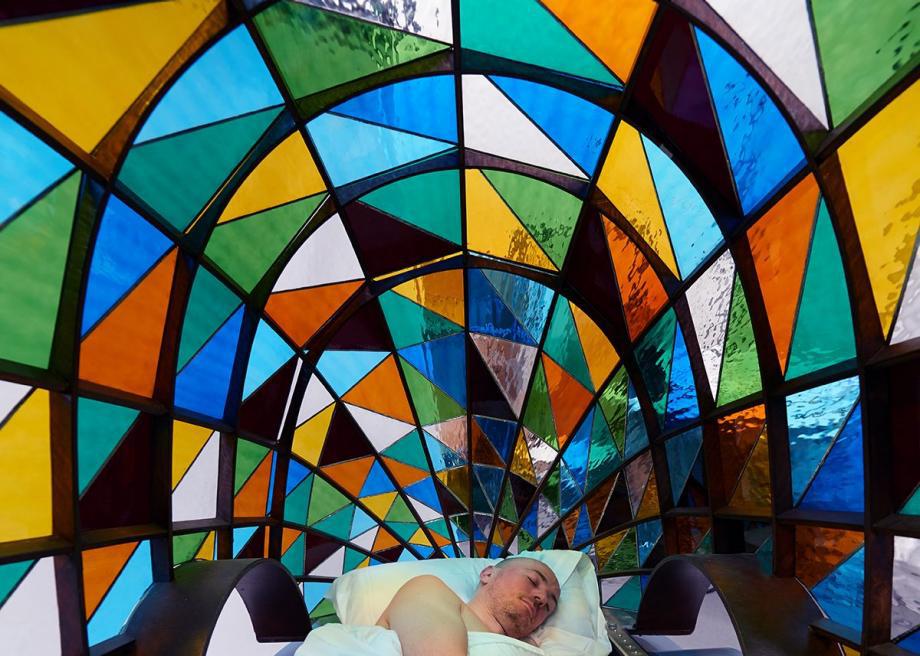 The car is a beautiful and whimsical object, but like all dreams, it is easy to poke holes in. Why create a design that effectively blocks out the scenery, even if it's a sleeper car? Why choose something as beautiful as stained glass if the passenger will sleep through it? Why make a sleeper car, which ostensibly would be used more at night, when stained glass needs daylight to come alive? Apparently Wilcox's dream of a future in which you can sleep your way to your next destination like a passenger on an airplane includes the eradication of auto theft and the ubiquity of stained-glass, shatterproof windows.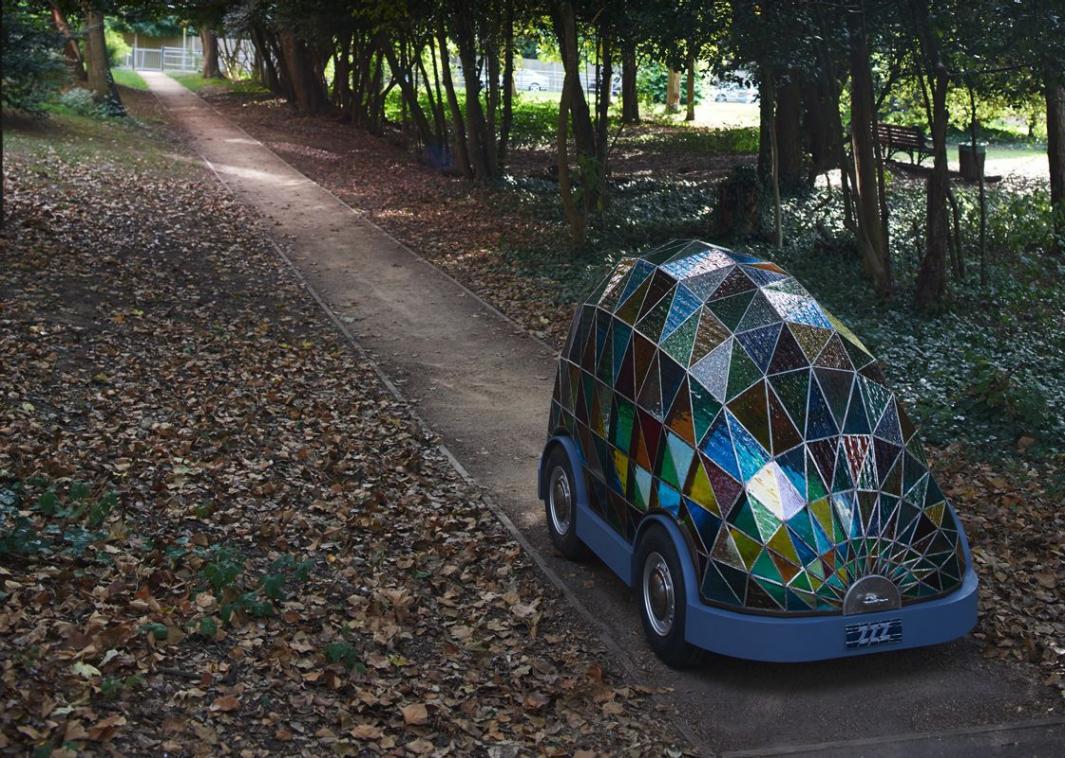 Check out more ideas from Wilcox about the shape-shifting driverless cars of his imagined future on a concept website for the year 2059.